Choosing the right DTF film is critical for getting great results with DTF printing. The quality of the film has a direct impact on the image quality, durability, feel, and other aspects of your printed product. In this comprehensive guide, we'll walk you through everything you need to know on how to choose the best dtf film for your printing needs.
What is DTF Film and How Does it Work?
DTF film, also known as DTF transfer film or PET film, is a specialty polyester film designed for direct to film printing and heat transfer applications. It has special coatings that allow inkjet printers to print high resolution, photographic quality images on the film.
Here's a quick overview of how DTF printing with transfer film works:
The film is coated with special layers that absorb and release ink, powder, and heat.
Designs are printed directly onto the coated side of the film using a compatible inkjet printer and ink.
A polymeric adhesive powder is applied over the printed design to prevent ink smudging.
The film is heat pressed onto the t-shirt or other item, transferring the image.
The PET film backing is peeled away, leaving the printed design permanently adhered to the fabric.
The key benefit of DTF printing is the ability to print photorealistic, vibrant colors and sharp details directly onto fabrics like cotton, polyester, blended materials, leather, and more. The process produces a soft, breathable print without the plastic-like feel of other transfer methods.
Structure and Composition of DTF PET Films
Direct to film (DTF) printing relies on specialized PET films coated with layers that enable ink transfer onto fabrics and other materials. The composition and quality of these layers directly impact the print quality.
Here is an overview of the basic DTF PET film structure and components:
Printing Layer
The printing layer provides the printable surface that absorbs ink. Materials used include PVC, PU and more. This layer greatly affects the image quality and heat transfer performance. PU is commonly used today for its realistic prints and eco-friendly properties.
2. Adhesive Layer
The adhesive is a hot melt layer that bonds the ink to the fabric during heat pressing. The adhesive strength ensures the image stays adhered to the garment through washing.
3. Release Layer
Also called the peeling layer, this coating allows the transfer film to be peeled away after pressing. It determines how easily the film releases from the base.
4. Base Layer
The base layer acts as the carrier and foundation for the other layers. PET film is most commonly used due to its durability, strength and dimensional stability compared to paper.
5. Additional Layers
Some films feature extra coatings like a protective top layer for improved washability or back coatings to reduce static.
In summary, understanding the function of each layer in DTF film helps identify quality and compatability with your application needs. The optimal combination of layers and materials leads to excellent print quality and performance.
Tips for Proper DTF Film Handling and Usage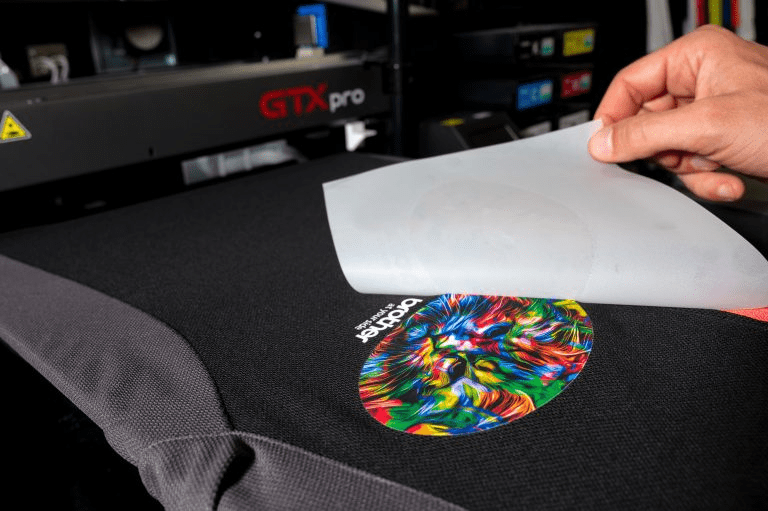 Using quality DTF film is vital for great prints, but properly handling and caring for the film is also key. Here are 4 important tips for getting the most out of your DTF film:
1. Identify The Print Surface
Make sure to differentiate which side of the film is the ink-receptive coating for printing. Print on the proper surface.
2. Post-Print Drying
Allow the printed film to dry for 40-90 seconds at the appropriate temperature based on your powder's specs. Proper drying sets the ink.
3. Use The Right Powder
A powder particle size of 60-80μ is ideal for clean hot peel transfer. 100-150μ suits cold peel. Over 150μ is for cold peel only.
4. Control Storage Conditions
Keep unused DTF film sealed in the packaging and store in a clean, dry environment away from moisture and humidity.
Following these simple tips for careful handling, drying, powder selection, and controlled storage will help optimize your DTF film usage. Combined with a quality film, this will deliver fantastic printed results.
DTF Film Types
Not all DTF films are created equal. There are a few different classifications of DTF transfer films based on properties like coating, release mechanism, and special effects. Being familiar with the different varieties will help you pick the right one your specific printing needs.
By Coating Process
Single Side Coated
Early DTF films were coated with the special ink-absorbing layer on only one side. However, single side coated films had a tendency to slip and become misaligned during printing and transfer.
Double Side Coated
Most modern DTF films are double side coated, meaning they have functional coatings on both sides of the PET substrate. The coating on the backside helps grip the film to prevent slips and alignment issues. Double sided coats generally provide more consistent, higher quality printing results.
By Release Process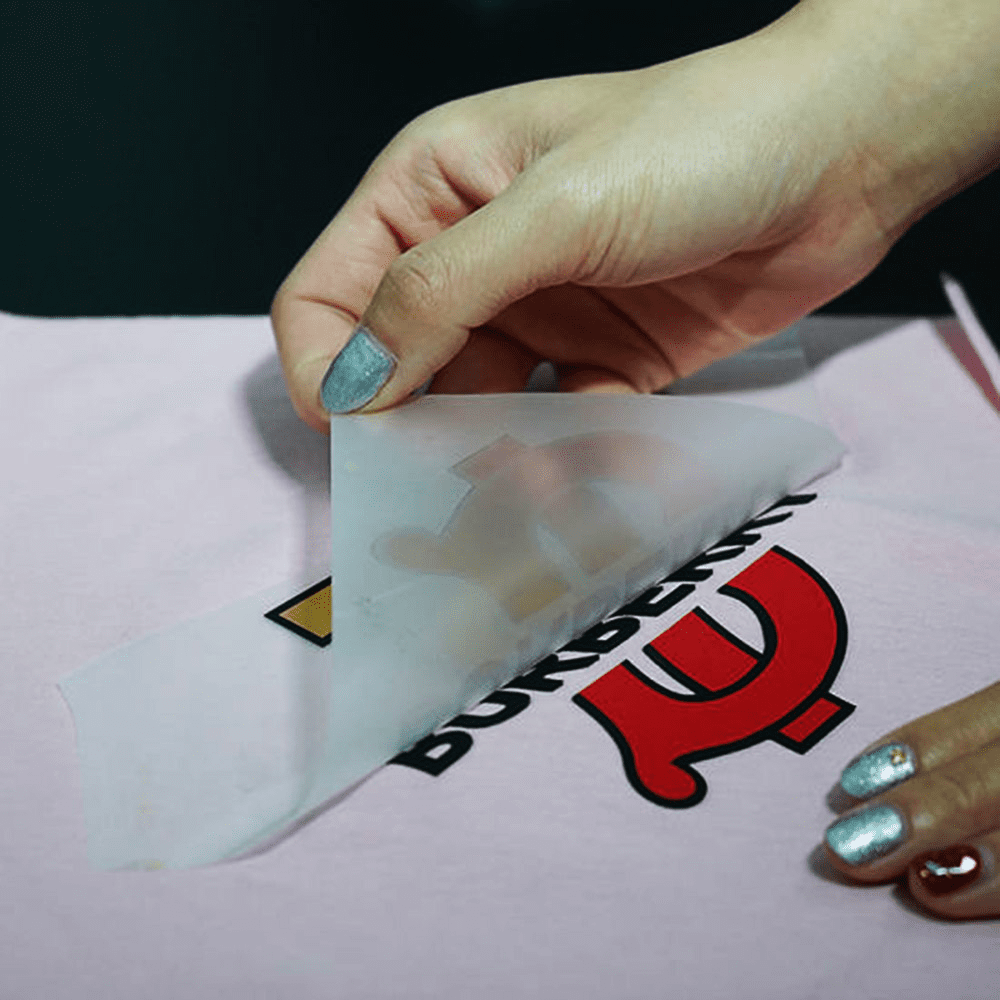 Hot Peel DTF Film
Hot peel films have a wax-based coating that allows the PET backing to release immediately after heat pressing while the material is still hot. This makes for very fast print production since the transfers don't need to fully cool before finishing.
Cold Peel DTF Film
Cold peel DTF films use a different coating that adheres the PET backing more firmly. The backing can only be removed once the transfer has cooled completely after pressing. While the process takes longer, some printers feel cold peel films offer better washability.
By Visual Effects
Standard DTF films contain coatings designed primarily for ink absorption and release. But there are also specialty effect films that give prints unique visual characteristics:
Reflective: Contain metallic compounds in the coatings to produce reflective, pearlescent effects.
Glitter: Have embedded glitter material that adds sparkling accents.
Glow in the Dark: Absorb and emit light to glow in the dark.
Photochromatic: changes color or transparency depending on temperature.
Holographic: Partial metallic coatings create spectral-shifting colors.
While visually interesting, some of these specialty films may require trial and error to print successfully. Make sure to test prints before using them for client orders.
By Target Fabric Type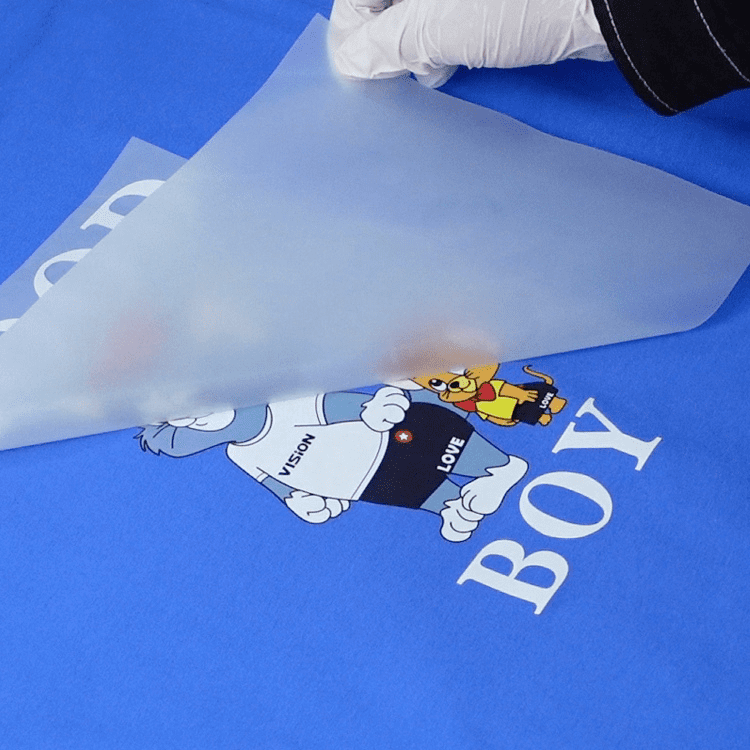 For Cotton
Coatings optimized for transfer onto 100% cotton
For Polyester
Formulated for synthetic fabrics like polyester
For Cotton/Poly
Works on blends of natural and synthetic materials.
For Dark Fabrics
Allows transfer onto black or dark colored fabrics.
For Light Fabrics
Best for printing on whites and light colors.
So in summary, it's helpful to understand the different classifications of DTF film as you assess the options. Consider the coatings, release method, effects, and target fabric to select the right film for your application.
Read Also: Best fabric for DTF Printing
Now let's look at the key features and characteristics to evaluate when choosing a DTF film.
Key DTF Film Properties and Qualities
DTF films have some common defining properties and variables that determine the quality and performance. Here are the most important factors to evaluate when selecting a DTF film.
Ink Absorbency
The DTF coating needs to quickly absorb and bond with ink to prevent smearing, bleeding, and loss of image quality. Higher absorbency coatings generally produce better color vibrancy and prevent muddied, washed out prints. Absorbency can be tested by dipping film samples in ink and water and comparing results.
Coating Thickness and Uniformity
Quality DTF coatings need to be applied evenly across the film surface at an optimal thickness. Too thin of a coat won't absorb enough ink. Too thick of a coat will bond ink too deeply, reducing transfer efficiency. Even coat distribution prevents print defects.
Powder Adhesion and Release
The film needs to hold polymeric powder securely to prevent smudging before pressing, but then completely release the powder during the heat transfer. Testing powder shake-off and post-press residue indicates proper powder adhesion and release.
Backing Release and Peel
The PET backing should peel away from the transferred ink coating easily and cleanly when peeled warm (hot peel) or cold (cold peel). The coating should completely transfer to the fabric without sticking to the backing.
Dimensional Stability
Better DTF films maintain their shape and size over time and high heat exposure. Films that shrink, warp, or warp under printer heat or during pressing will cause misaligned or distorted prints.
Heat and Humidity Resistance
Ideal DTF coatings stay stable when exposed to the high heat and humidity inside DTF printers. Breakdowns in heat/humidity resistance can lead to ink bleeding and other print defects.
Opacity
Opaque films provide the best ink absorption and prevent fabric from showing through on darker shirts and materials. Translucent films typically require a backing layer or white ink for opacity.
Durability
Higher grade DTF films stand up well to washing, abrasion, and daily wear without degrading, cracking, or peeling over time. Durability depends largely on coating thickness and adhesion.
Factors to Consider When Choosing a DTF Film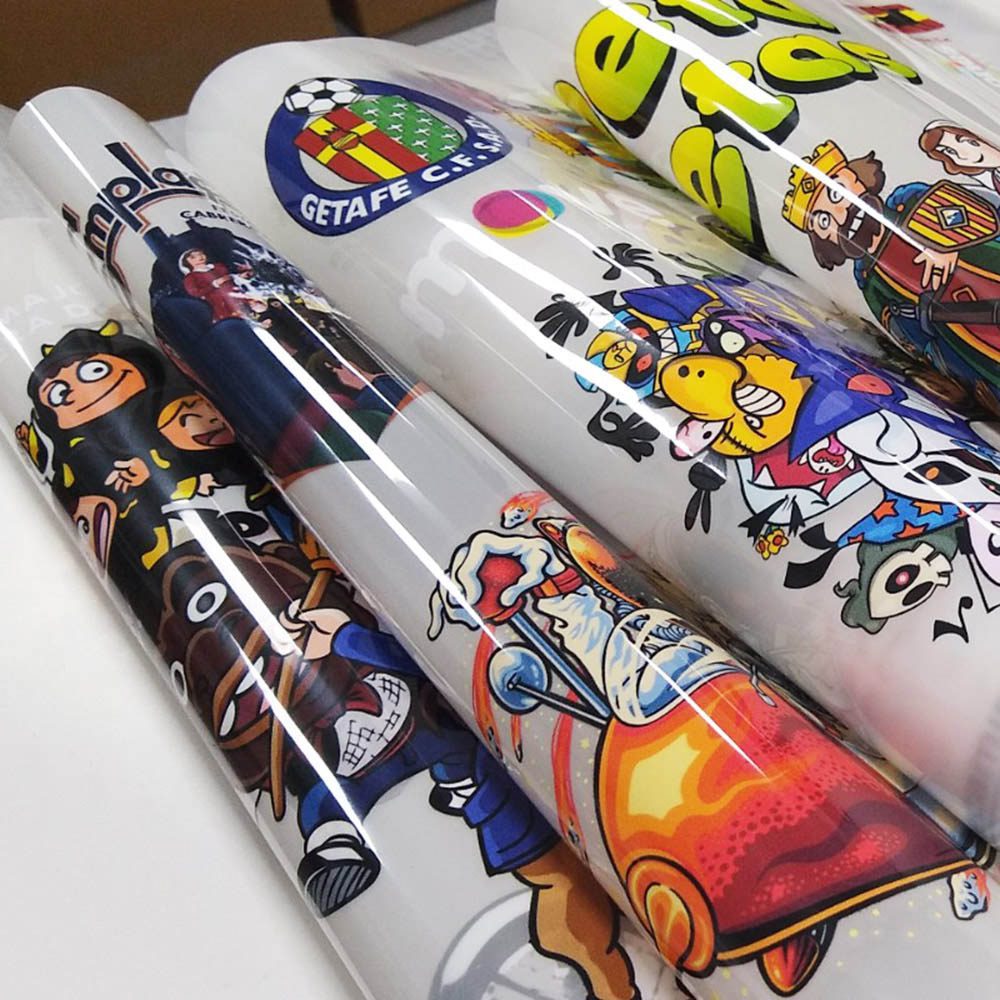 With so many DTF film products on the market, how do you decide on the right one for your needs? Here are the crucial factors to take into account:
1. Intended Printing Method
DTF film vs. DTF paper: DTF paper is thicker, while DTF film is thinner and more transparent. DTF paper works better for some desktop printers, while DTF film is required for roll-to-roll printing.
Type of printer: Certain DTF films are designed for either desktop or roll-fed printers. Make sure to choose a film compatible with your printer.
Ink type: DTF films are formulated to work with either pigment or dye inks. Use the correct one for your ink system.
2. Type of Transfer Material
Natural vs. synthetic fabrics: Some films work better for certain fabric types, like 100% cotton vs. polyester blends.
Light vs. dark fabrics: There are films specifically for transferring onto light or dark colored fabrics.
3. Handfeel
A key decision point is whether you want the print to have a smooth "dye-sublimation" hand feel or a texture you can feel.
Films with thicker coatings tend to produce prints with more hand.
4. Washability and Durability
How well does the printed design hold up after washing and wearing? High release force films often increase durability.
Overcoats and backcoats also help improve washability. Check the specs and user reviews.
5. Print Quality
How vibrant and sharp are the printed colors and details? The ink-receptive coating greatly affects this.
A thicker coating typically produces richer colors but a thicker handfeel. Find the right balance.
6. Release Characteristics
Does the film release easily during heat transfer? Thicker release coatings improve transfer.
But too thick a release layer can reduce image quality. Evaluate the release force.
7. Price and Value
Entry-level films may have quality compromises. Higher priced films typically give better performances.
But increased costs don't always equal better results. Focus on value for your needs.
8. Desired Print Effects
Do you want standard opaque prints, or are you looking to create reflective, metallic, or other specialty effects?
Choose films designed specifically to create certain visual styles.
9. Hot or Cold Peel Preference
Do you want the faster hot peel process, or prefer the washability of cold peel?
This determines whether you need a wax-based hot release coating or an adhesive cold release coating.
10. Complimentary Products
Make sure your DTF film selection works in conjunction with your inks, powders, backing sheets, and heat presses for optimal system compatibility.
Consulting with your film supplier to understand all the variables is wise when switching films or buying DTF coatings for the first time.
Their expertise can help identify the best formulations and products for your printing needs.
Evaluating and Testing DTF Films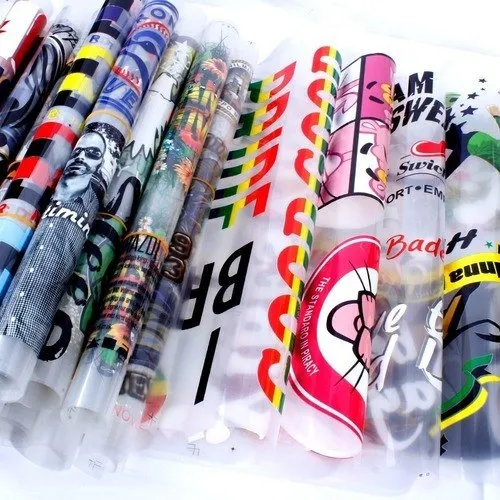 It's smart due diligence to run evaluations of any new DTF film before committing to large volume purchases. Here are some recommendations on vetting and trialing films:
Request Film Samples: Most DTF suppliers will provide free small samples so you can test new films.
Check Coating Quality: Assess samples for coating uniformity, thickness, and ink absorbency under a magnifier. Avoid films with visual defects.
Print Test Images: Use samples to test print gradient scales, fine text/lines, and images that challenge resolution limits.
Conduct Wash Tests: Heat press test images onto fabric swatches and machine wash in warm water multiple times to gauge durability.
Try Pressing Variations: Vary time, temperature, and pressure during pressing to find the optimal combo for clean transfers.
Evaluate End Products: Test for color quality, print durability, hand feel, stretchability, and backing peel qualities.
Here are tips on aspects to evaluate when test printing:
Solid fill colors should appear dense and vibrant without mottling or banding
Fine details and text should print sharply without blurring or edge bleeding
Photographic images need to print smoothly without artifacts or loss of detail
Ink Absorption
Print a color ramp gradient to check ink absorption consistency across the tonal range
See if any areas reject ink, which could indicate poor coating quality
Washability
Heat press sample prints onto a fabric substrate, then wash test it
Check for fading, loss of details, or cracking after repeated wash cycles
Release Performance
When hot peeling, the film should separate cleanly from the substrate
There should be no tearing, distortion of image, or residue left behind
Cold peel films can be evaluated by gradually pulling off the release liner
Take notes on what film samples perform best for your applications based on the test results. This will lead you to the right formulation for moving forward.
Read Also: Best dtf film and powder for sublimation
Storing and Caring for DTF Film
To maintain quality and prevent issues, always handle and store DTF transfer film properly:
Leave in Packaging – Store film in original packaging and sheets until ready to use. Don't remove from protective sheets early.
Cool, Dry Area – Keep film in climate controlled room around 60-80°F and low humidity. Avoid direct heat exposure.
No Sunlight – Don't store in areas with windows or direct sunlight. UV rays damage coatings.
Clean Workspace – Only handle film in clean, dust-free areas to prevent debris from embedding.
Shelf Life – Use unopened DTF film within 1 year of manufacturing for best results. Coatings can degrade over time.
First In, First Out – Rotate stock and use oldest materials first to ensure freshness.
Proper care extends the usable life of DTF films and prevents wasted materials from factors like humidity damage, UV exposure, and coating breakdown over time.
Frequently Asked Questions About DTF Films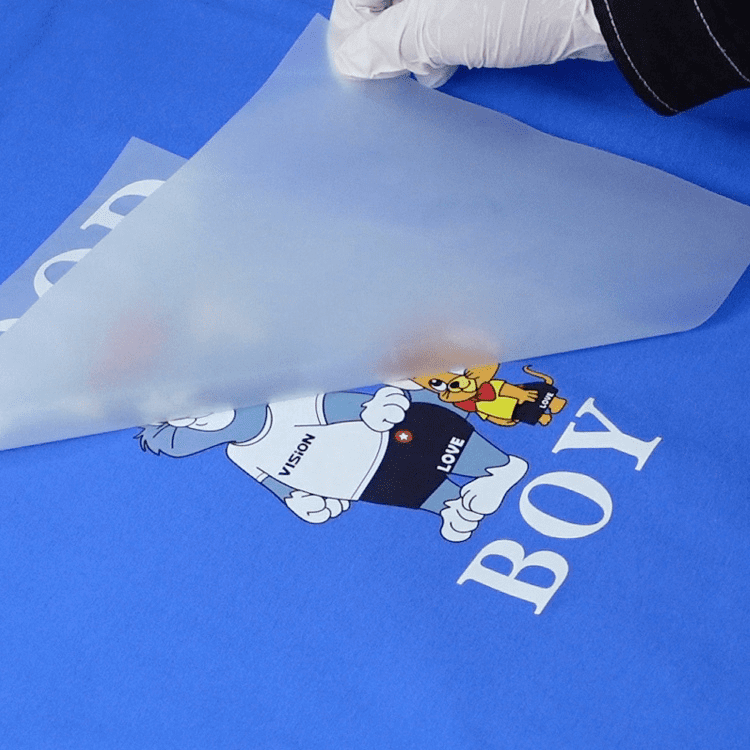 Here are answers to some of the most common questions about selecting and working with DTF films:
What is the ideal thickness for a DTF transfer film?
The coating thickness should be 3-5 microns generally. Thinner than 3 microns risks poor ink absorption. Thicker than 5 microns may impede ink release during transfers.
Are thicker DTF coatings more durable than thinner ones?
Yes, to a point. Heavier coatings stand up to abrasion better. But if too thick (>5 microns) they can bond ink too deeply, reducing wash durability. 3-4 microns is ideal.
How do you prevent the backing sheet from sticking to DTF prints?
Use a non-stick silicone baking sheet as a release liner when pressing cold peel films. The silicone prevents the coating from bonding to the backing sheet surface.
What causes some DTF prints to feel "plasticky"?
Overly thick coatings prevent the fabric texture from showing through. Too much heat/pressure during pressing can flatten surface texture as well. Reduce coat density and press force.
Why do you need to preheat garments before DTF transfer?
Pre-pressing evaporates moisture and heat sets fabric pores for better coating adhesion. Moisture creates steam pockets under transfers causing image distortion or bonding failure.
Can you reuse DTF transfer film after the first press?
No, DTF films are engineered for single-use only. The coatings aren't designed to absorb and release ink adequately during secondary transfers.
What DTF films work best on dark colored fabrics?
Opaque white-backed films provide the best ink density and coverage for darker shirts and materials. Dark fabrics absorb light, so white backing reflects maximum color vibrancy.
How do you prevent ghosting or bleeding with DTF printing?
Use films with high ink absorption, make sure inks are fully cured before pressing, allow adequate drying time between print passes, and keep printheads clean.
The Takeaway
Choosing the right DTF film may seem complicated given all the options and variables involved. But testing samples, understanding key qualities like durability and opacity, and pairing films with the right inks, printers, and fabrics will lead you to the perfect match. A high quality DTF film designed for your specific printing objectives results in eye-catching custom apparel and merchandise with photorealistic quality.
Best Guides on DTF Printing:
---