Are you considering purchasing the Roland BN20D DTF Printer? Before you make that decision, take a moment to read this review. In this blog post, I'll share my thoughts on the Roland BN20D and provide you with some valuable insights based on my experience. Let's dive right in
Direct-to-film (DTF) printing has revolutionized the custom apparel decoration industry. With DTF technology, apparel decorators can print incredibly detailed, full-color graphics on dark and light colored garments without the need for weeding or applying a transfer mask.
The Roland BN20D is one of the leading desktop DTF printers on the market today, designed to handle intricate, full-color artwork for apparel customization. This 20" wide format printer can quickly and easily transfer highly detailed graphics and text to garments without weeding or masking.
The BN20D utilizes specialized inks, film, and powder to create full color transfers. It can also function as a stand-alone vinyl cutter when needed.
Key Features & Specs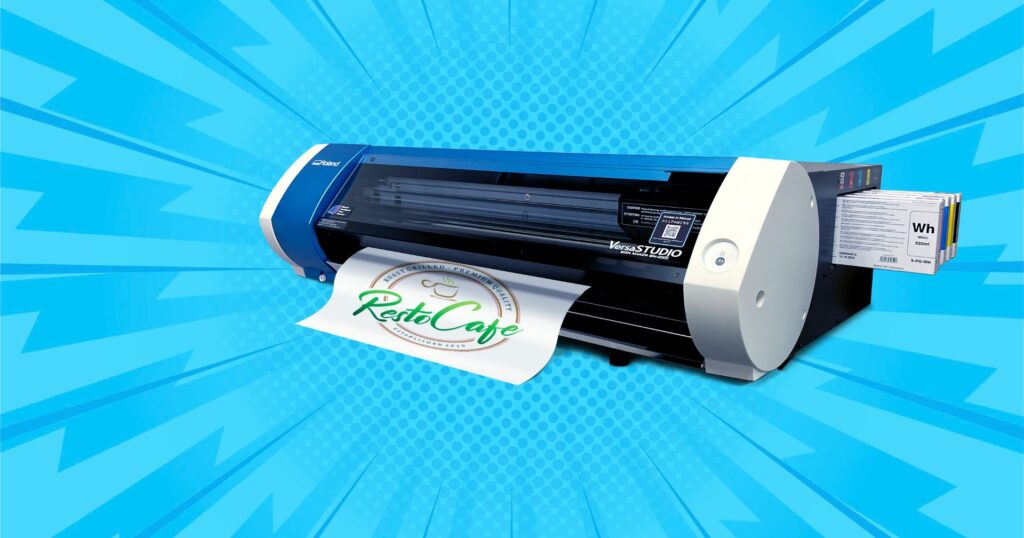 Specifications
VersaStudio BN-20-D
Printer Dimensions
39.7″ W x 22.9″ D x 11.5″ H in. (1,009 W x 582 D x 293 H mm)
Max. Media Width
20.3 in. (515 mm)
Max. Print Width
18.9 in (480 mm)
Number of Ink Slots
5
Ink Technology
Pigment
Ink Capacity & Colors
220ml cartridge – CYMK + White
DTF Consumables
Film and Powder – S-F164 film & S-POWDER
Cleaning Liquid – CJ-CL
Maintenance
Cap Top – User replaceable
Cap Top Replacement Sequence – Start from utility
Wiper – User Replaceable
Felt Wiper – User Replaceable
Manual Cleaning – Every day after the end of the workday
Installation
Self Installation
credit: coldesi
DTF Printing Capability: The Roland BN20D is a DTF (Direct-to-Film) printer designed specifically for printing vibrant, full-color designs on t-shirts and other garments. It offers a unique printing process that allows for efficient color and white printing.
Based on Reliable BN20 System: The BN20D is built upon the trusted and reliable BN20 system from Roland. Users can benefit from Roland's reputation for producing high-quality and dependable printers.
Seamless Color-to-White Printing: With the BN20D, the printer seamlessly switches from printing colors to printing white. This feature eliminates the need for separate printing passes, resulting in a more streamlined and efficient workflow.
Compatibility with Existing BN20 Parts: The BN20D shares many parts with the BN20A, making it compatible with existing BN20 equipment and accessories. Users who are already familiar with the BN20 series can easily transition to the BN20D without significant adjustments.
Efficient for Low Volume Production: The BN20D is ideal for low volume production, allowing users to create personalized apparel and small batches of shirts with full-color designs. It provides an efficient solution for niche markets and individual customization needs.
Potential Market-Changing Features: The BN20D represents a step in the right direction for DTF printing. With further development, such as the introduction of an additional printhead, the BN20D could potentially revolutionize the market by enabling simultaneous color and white printing in one pass.
Professional-Quality Prints: Roland is known for delivering high-quality prints, and the BN20D upholds that reputation. It ensures vibrant colors, sharp details, and professional-looking designs on various types of garments.
Familiar User Interface: Users of the BN20D can expect a user-friendly interface that aligns with the BN20 series. The familiar controls and functions make it easier for operators to navigate and operate the printer effectively.
Compact Desktop Size: The BN20D features a compact and desktop-friendly design, making it suitable for small working spaces or home-based businesses. Its size allows for easy setup and integration into existing environments.
Future Development Potential: The BN20D showcases Roland's ability to adapt and innovate within the DTF printing industry. Its introduction paves the way for potential advancements and improvements in future iterations, offering users even more capabilities and features.
How Does DTF Printing Work on the Roland BN20D?
The DTF printing process using the BN20D involves just a few simple steps:
1. Print Design onto Film
The first step is to print your full color graphic or design directly onto the Roland DTF film. The BN20D uses CMYK process colors plus white ink. The white ink acts as an underbase to produce a bright, opaque image on the film.
2. Apply Proprietary Powder
Next, the bonding powder is evenly applied over the printed design on the film. This powder will bond to the ink during the heat application process.
3. Heat Press Powder
The film is then pressed using a heat press to melt the powder and bind it to the ink. This activates the adhesive properties and creates a reverse image for transferring.
4. Press onto Substrate
Finally, the printed film is pressed onto the shirt or other substrate using a heat press. The image releases cleanly from the film, leaving your graphic permanently adhered to the material.
This innovative process allows printing photorealistic quality designs with intricate details that would be difficult and time consuming to produce with vinyl. DTF is revolutionizing on-demand custom apparel decoration.
What You Need to Print DTF Transfers
To start printing DTF transfers with the Roland BN20D, you'll need a few key supplies:
Roland DTF Film – Special transfer film designed for DTF printing. Roland's S-F164 is optimized for use with BN20D inks and powder.
DTF Bonding Powder – Specially formulated powder adhesive that bonds to the printed ink during heat application. Use Roland's S-POWDER powder for best results.
DTF Ink – The BN20D uses Roland Eco-SOL MAX 3 CMYK plus white inks for DTF printing.
Heat Press – A quality heat press is required to bind the powder to the ink and apply transfers. Look for an auto-open swing-away model with accurate temp/timing.
Substrate – Garments, hats, bags, etc. Polyester and poly-cotton blends work best.
Using the proper DTF films, inks, powder and equipment will ensure you get the best possible results from the BN20D.
VersaWorks 6 RIP Software
The BN20D comes bundled with Roland VersaWorks 6, an industry-leading RIP and print management software. VersaWorks 6 features powerful tools for streamlining production and optimizing print jobs including:
Intuitive interface for easy file preparation and printer control
Advanced color management tools
Raster and vector workflows
Variable data printing
Flexible color replacement
Customizable print queues
Media and ink savings tools
Crop marks, bleed, nesting
File correction filters
Job tracking and accounting
3D visualization of prints
Device monitoring
VersaWorks 6 makes it simple for both novice and advanced users to achieve professional results with the BN20D printer. The software gives you the control you need to get the best quality and efficiency from your prints.
Read Also: Best rip software for dtf printing
What Types of Graphics Can You Print?
The DTF printing process allows you to decorate garments with all kinds of full color graphics without the limitations of vinyl or screen printing. Here are some examples:
Photographic prints – Print high definition photos
Intricate artwork – Transfer fine details and textures
Vector illustrations – Flawlessly print vector images and clipart
Complex designs – No need to weed tiny details
Fine text – Crisply print names, slogans, and quotes
Distressed looks – Create vintage and grunge effects
All-over prints – Use full bleed artwork or repeating patterns
Anything you can print on paper, you can transfer onto a garment with DTF. It opens up new possibilities for apparel decorators to take on more detailed and challenging designs.
Read Also: Best File Format for DTF Printing
Roland BN20D Applications: What Can You Print with DTF?
The BN20D's white ink capabilities allow you to decorate light and dark colored garments with DTF transfers. Here are some examples of items you can customize:
T-shirts
Aprons
Jackets
Towels
Tote bags
Sweatshirts & hoodies
Hats and beanies
Socks
Canvas shoes & sneakers
Sports apparel and uniforms
Bags and backpacks
Aprons and kitchenware
Phone cases and tech accessories
Face masks
Cups, water bottles and drinkware
Business cards and invitations
Stickers, decals and magnets
Interior decor and home goods
Signs, banners and displays
DTF transfers will work on any apparel made from 100% cotton, 100% polyester, or cotton/polyester blends. It won't work well on materials with too much spandex or elasticity.
With DTF, you are truly only limited by your imagination. The ability to print photographic quality images with intricate details allows you to offer customers a world of possibilities for customizing apparel, goods, decor items and more.
Read Also: Best fabric for DTF Printing
Roland BN20D DTF Printing Pros and Cons
Before investing in any new printer, it's important to understand both the benefits and drawbacks of the technology. Here's an overview of the pros and cons of the Roland BN20D:
Advantages of the Roland BN20D
Despite my reservations, the BN20D does have some notable advantages. One of them is the fact that Roland has successfully repurposed their existing BN20 setup to create a DTF printer. This conversion is an impressive feat, and it may offer a more reliable and accessible option for those interested in DTF printing.
Superior Print Quality: The BN20D utilizes Roland's advanced printing technology to deliver prints with stunning quality and vibrancy. It can achieve up to 1440 dpi maximum print resolution for photographic images with smooth gradations and detail. The specially formulated Eco-SOL MAX 3 inks provide a wide gamut of rich, dynamic colors that really make designs pop. A key benefit of DTF printing is that you don't have to sacrifice image quality for the ability to print fine details and small text.
No Weeding or Masking Required: Eliminating the need for weeding or applying a mask is one of the biggest advantages of DTF printing. The Roland BN20D makes printing multicolor designs with intricate elements like small text or logos fast and easy. You can produce complex full-color graphics on film quickly without the hassle of weeding. This saves a tremendous amount of time and labor.
Efficient Full-Color Printing: The Roland BN20D offers an efficient way to print full-color shirts with low volume. Its ability to print colors and then overlay white on top makes it a viable option for creating vibrant and detailed designs.
Reliability of the Roland Brand: Roland has a reputation for producing reliable and high-quality printers. The BN20D builds upon the successful BN20 system, ensuring that users can rely on its performance and durability.
User-Friendly Operation: The BN20D shares many parts with the BN20A, making it familiar and user-friendly for those who already own or have experience with the BN20 series. This familiarity simplifies the learning curve and allows users to seamlessly transition to the BN20D.
Market Potential: The BN20D represents a step in the right direction for Roland in the DTF market. While it may not be the best option at its current price point, the potential for future advancements, such as adding an extra printhead for seamless color and white printing, could make it a game-changer in the industry.
Reliable Support and Customer Service: Roland is known for its excellent support and customer service. Choosing the BN20D means having access to a dedicated team that can assist with any technical issues or questions that may arise during the printing process.
Established Parts and System: The BN20D shares many parts with the BN20A, which means that users can benefit from an established system. This familiarity and compatibility can streamline the learning process and ensure smooth operation.
Positive User Experience: The BN20D has received praise and positive feedback from its users. Its ability to meet expectations and surpass them makes it an appealing option for those looking to start or expand their t-shirt businesses.
The BN20 system has proven itself to be reliable, and if the BN20D follows suit, it could alleviate many of the common challenges faced when working with DTF transfers. While it may have some limitations, these advantages make the BN20D worth considering for individuals in the t-shirt printing industry.
Limitations of the Roland BN20D
Inability to Connect to a Powder Shaker: One major limitation of the Roland BN20D is its inability to be connected to a powder shaker. This means that applying powder and curing the prints becomes a manual and time-consuming process, making it less efficient compared to printers that can integrate with a powder shaker.
Hands-On Process: Due to the absence of powder shaker connectivity, the BN20D requires more hands-on involvement. Users will need to manually apply the powder and carefully handle the curing process, which can be labor-intensive and may slow down production.
Price Point vs. Features: Considering the current price of the BN20D, some may find that the features it offers do not justify the cost, especially when compared to other options available in the DTF market. Evaluating the return on investment and weighing the capabilities of the printer against its price is crucial before making a purchase decision.
Not Suitable for High Volume Production:: The BN20D is designed for low volume production, making it less suitable for businesses that require high-volume printing. If you have large-scale printing needs, this printer may not be the most efficient or cost-effective option.
Lack of One-Pass Printing: The BN20D requires a two-step process for printing color and white layers. It prints the color layer first, resets back to the origin, and then prints the white layer on top. This means reloading and resetting between color and white layers, which can be time-consuming and hinder production speed.
Powdering and Curing Challenges: Without a powder shaker and automated drying system, achieving consistent and even powdering, as well as ensuring proper curing, becomes more challenging. Users must carefully monitor and control these steps to achieve desired results, adding complexity to the printing process.
Limited Compatibility with Existing Equipment: The BN20D utilizes a different printing process compared to traditional printers, which may require additional adjustments to existing equipment and workflow. Compatibility issues may arise when integrating the BN20D into an established production setup.
While the Roland BN20D has its advantages, it's important to be aware of its limitations. The lack of powder shaker connectivity, the hands-on process involved, the price point in relation to features, limited volume capacity, the two-step printing process, and the challenges with powdering and curing should all be considered when assessing the suitability of the BN20D for your specific printing requirements.
How Much Does the Roland BN20D Cost?
The manufacturer's suggested retail price of the Roland BN20D is $6,495 . However, most dealers offer promotional pricing and package deals that reduce the cost.
You can often find the BN20D discounted to around $6,495 – $7,900 from authorized Roland sellers. That's for the standalone printer unit.
Some dealers offer starting packages with everything you need to get printing like the printer, software, films, inks, powder, heat press, etc. These bundles provide additional savings, with some starting under $8000.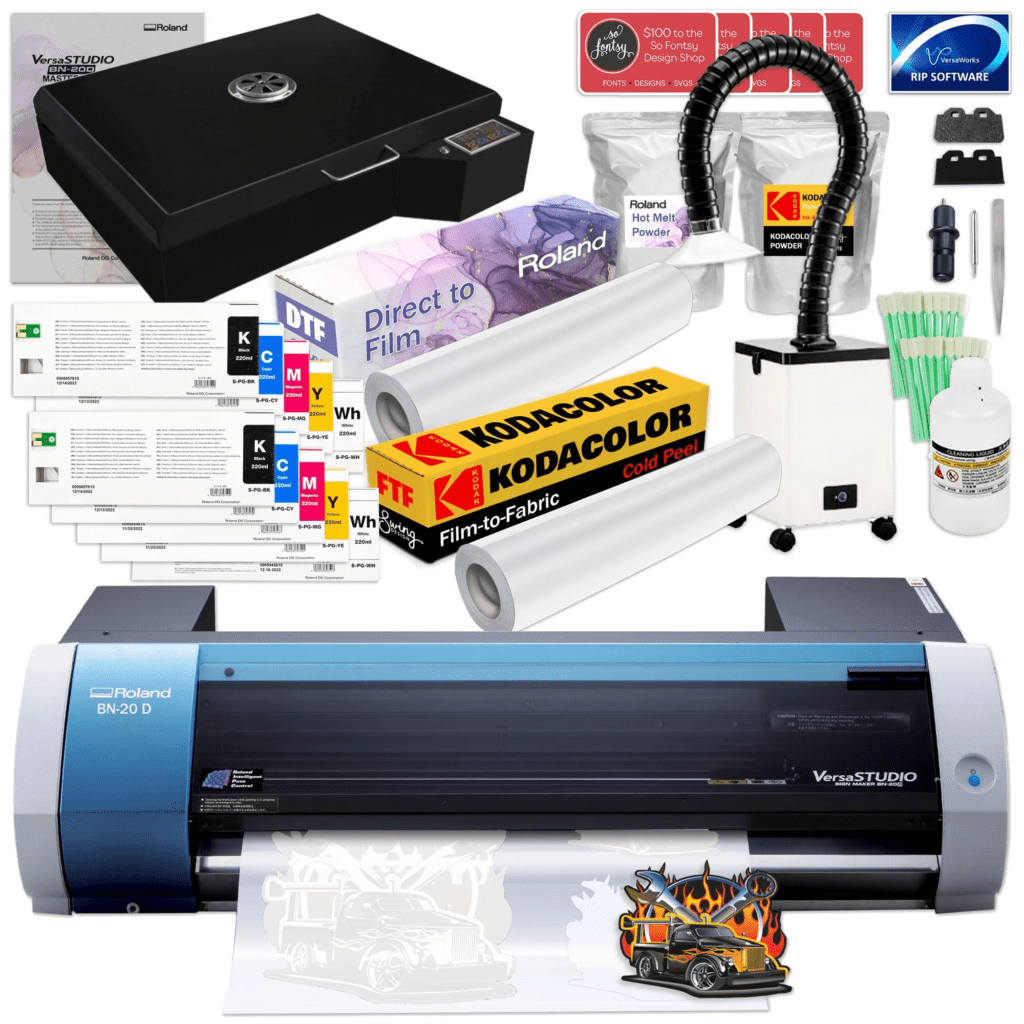 Considering a fully outfitted DTF printing setup can cost over $20,000, the affordability of the BN20D makes it appealing for small shops and startups looking to bring production in-house. The low operation costs are another advantage over outsourcing.
Roland BN20D Transfer Supplies and Operating Costs
Like all printing technologies, there are consumable supplies and operating costs to factor in beyond just the initial printer investment. Here are the ongoing costs for running the BN20D:
The DTF film and bonding powder are the main consumables, along with the CMYK + White ink cartridges. Cost per transfer will depend on the size of your prints.
Expect to perform light maintenance like printhead cleanings regularly. The white ink channels will require more frequent cleaning than the CMYK. Proper maintenance is key for performance and print quality.
Overall BN20D transfer supplies and operating costs are very reasonable, especially for the quality and capabilities it provides. Cost per print is comparable to other digital transfer methods.
Maintaining the BN20D Printer
Like most professional printing equipment, proper care and maintenance is required to keep the BN20D running at peak performance. Here are some tips for maintenance:
Perform daily maintenance after the last print of the day. Cap the printhead and run daily cleaning cycles.
Replace wiper, cap tops, and other consumables regularly per usage and maintenance alerts.
Keep the printhead and surrounding areas clean. Remove dust, debris and dried ink.
Run nozzle checks and printhead cleanings to clear any clogs or issues.
Replace ink cartridges as needed. Only use Roland Eco-SOL MAX 3 inks.
Install firmware and software updates from Roland to keep your system up to date.
Regularly print test patterns to check alignment and image quality.
Following the manufacturer's instructions for maintenance along with proper care, cleaning and storage of your printer will help minimize downtime and expensive repairs.
How Does the Roland BN20D Compare to the BN20?
Roland also offers the larger BN20 printer without the integrated DTF system. The BN20 is a flatbed eco-solvent printer/cutter while the BN20D is configured for desktop direct-to-film printing.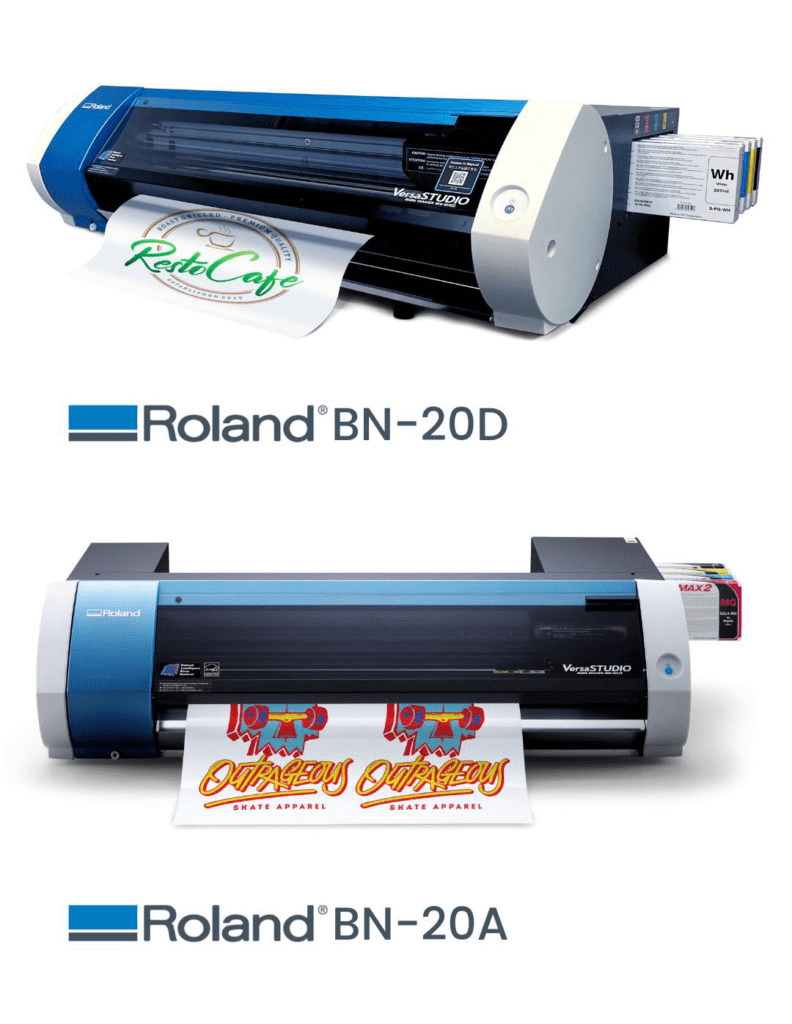 Here's a quick comparison between the two:
| Feature | BN20D | BN20 |
| --- | --- | --- |
| Print Resolution | 1440 dpi | Max 1440 dpi |
| Print Method | Direct-to-film inkjet | Eco-solvent inkjet |
| Media | S-F164 DTF film | Vinyl, heat transfer film, etc |
| Ink Configuration | CMYK + White | CMYK, CMYK + White, or CMYK + White + Orange + Violet |
| Ink Types | Eco-SOL MAX 3 | Eco-SOL Max 2 |
| Printable | No cut lines needed | Needs contour cut lines |
| Process | DTF film printing | Print then feed back in to cut |
| DTF Capable | Yes | No |
| Cutting Function | Yes | Yes |
| Max Media Width | 20 in | 20 in |
| Software | VersaWorks 6 RIP | VersaWorks 4 RIP |
| Price | $6,495 | $6,795 |
While the print widths are equal, the ink capabilities differ between the two printers. The BN20D uses specialized inks for DTF while the BN20 uses general eco-solvent inks.
The BN20 requires printing cut lines for contour cutting. The DTF process on the BN20D skips this weeding step.
Overall, the BN20D gives you integrated DTF capabilities in a more compact desktop footprint. So it provides an upgraded experience over the BN20 for direct printing.
Who Is the Roland BN20D For?
With its extended print width and DTF capabilities, the BN20D is ideal for:
Print and Embellish Shops – Add DTF printing to offer photorealistic, full-color custom apparel without weed lines. Perfect for on-demand orders.
Screen Printers – DTF is an affordable alternative to screens that expands your graphics capabilities. Great for sampling or small batch orders.
Embroidery Shops – Complement your services with full-color prints. No digitizing or sewing outs needed.
Promotional Product Distributors – Produce colorful custom imprinted products in-house on demand for your clients.
Decal and Sticker Shops – Create one-offs, samples and short runs with detailed multicolor graphics.
Schools and Universities – Easily print vibrant spiritwear, team uniforms, merchandise and more.
Independent Crafters & Artists – Print your original artwork on products to sell online or at craft fairs and markets.
Any small business offering custom printing or embellishment services can benefit from the BN20D's versatility, high print quality, and ease of use. It's also budget-friendly for startup ventures.
Is the Roland BN20D Worth the Investment?
For shops looking to add photorealistic, full-color custom apparel printing capabilities, the Roland BN20D is absolutely worth the investment. Here are some of the key benefits that make the BN20D a smart purchase:
High profit margins – Low ink usage and no outsourcing equals better margins on print orders.
Faster turnaround – Produce on-demand transfers in house for rush orders.
Detailed prints – Print designs and photos with small text and intricate elements with ease.
No weeding – Save hours of labor and hassle.
Low maintenance – Engineered for reliable operation and low upkeep.
Compact size – Desktop unit fits into any shop.
User friendly – Simple operation and bundled software for easy setup.
Expanded capabilities – Offer photorealistic prints, samples, short runs.
Affordable startup costs – Complete DTF production systems available under $10k.
For small shops and entrepreneurs, the ROI is quick with the ability to produce high margin custom apparel on demand. The BN20D's low maintenance requirements and consumables costs also make it economical for higher volume production.
Read Also: Uninet 100 DTF Printer Review
Roland BN20D Reviews: What Owners are Saying
The BN20D is getting rave reviews from new users. Here's what current owners have to say:
"This printer is amazing! The image quality is stunning and it's so easy to get beautiful, detailed prints ready to press. DTF printing is really impressive. I'm hooked!"
"I love that I can print designs with small text and logos with no weeding or masking needed. Total game changer. The BN20D was totally worth the investment."
"DTF printing allows me to make really complex full color designs that pop. My customers are thrilled with the photorealistic quality."
"The VersaWorks software makes printing artwork a breeze. I'm producing high quality transfers much faster now."
"Setup took no time at all and it's been running like a dream ever since. Roland really has DTF printing down to a science."
Owners are reporting gorgeous, professional quality prints and easy operation after a minimal learning curve. For many shops, bringing DTF printing in-house with the BN20D has allowed them to expand offerings and take their custom apparel business up a notch.
Final Verdict: Should You Buy the Roland BN20D DTF Printer?
The Roland BN20D is an excellent quality desktop DTF printer for shops looking to add high detail full color transfer capabilities with minimal operational costs.
It's affordably priced for its 20″ print width and DTF functionality. Ongoing supplies and maintenance are very reasonable as well.
For small to mid-sized apparel printing and customization businesses, the BN20D is a smart DTF investment that can expand your offerings and revenues.
The ability to print and transfer incredibly detailed, full color graphics with minimal workflow provides game-changing advantages over vinyl printing and transfers.
If you want to profit from photorealistic quality and the most intricate designs without weeding or masking, then the BN20D absolutely delivers. Its high value price point makes DTF production extremely accessible for smaller decorators as well.
Overall, the Roland BN20D is a worthwhile investment that can significantly improve and grow an apparel decorator's business. Its DTF capabilities enable you to profit from new opportunities and complex graphics you couldn't produce before.