So you want to get into the laser cutting game but aren't sure which way to go. Laser engravers are an excellent tool for makers, crafters, small business owners, and anyone who wants to customize and personalize projects. The Sculptfun S30 Pro Max and the Xtool D1 Pro are two of the most popular 20W laser engravers on the market. They both offer great performance and features, but which one is the better buy?
In this blog post, I'll compare the features, accessories, build quality, performance, and pricing of these two laser engravers to help you decide which is the right choice for your needs and budget.
After testing both machines extensively, I've got the scoop on how they compare when it comes to:
Key Features and Specs
Setup time
Available accessories
Build Quality
Cut Quality and Efficiency
Engraving quality
Ease of Use and Software
Cost
By the end of this in-depth laser cutter comparison, you'll know which one is the better choice for your needs and budget. Let's dive in!
Key Features and Specs
Both the Sculpfun S30 Pro Max and Xtool D1 Pro are 20W laser engravers and cutters. Here's an overview of their main features:
| Machine | Laser Power | Work Area | Supported Materials | Software | Price |
| --- | --- | --- | --- | --- | --- |
| Sculpfun S30 Pro Max | 20W | 370 x 363 mm | Wood, acrylic, leather, paper, fabric, cardboard, etc. | LightBurn (paid), LaserGRBL (free) | $1,299 |
| Xtool D1 Pro | 20W | 430 x 400mm | Wood, acrylic, leather, paper, fabric, cardboard, etc. | Xtool Creative Space (free), LightBurn (paid) | $1,399 |
Sculpfun S30 Pro Max
20W laser
370 x 360mm work area
Includes auto-focus
Comes with LightBurn software license
Built-in air assist
Xtool D1 Pro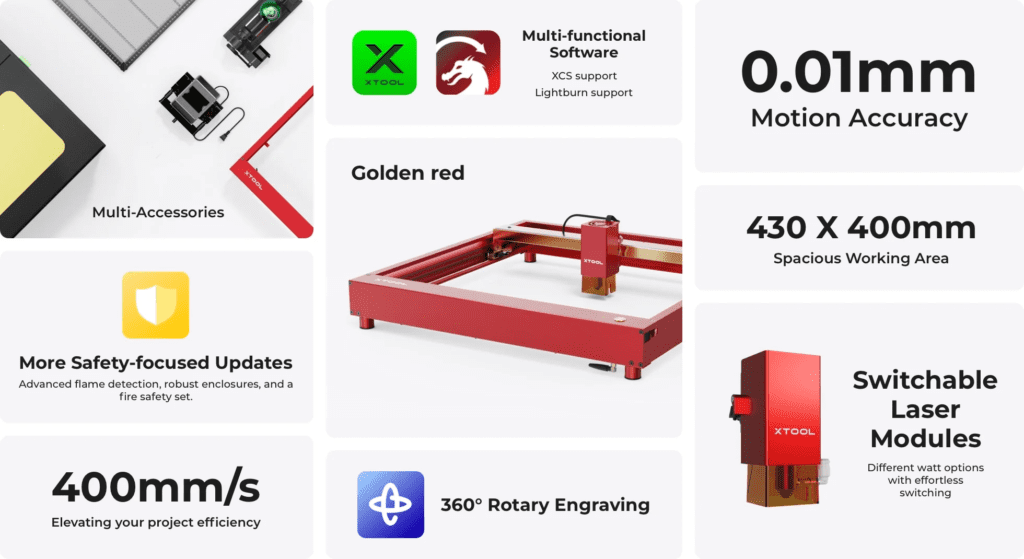 20W laser
410 x 420mm work area
Manual focus
Compatible with LightBurn (license not included)
External air assist accessory
The work areas are nearly identical, so in terms of size and power, the two units match up closely. The Sculpfun stands out for including auto-focus and integrated air assist, while the Xtool has a slightly larger work area.
As you can see, these are very comparable Chinese-imported laser cutters in terms of power and work area. The big differences come down to accessories, software, and, of course, price.
Setup Time

The Sculpfun took around 40 minutes to assemble out of the box, while the Xtool took about an hour.
The instructions for both are similar – color pictures with some text. I'd recommend watching the assembly videos for either laser cutter, as they provide extra tips not found in the manuals.
The Xtool has nicer cable management with hidden wires, but is more tedious to put together. The open control box on the Xtool also makes it more susceptible to workshop dust.
Overall, assembly is straightforward for both lasers. Expect 1-2 hours from unboxing to first cut.
Accessories
Both laser engravers have additional accessories available for purchase:
Sculpfun Accessories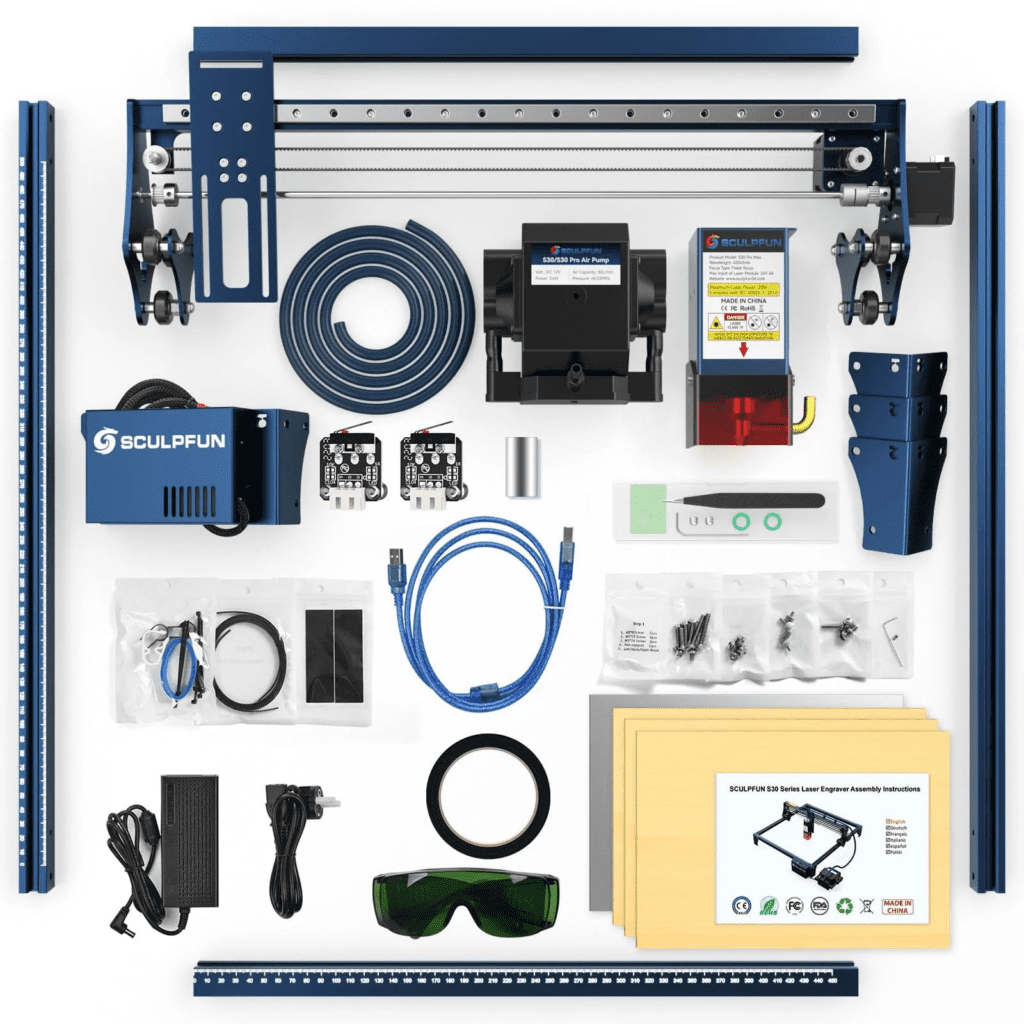 Honeycomb workbed
Fume extractor
Rotary attachment
Work area extension kits (up to 900 x 900mm)
Xtool Accessories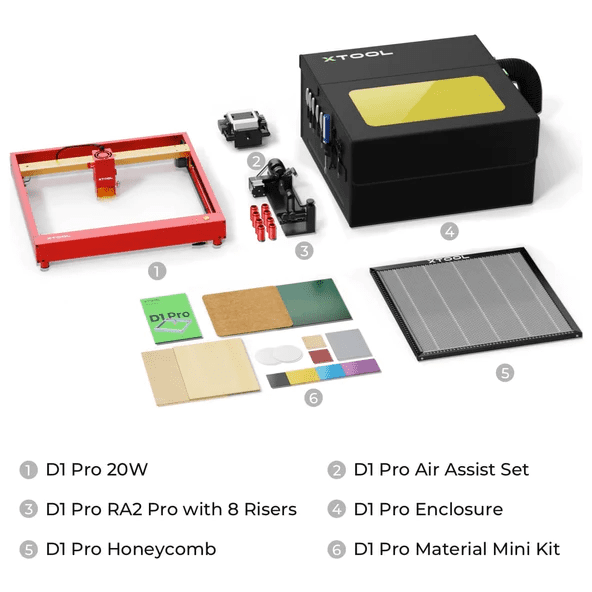 Honeycomb workbed
Fume extractor
Rotary attachment with accessories
Work area extension kit (Y-axis only)
The rotary attachments are handy for engraving cylindrical objects like glasses, mugs, and wine bottles. Sculpfun offers more flexibility in expanding the work area along both axes.
However, there are some differences:
The Sculpfun has auto air assist – air kicks on automatically when cutting. More convenient than Xtool's manual air assist.
Sculpfun offers larger work area expansion kits – up to 935 x 905mm. Xtool expands only on Y axis.
Xtool's rotary attachment is regarded as the best on the market for diode lasers.
Sculpfun provides backup laser lenses, so you don't have downtime if one burns out.
Winner: Sculpfun due to auto air assist, larger work area expansion, and included backup lenses. But Xtool does have a superior rotary.
Build Quality

Based on reviews and customer feedback, here's how the build quality of each laser engraver stacks up:
The Sculpfun S30 Pro Max has good cable management with simpler wiring.
The Xtool D1 Pro hides cables away for a tidier look but takes longer to assemble.
The Xtool has a sturdier frame and gantry.
The Sculpfun's open control box design leaves electronics more exposed.
The Xtool control panel is also exposed, which can allow dust inside.
Overall, the build quality is quite good on both models. The Xtool seems a bit more polished, while the Sculpfun is easier to assemble.
Performance
In head-to-head tests for engraving and cutting various materials, here's how the engravers performed:
Cut Quality and Efficiency

In my tests, both lasers produced near identical cut quality on materials like wood and acrylic. The engraving quality was also very close, with perhaps slightly cleaner results from the Sculpfun.
However, the Sculpfun consistently cut all the way through materials, while the Xtool sometimes left uncut sections. This occurred despite using the same settings on both machines.
The Sculpfun was also slightly faster at completing projects, by around 10 seconds to 1.5 minutes, depending on the job. This can add up when doing production work.
Winner: Sculpfun for more reliable cut quality and faster job times.
Engraving Quality

As mentioned above, engraving results were very similar between the two laser cutters. Both can produce clean, detailed engravings at comparable speeds.
The Xtool does have an advantage here with its enclosed laser beam system. This fully encloses the laser on four sides, reducing stray reflections during engraving. The Sculpfun's beam is open on one side.
However, for most users, the engraving quality will be indistinguishable between the two machines.
Winner: Draw -slightedge to Xtool for enclosed laser system.
In summary:
The engraving quality is nearly identical between the two units.
Cutting quality was more consistent with the Sculpfun across various materials like plywood, acrylic, leather, and chipboard. The Xtool struggled with some materials not cutting all the way through.
Speed goes to the Sculpfun, which was 10 seconds to 1.5 minutes faster per project. The Xtool has slower motion when not laser engraving.
The Sculpfun S30 Pro Max produced better cut quality and faster job times overall. Engraving quality was on par between the two engravers.
Ease of Use and Software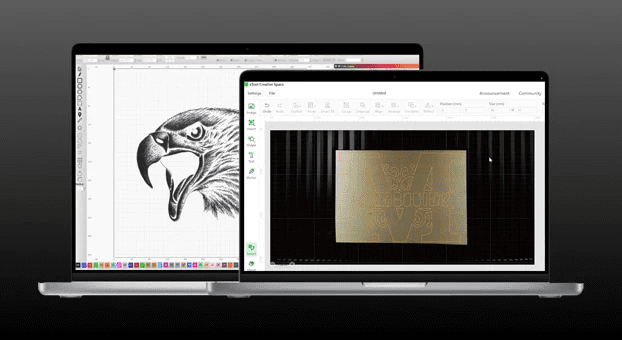 Both lasers can be controlled through popular software like LightBurn. The Xtool comes with its own software, XTool Creative Space. This is decent for basic use, but more limited compared to LightBurn.
A major ease-of-use advantage of the Sculpfun is its auto-air-assist feature. This allows airflow to be turned on automatically only during cutting. The Xtool requires manually switching air assist on and off between engraving and cutting.
Cost
The Sculpfun S30 Pro Max is significantly cheaper than the Xtool D1 Pro. Here's a cost comparison bundled with recommended accessories:
The Xtool costs $1000 more for effectively the same cutting and engraving performance.
This makes the Sculpfun a much better value laser cutter in my opinion. The cost savings can pay for materials or other upgrades down the road.
Winner: Sculpfun due to significantly lower price.
Related: LaserPecker 2 vs LaserPecker 3
Verdict: Sculpfun S30 Pro Max is the Best Bet for Most Makers
Based on my testing and comparisons, the Sculpfun S30 Pro Max is my recommended pick for a sub-$1,500 laser cutter.
The reliable cut quality, faster job times, and cost savings make it a better overall value than the pricier Xtool.
However, the Xtool does have a few advantages like the enclosed laser like tidy cable management, premium build and superior rotary attachment.
The Sculpfun S30 Pro Max hits the sweet spot of price and performance for a "prosumer" grade laser. It's easy to assemble, delivers consistent results, and has room to grow with accessories like the work area expansions.
To summarize, here are my pro tips for each machine:
Sculpfun S30 Pro Max
Better cut quality
Faster job times
Auto air assist for cutting
Cheaper price
Optional work area expansion
Xtool D1 Pro
Enclosed laser system
High quality rotary attachment
Better cable management
So in conclusion, if you want reliable performance for hundreds less, go with the Sculpfun S30 Pro Max. But the Xtool D1 Pro is also a quality machine if budget is less of a concern.
---