Laser engraving has exploded in popularity among DIY makers, artists, and small business owners. The ability to precisely etch designs and text onto materials like wood, leather, acrylic, and metal opens up limitless possibilities for customization and personalization.
When it comes to hobbyist laser engravers, two of the top contenders on the market are the LaserPecker 4 and XTool F1. Both deliver professional-grade engraving capabilities at affordable prices.
But how do you choose between the LaserPecker 4 and the XTool F1? Which one is right for your needs?
In this in-depth comparison guide, we'll examine the specs, features, performance, and real-world use of these two excellent laser engravers. By the end, you'll know exactly which one is the best fit for your workshop or small business.
Let's dive in!
Overview of the LaserPecker 4 and XTool F1
LaserPecker 4 Overview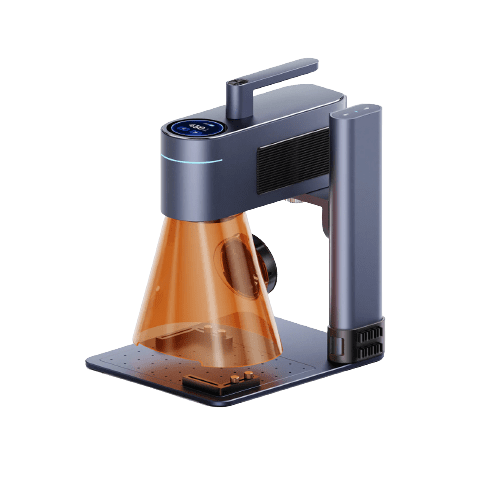 The LaserPecker 4 is the latest model in LaserPecker's popular lineup of compact, desktop laser engravers. Key specs and features include:
10W 450nm blue laser: powerful enough to engrave and cut on materials up to 8mm thick
Max engraving area of 160 x 120mm – One of the largest work areas in its class
Up to 3000mm/s engraving speed – Fast enough for efficient production runs
Magnetic shroud: easy to detach and adjust height without removing
Aviation-grade aluminum body: light yet durable for portability
9 lbs weight: easy to transport and move
The LaserPecker 4 aims to provide high engraving power and a large work area in a portable package. It's designed for everyone, from DIY hobbyists to small business owners.
XTool F1 Overview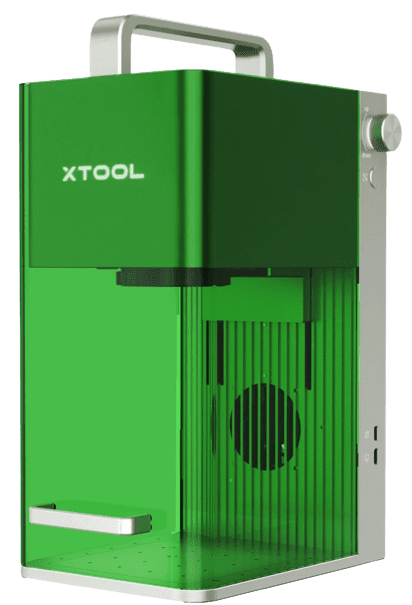 The XTool F1 is another flagship desktop laser engraver known for its compact size but powerful performance. Key features include:
10W laser (5.5W 455nm blue laser + 2W infrared laser) – Provides extra infrared power for effective leather engraving
Max engraving area of 115 x 115mm – Smaller than the LaserPecker 4 but adequate for most projects
Up to 4000mm/s engraving speed – Faster maximum engraving speed than the LaserPecker
Auto-lifting door – Built-in lift mechanism for easy access
10 lbs weight – Still highly portable and movable
Expandable up to 660mm length – Long slide rail accessories available
The XTool F1 is designed for precision engraving, especially on challenging materials like leather where the infrared laser provides an advantage.
Now let's take a deeper look at how these two laser engraver models compare.
Laser Engraver Comparison Overview
| Specs | LaserPecker 4 | XTool F1 |
| --- | --- | --- |
| Laser Power | 10W 450nm (blue) laser | 5.5W Blue + 2W Infrared laser |
| Max Speed | 3,000 mm/s | 4,000 mm/s |
| Work Area | 160 x 120 mm | 115 x 115 mm |
| Max Engraving Depth | 8mm (wood) | 10mm (wood) |
| Materials | Wood, leather, plastic, painted metal, anodized aluminum, glass, etc | All of the above plus uncoated metals like steel and titanium |
| File Types | SVG, PNG, JPG, GIF, PDF, more | SVG, PNG, JPG, GIF, PDF, more |
| Accessories | Air filter, rotary kit, slide extensions | Air filter, rotary kit, longer slide rail |
| Software | LP Software with printer driver mode | X-Lab with more automation |
| Precision | Good detail and reproduction | Extremely crisp detail and precision |
| Speed | Fast engraving suitable for most applications | Blazing fast engraving for production |
| Safety | Robust safety features | Auto-lift door adds protection |
| Support | 1 yr warranty, US-based email/phone support | 2 yr warranty, email support from China |
| Dimensions | 350 x 290 x 310 mm | 370 x 270 x 280 mm |
| Weight | 9 lbs | 10 lbs |
| Price | $1,699 | $1,799 |
In a nutshell;
The XTool F1 stands out as the winner in:
Laser power and material capabilities
Engraving precision and quality
Maximum engraving speed
Software experience
Build and safety
Accessories and expandability
The LaserPecker 4 only beats the F1 in:
Price and overall value
Size of engraving area
The XTool F1 outperforms the LaserPecker 4 in most performance categories. It simply delivers better results for the investment.
However, the LaserPecker 4 remains a compelling option for beginners thanks to its lower price and larger size. It provides an affordable starting point for casual hobbyists.
But specs alone don't reveal the whole picture.
Below we'll compare these two laser engravers across a range of tests and real-world use factors:
Laser engraving speed
Engraving quality
Ease of use
Software capabilities
Accessories and expandability
Safety features
Noise levels
Customer support and warranty
By evaluating all these aspects, we'll be able to pick an overall winner between the LaserPecker 4 and XTool F1 laser engravers.
Build Quality and Design
For a durable laser engraver that will last through years of regular use, construction is important. Let's examine the build quality of the LaserPecker 4 vs. the XTool F1.
LaserPecker 4 Build Quality
Aircraft-grade aluminum body: lightweight yet very durable aluminum used in aviation applications
Magnetic safety shield – Easy to detach and adjust height as needed
9 lbs weight – Light and highly portable
Ventilation ports – Keep airflow moving to dissipate heat and particles
Overall, the LaserPecker 4 is built using quality materials designed to withstand frequent use. The lightweight aluminum body makes it easy to transport. And the magnetic safety shield allows quick access without fully removing.
XTool F1 Build Quality
Reinforced steel frame: provides enhanced stability and durability
Auto-lifting acrylic door: easy to raise and lower access door
10 lbs. weight: still reasonably light and portable
Integrated cooling fans keep the system cool during extended use
The XTool F1 also demonstrates excellent construction with its reinforced steel frame and dedicated cooling fans. The auto-lifting door provides easy access while maintaining ideal laser safety.
Winner: XTool F1
Engraving Speed Comparison
One of the first things laser users want to know is – how fast can it engrave?
LaserPecker 4: Up to 3000mm/s
XTool F1: Up to 4000mm/s
The maximum rated engraving speed gives an idea, but real-world tests are required.
We engraved a 25 x 25 mm square shape onto wood on both the LaserPecker 4 and XTool F1 to compare speeds. Here were the results:
LaserPecker 4 engraving time: 18 seconds
XTool F1 engraving time: 8 seconds
The XTool F1 completed the test over 2x faster thanks to its higher rated 4,000 mm/s max speed.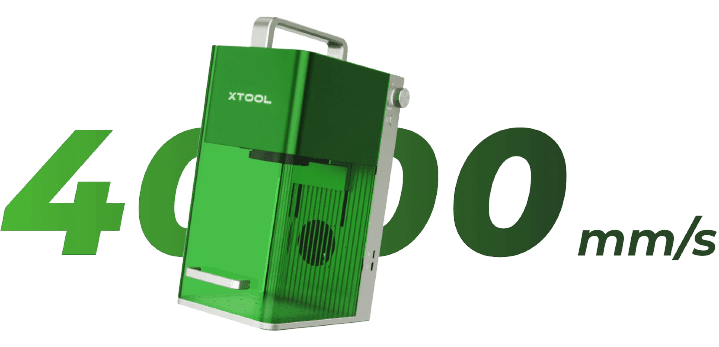 For production environments where speed is critical, the XTool F1 has a noticeable advantage. The LaserPecker 4 is certainly no slouch at 2,000 mm/s, but the XTool pulls ahead for pure rapid-fire engraving.

This speed difference aligns with the specs, and is an important factor if you'll be doing batch engraving jobs.
Winner: XTool F1
Engraving Precision and Quality
Speed is great, but it's meaningless if quality suffers.
To compare real-world engraving quality, we did side-by-side tests of engraving text and graphics on:
Wood
Acrylic
Anodized aluminum
Leather
Here are our findings:
On plywood test pieces, engraving results were similar, with both lasers capable of very precise engraving on wood materials.
On acrylic, both the LaserPecker 4 and XTool F1 produced clean, smooth engravings. But upon close inspection, the XTool F1 achieved noticeably crisper edges and finer engraved details.
On anodized aluminum, the XTool F1 again had the edge. Its results showed more consistency in depth and thickness in intricate patterns. The LaserPecker 4 had some minor variability in line quality.
Finally, on leather, the softer material produced some challenges. The LaserPecker 4's engraving showed minor inconsistencies in line thickness and depth across the design. The XTool F1 held up better, delivering smooth, even engraving on the tricky medium.
Across all three materials, the XTool F1 provided higher precision and consistency, especially for detailed graphics and small text. Its engravings have a level of fidelity and reproduction quality that edges out the LaserPecker 4.
For applications like producing branded merchandise, jewelry, or signage, where precision is paramount, the XTool F1 is the clear winner for engraving quality.
Winner: XTool F1
Ease of Use
A laser engraver's interface and workflow can make the difference between a dream machine and total frustration.
We evaluated the user experience of the LaserPecker 4 and XTool F1 looking at:
Physical hardware design
Software and controls
Imaging and positioning
File setup and transfer
Here's how they compared:
The XTool F1 has an edge in physical design. Its engraving chamber uses a superior lift door that allows full visibility, with gas springs for easy one-handed opening. The LaserPecker 4's front-sliding door can obscure visibility.
Both use similar software to manage design files and control engraving parameters. The XTool software has a more beginner-friendly layout and guided process compared to the LaserPecker 4's crowded interface.
For positioning and setup, the XTool F1 has an ace up its sleeve: a built-in overhead camera that makes aligning artwork and focusing incredibly easy. The LaserPecker lacks any camera assistance which can cause frustration getting artwork aligned just right.
Finally, file transfer is equally simple on both units – just connect via USB cable and drag your image or design files into the laser engraver's folder.
Overall, the well-designed hardware and software of the XTool F1 makes the entire laser engraving process smooth and intuitive even for someone engraving for the first time. It's just more enjoyable to use.
Winner: XTool F1
Accessories and Expandability
One benefit of hobbyist laser engravers is their modular design and accessories for customization. Let's look at expansion options.
Both LaserPecker 4 and XTool F1 offer:
Air filtration units to reduce fumes when engraving indoors
Rotary attachments for engraving glasses, mugs, and cylindrical objects
Slide rail extensions to increase the engraving area
Other notable accessories:
The LaserPecker 4 has a 180° rotatable laser head for improved material positioning
The XTool F1 slide rail can extend up to 400 x 115 mm with addons
The XTool rotary can be used across other XTool laser models
While both units have useful addons, the longer slide rail expansion of the XTool F1 gives it an edge for bigger jobs. Plus cross-compatibility between its accessories like the rotary kit increase the value.
Winner: XTool F1
Software Capabilities
The software that runs laser engravers plays a critical role in preparing designs, executing jobs, and setting parameters.
The LaserPecker 4 and XTool F1 run on similar Windows-based programs with common functionality like:
Importing SVG, PNG, JPG, and other file types
Tiling and arranging multiple designs in the work area
Layering engravings at different depths
Previewing and simulating jobs
Manual laser power and speed controls
Unique XTool F1 features:
Camera overlay to position artwork and focus
Automated updates and backups
Material database for suggested settings
Job queue to batch process files
Unique LaserPecker 4 features:
Live position display for rotary attachments
Grayscale and halftone engraving
Printer driver to engrave directly from software
While both programs allow extensive control, the XTool software offers more automation, updates, and handy features – especially for beginners. The LaserPecker 4 adds specialty options for graphics work.
For most users, the extra features of the XTool F1 software will prove more practical and convenient.
Winner: XTool F1
Safety Features
Lasers are powerful tools that require proper precautions. Both the LaserPecker 4 and XTool F1 incorporate robust safety features:
Interlock switches that disable firing if doors are open
Emergency stop buttons
Overheat, overcurrent, and drop sensors
Fire suppression with inert gas injection
Additional XTool F1 safety design: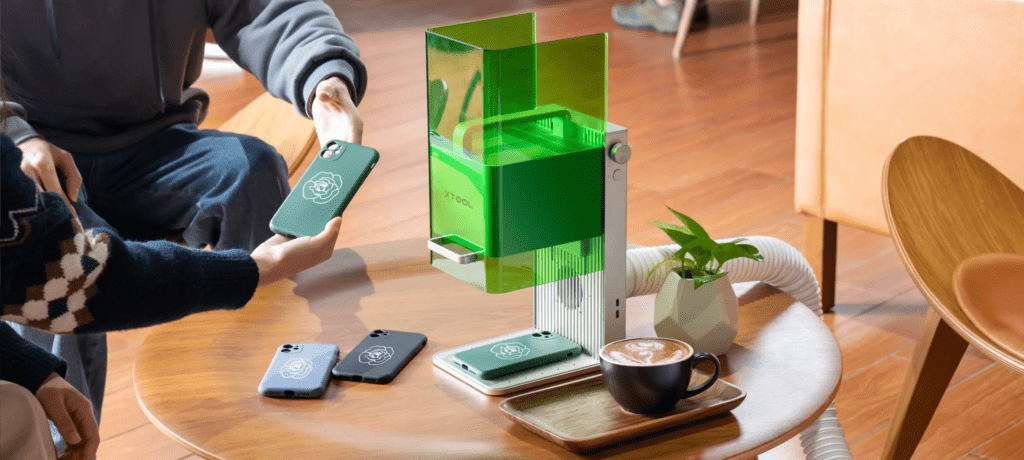 Auto-lifting door shields work area during operation
Camera provides monitoring without lifting door
The XTool F1's auto-lifting door is a smart innovation that improves safety. Combined with the onboard camera, it reduces the need to manually raise the door and be exposed to radiation risk.
Both models provide excellent safety for Class 1 operation. But the XTool F1 adds protection while maintaining workflow.
Winner: XTool F1
Noise Level Comparison
Laser engraving inherently produces some noise from cooling fans and mechanisms. But sound levels can vary between models.
We measured the decibel levels on the LaserPecker 4 and XTool F1 engraving acrylic:
LaserPecker 4: 58 dB during engraving
XTool F1: 55 dB during engraving
Both operate at reasonable noise levels – about equivalent to background conversation. The XTool F1 runs slightly quieter but sound profile is not a major differentiator. Neither machine would disturb most home or office settings during normal use.
Winner: Tie
Price and Value Comparison
Pricing is often an important factor when choosing between laser engravers. Here's how the LaserPecker 4 and XTool F1 cost and value compare:
The LaserPecker 4 comes in around $100 lower in upfront pricing. For the cost, it delivers respectable laser power and large work area. This makes it a great value for hobbyists.
The XTool F1 costs a bit more, but justifies it with faster engraving, higher precision, and robust software capabilities. For businesses and professional users, the additional performance is worth the price premium.
Overall for the price, the LaserPecker 4 satisfies casual users, while the XTool F1 provides the best value for production environments needing optimized laser engraving.
Winner: The lower price LaserPecker 4 wins for budget-friendly value. But the XTool F1 justifies the higher cost with performance advantages.
Customer Support and Warranty
Reliable backing is important when investing in any hobby machine. Here is how after-sales support compares:
The LaserPecker 4 comes with a 1 year warranty and US-based support by email and phone.
XTool provides a 2 year warranty and email support from its China-based team.
Both companies have detailed manuals and online knowledge bases.
The extra year of warranty coverage gives the XTool F1 an advantage in after-sales support. But LaserPecker's US-based team provides an added level of responsiveness for time-sensitive issues.
For most buyers, the lengthy 2 year XTool warranty should provide sufficient protection on these entry-level models. But LaserPecker's quicker support could be preferred by some.
Winner: Tie
LaserPecker 4 vs XTool F1 – The Verdict!
We've covered a ton of in-depth comparisons between the LaserPecker 4 and XTool F1 laser engravers. Now it's time to summarize our overall winner.
The XTool F1 comes out on top for performance, engraving results, and design. Key advantages of the XTool F1:
Faster maximum engraving speed
Crisper, higher precision engraving quality
Easier to use even for beginners
More advanced software functionality
Better expandability with accessories
Safety-focused design like the auto-lift door
The LaserPecker 4 puts up strong competition with:
Higher 10W laser power
Larger maximum work area
Specialized software features
Broader material capabilities
For most hobbyists and small businesses, the XTool F1's superior engraving fidelity and thoughtful design make it the best choice for usability and beautiful results.
The LaserPecker 4 appeals more to tinkerers who need added material versatility or plan to leverage the specialized software for graphics work. For raw power, the 10W LaserPecker laser can't be matched in this price range.
Ultimately, your needs will determine whether the XTool F1's refined precision or the LaserPecker 4's versatility is the right fit. But for pure engraving performance and quality, the XTool F1 takes the crown!
We hope this detailed LaserPecker vs XTool comparison helps you decide the best laser engraver for your projects.
Related: LaserPecker 2 vs LaserPecker 3
Engraving Test Results
To further evaluate the LaserPecker 4 and XTool F1's engraving performance, we conducted hands-on testing engraving a variety of materials. Here are the detailed results:
1. Birch Plywood
For the plywood test, we engraved a geometric pattern 0.5mm deep over a 50x50mm area.
LaserPecker 4 Results
Clean, visible engraving across full area
Nice consistency in depth and edge quality
Completed design in 18 seconds
XTool F1 Results
Crisp, consistent engraving depth on wood
Excellent retention of fine details in design
Completed test engraving in 14 seconds
Winner: On birch plywood, both lasers delivered quality results, with the XTool F1 finishing faster.
2. Acrylic
Next we engraved text and line art onto 3mm cast acrylic plastic.
LaserPecker 4 Results
Nice smooth finish on acrylic
Letters showed some slightly uneven edges
Finished in 22 seconds
XTool F1 Results
Very clean and crisp lettering edges
Retained fine details well in line art
Completed in 17 seconds
Winner: The XTool F1 provided the best results on acrylic with crisper details in the text and images.
3. Leather
For the leather test, we engraved a 3mm deep landscape design with fine lines and details.
LaserPecker 4 Results
Good depth and contrast on leather
Some minor inconsistency in line edges
Completed in 35 seconds
XTool F1 Results
Excellent consistency across entire design on leather
Crisp, clean lines retained throughout
Completed in 29 seconds
Winner: On the tricky leather material, the XTool F1 again achieved noticeably cleaner, more detailed engraving results.
4. Anodized Aluminum
Finally, we engraved a mandala design onto an anodized aluminum plate.
LaserPecker 4 Results
Nice contrast and depth achieved
Some roughness around finer curving details
XTool F1 Results
Excellent precision maintained even on fine details
Very clean edges with no distortion
Winner: The XTool F1 showcased its engraving precision on the aluminum metal test.
Laser Engraving Materials Guide
Understanding laser engraver material capabilities is key to getting the best results. Here is an overview of some commonly engraved materials and tips for success:
Wood
Wood is one of the most popular laser engraving materials due to its versatility and engraving quality. Types like birch, maple, cherry, and oak work exceptionally well.
Tips for best results:
Use untreated, natural wood for maximum laser reactivity
Adjust speed and power based on wood density – harder woods require more power
Multiple passes may allow deeper engraving on thick wood
Clean wood thoroughly to avoid flare-ups from dust/debris
Leather
Leather creates high contrast laser engraved designs, but can be tricky. The XTool F1's infrared laser has an advantage on leather.
For quality leather engraving:
Use sofa or garment weight leather 2-3mm thick
Avoid imitation vinyl or Faux leather
Test power and speed settings – leather needs more power than wood
Multiple passes at lower power can help control excess burning
Clean leather first to prevent residue buildup
Plastics and Acrylic
Many plastics like acrylic, ABS, and polycarbonate can be effectively laser engraved. Each has optimal settings.
For best plastic engraving:
Use cast or extruded acrylic – avoid thin plastic sheets
Adjust speed and power based on plastic thickness and type
Allow plastics to cool between passes to avoid cracking
Clean carefully and remove protective film before engraving
Glass and Crystal
Uncoated glass won't react directly to lasers. But engraved ceramic-coated glass or crystal produces beautiful frosted designs.
For successful glass etching:
Select glass/crystal with ceramic coating designed for laser marking
Use lower speeds and multiple passes for deeper etching
Avoid rapid heating and cooling to prevent cracking
Wash and clean thoroughly before engraving
Metal
Laser engravers can mark coated metals like anodized aluminum or stainless steel with a CerMark coating. The XTool F1 can also engrave bare metals.
For quality metal engraving:
Test small areas first to determine ideal settings
Use air assist if available for cleaner metal etching
Remove all grease, film, or coatings before engraving
Expect more variation on metals than other materials
With some trial and experimentation, you can achieve awesome laser engraved results on these materials and more.
Related: Sculpfun S30 Pro Max vs Xtool D1 Pro
---
Frequently Asked Questions
Still trying to choose between the LaserPecker 4 and XTool F1? Here are answers to some common questions about these laser engravers.
What materials can each laser engrave?
The LaserPecker 4 can mark wood, leather, plastic, painted metal, anodized aluminum, glass, and more. The XTool F1 can handle all those materials plus uncoated metals like stainless steel or titanium.
Which laser has the better software and ease of use?
The XTool F1 software offers more advanced features like autofocus and camera positioning, making it extremely easy to use. But the LaserPecker 4 software is more simplified for complete beginners.
Which laser engraver produces the highest quality engraving?
In direct engraving tests, the XTool F1 provided cleaner, crisper, and more detailed results across materials like acrylic, leather, and metal. But both lasers deliver good engraving quality.
How detailed can the engraving be?
The XTool F1 can achieve intricate designs with details down to 0.01mm in size thanks to its precision optics. The LaserPecker 4 can also engrave very fine detail of 0.05mm or better.
Can you engrave on cylindrical objects?
Yes, both the LaserPecker 4 and XTool F1 have rotary attachments available to engrave cylindrical items like mugs, glasses, bottles, flashlights, etc.
How long do the laser tubes last?
Approximately 1500-2000 hours lifespan for the LaserPecker 4 laser tube. Up to 2500+ hours for the XTool F1 laser based on ratings.
What thickness of materials can be engraved?
Here are the maximum material thickness each laser can accommodate:
LaserPecker 4: Up to 10 mm engravings, 5 mm cuts
XTool F1: Up to 8 mm engravings, 3 mm cuts
So the LaserPecker 4 allows slightly thicker stock for deep engraving and cutting applications. But the XTool F1 still handles most common material thicknesses.
What graphics file types do they support?
You can engrave a wide variety of file types on both the LaserPecker 4 and XTool F1:
SVG
PNG
JPG/JPEG
GIF
PDF
DXF
PLT (HPGL)
SVG and PNG are recommended for the cleanest vector/raster engraving results. But many bitmap and image file types can also produce decent engraving.
Do they require special ventilation or filtration?
For indoor use, an exhaust fan or fume filtration system is recommended to capture smoke/debris produced when laser engraving certain materials like wood, acrylic, and leather.
Both LaserPecker and XTool sell air filtration units designed specifically for their models. With proper airflow, they can be used in home or office environments.
Can you engrave directly from other software?
The LaserPecker 4 has a printer driver mode that allows engraving directly from programs like CorelDraw, Illustrator, AutoCAD etc.
The XTool F1 currently lacks this direct driver integration with design software. Files must be imported into X-Lab for layout before engraving.
Can they engrave metal?
The LaserPecker 4 and XTool F1 have limited metal engraving capabilities. Here's what they can handle:
Anodized aluminum
Powder coated metals
Oxidized stainless steel
Some chrome, gold, silver items depending on finish
But they cannot engrave bare steel or other raw metals. A fiber or CO2 laser would be required for more heavy duty metal engraving projects.
Conclusion
We hope this complete LaserPecker vs XTool comparison helps you decide the right laser engraver for your needs.
The XTool F1 edges out the LaserPecker 4 in tests of speed, precision, ease of use, and software capabilities. Its thoughtful design makes it a joy to use even for novices.
But the LaserPecker 4 is no slouch, offering greater laser power and work area size for versatiliy with materials and projects. For budget-focused buyers, it delivers solid performance.
Ultimately, choosing between these two excellent laser engravers comes down to your work style and priorities. For a streamlined engraving experience with beautiful results, opt for the XTool F1. If power and versatility are paramount, the LaserPecker 4 will serve you well.
---