Engraving and personalizing items with a laser engraver is a fun and creative way to make customized gifts, jewelry, decorations, and more. Two of the most popular desktop laser engravers on the market right now are the LaserPecker 2 and the newer LaserPecker 3 models. But what exactly are the differences between these two devices? Which one is better for different uses? In this comprehensive blog post, we'll compare the LaserPecker 2 and 3 across various factors to help you decide which laser engraver is the best fit for your needs and budget.
An Introduction to LaserPecker
Let's start with some background on the LaserPecker brand. LaserPecker is a company founded in 2015 that manufacturers compact, portable desktop laser engravers. Their engravers are designed to be easy to use even for beginners, with intuitive software and simple setup.
The company currently offers three main laser engraver models:
LaserPecker 1 – Their original entry-level desktop laser released in 2018.
LaserPecker 2 – An upgraded version with more power and features, released in 2019.
LaserPecker 3 – Their newest professional-grade laser engraver, released in 2022.
The LaserPecker 2 and 3 are their most powerful and full-featured models, and tend to be the most popular choices for hobbyists, artists, makers and small businesses today.
Now let's dive into the details on each one!
LaserPecker 2 Overview
The LaserPecker 2 was released in 2019 as an upgraded version of the original LaserPecker laser engraver. With more power and added features, it has become a favorite with crafters, DIYers and artists who want to take their laser engraving skills up a notch.
Key Features and Benefits:
5W laser power – Significantly more powerful than the 1-2W LaserPecker 1. Allows faster and deeper engraving.
450nm blue diode laser – Can engrave a wide variety of materials like wood, bamboo, leather, coated metal, painted metal, and more.
Large 6.3" x 3.9" engraving area – Gives you more room for engraving projects and batch work.
Up to 600mm/s engraving speed – Engrave designs quickly thanks to upgraded high-speed galvo motors.
Dual red laser auto-focus – Automatically focuses on material surface for instant engraving without calibration.
Cylinder, slab, and trolley modes – Rotate and engraver cylindrical objects, flat items, or long pieces.
Supports major image, CAD and design files – Work with your own files and designs. Convert to laser-ready files with user-friendly app.
Compact size – Just 19.4" x 15.4" x 23.6". Easily portable for use anywhere.
The LaserPecker 2 gives you faster, deeper engraving capabilities on a wider variety of materials compared to the original model. It's a versatile machine great for engraving full color images, designs, textures, logos and more at home, school, or work.
Ideal For: Artists, crafters, hobbyists, DIYers, small businesses.
Price: Starts at $799
LaserPecker 3 Overview
The LaserPecker 3 is the newest model released by the company in 2022. It's their most advanced laser engraver to date, equipped with a powerful infrared laser specially optimized for metal and plastic.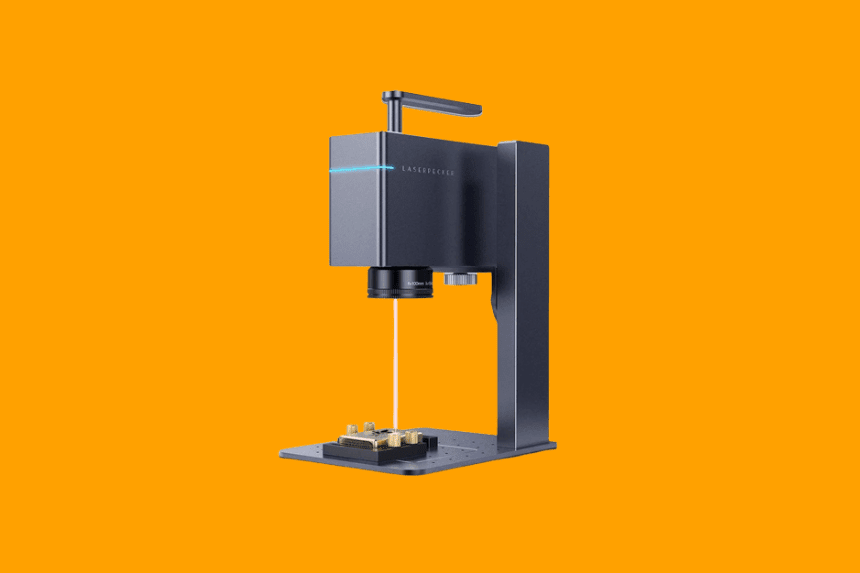 Key Features and Benefits:
1W infrared pulsed fiber laser – Specialized for direct metal and plastic engraving without pretreatment.
0.01mm ultra-fine laser spot – Achieves extremely detailed and crisp engraving results.
Up to 48,000 mm/min engraving speed – Blazing fast engraving for mass production.
Dual infrared auto-focus – Focuses accurately on metals and plastics for perfect engraving every time.
4K high resolution – Renders ultra-fine details in designs and photographs.
App and desktop software compatibility – Work anywhere with mobile or computer connection.
Supports major design formats – Engrave from JPG, PNG, SVG, GCode files and more.
The LaserPecker 3 is engineered for professionals, businesses and advanced makers who want to easily mark, engrave and etch metals and plastics. The power and precision open up new possibilities for personalized awards, industrial part marking, science and lab tools, jewelry and more.
Ideal For: Businesses, engineers, industrial users, makers, jewelers, scientific applications.
Price: Starts at $1699
LaserPecker 2 vs 3: Side-by-Side Comparison
As you can see from the table, while the LaserPecker 2 and 3 share some similarities, there are also some key differences that set them apart. Next, we'll take a closer look at how these differences impact real-world performance and applications.
Specs
LaserPecker 2
LaserPecker 3
Laser power
5W
1W
Laser type
450nm diode
1064nm infrared
Materials
Wood, leather, painted metals, bamboo, paper, plastics (with pretreatment), glass, ceramics
Metals, plastics, leather
Engraving area
100*100mm(L2 Basic)
100*2000mm(L2 Pro L2 Deluxe L2 Super )
Ellipse: 115 x 80mm
Square: 65 x 65mm
Laser spot size
0.05mm
0.01mm
Max Engraving resolution
0.05mm (2k)
0.005mm (4k)
Max Engraving depth
0.5mm
0.05mm
Max Engraving speed
600mm/s
6mm/s-800mm/s
Focusing
Auto-focus
Manual adjust
Supported File Types
JPEG, PNG, SVG, BMP, G-Code, CAD, etc.
JPEG, PNG, SVG, BMP, G-Code, CAD, etc.
Connectivity
High-speed Bluetooth 5.0
Bluetooth 5.0+
Input Power
12V 5A
100-240V 50-60Hz
12V 5A
220-240V 50-60Hz
Dimensions
19.4 x 15.35 x 23.6cm
19.4 x 15.35 x 26.11cm
Weight
3.2kg
2.54kg
Software
LaserPecker app, Windows/Mac
LaserPecker app, Windows/Mac
Modes
Cylinder, slab, trolley
Cylinder only
Accessories included
Full kit
Basic kit
Price
Starts around $799
Starts around $1699
Now that we've covered the basics on each laser engraver model, let's compare them across some key factors:
LaserPecker 2 vs 3: Engraving Materials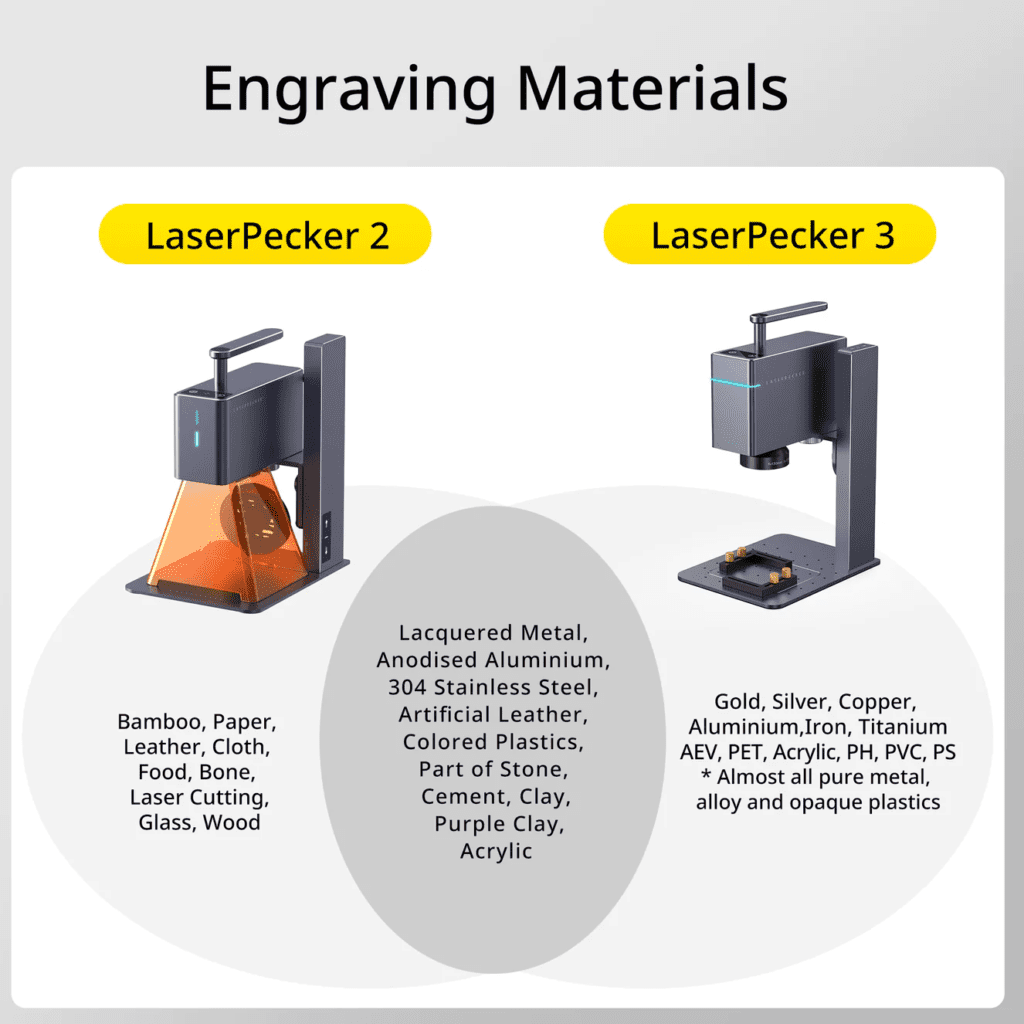 One of the biggest differences between the LaserPecker 2 and LaserPecker 3 is the materials they are designed to engrave.
The LaserPecker 2 uses a 450nm blue diode laser that can mark a wide variety of organic materials:
Wood
Bamboo
Leather
Fabric
Paper
Food
Painted metals
Anodized aluminum
Oxidized metals
Stainless steel (with bond applied)
Plastics (with bond applied)
Ceramics
Rubber
Tile
and more
It can engrave uncoated metals and bare plastics as well, but these materials require a pretreatment (such as applying a laser bond or Cermark coating) prior to laser engraving.
The LaserPecker 3 is specially engineered with a 1064nm infrared fiber laser that can directly engrave and mark metals and plastics with no pretreatment required. Materials it excels at include:
Metals (Stainless steel, Aluminum, Titanium, Brass, Copper, Gold, Silver, Plated metals, Anodized aluminum, Polycarbonate)
Plastics ( Acrylic, PET plastic, ABS plastic, TPU plastic)
Leather
So in summary:
Get the LaserPecker 2 if you plan to engrave mainly organic materials like wood, bamboo, leather, paper, fabric, food etc. It can also work on metals/plastics but requires a bond pretreatment first.
Get the LaserPecker 3 if you want to engrave untreated metals and plastics. It's specially engineered for direct metal/plastic marking and engraving.
LaserPecker 2 vs 3: Engraving Area
The LaserPecker 2 has a larger maximum engraving area than the LP3:
LaserPecker 2 engraving area: Up to 100x100mm (L2 Basic)
100*2000mm(L2 Pro L2 Deluxe L2 Super )
LaserPecker 3 engraving area: Ellipse: 115mm*80mm Square: 65mm*65mm
The LaserPecker 2 has a max engraving area of 6.3" x 3.9" (100mm x 2000mm). This gives you a good amount of space for small- to medium-sized projects, batch engraving jobs, and other common applications.
The LaserPecker 3 has a slightly smaller max engraving area of 4.5" x 3.1" (115mm x 80mm). The focus is more on precision than large surface area. But the LP3 can still accommodate most hobbyist and industrial engraving needs.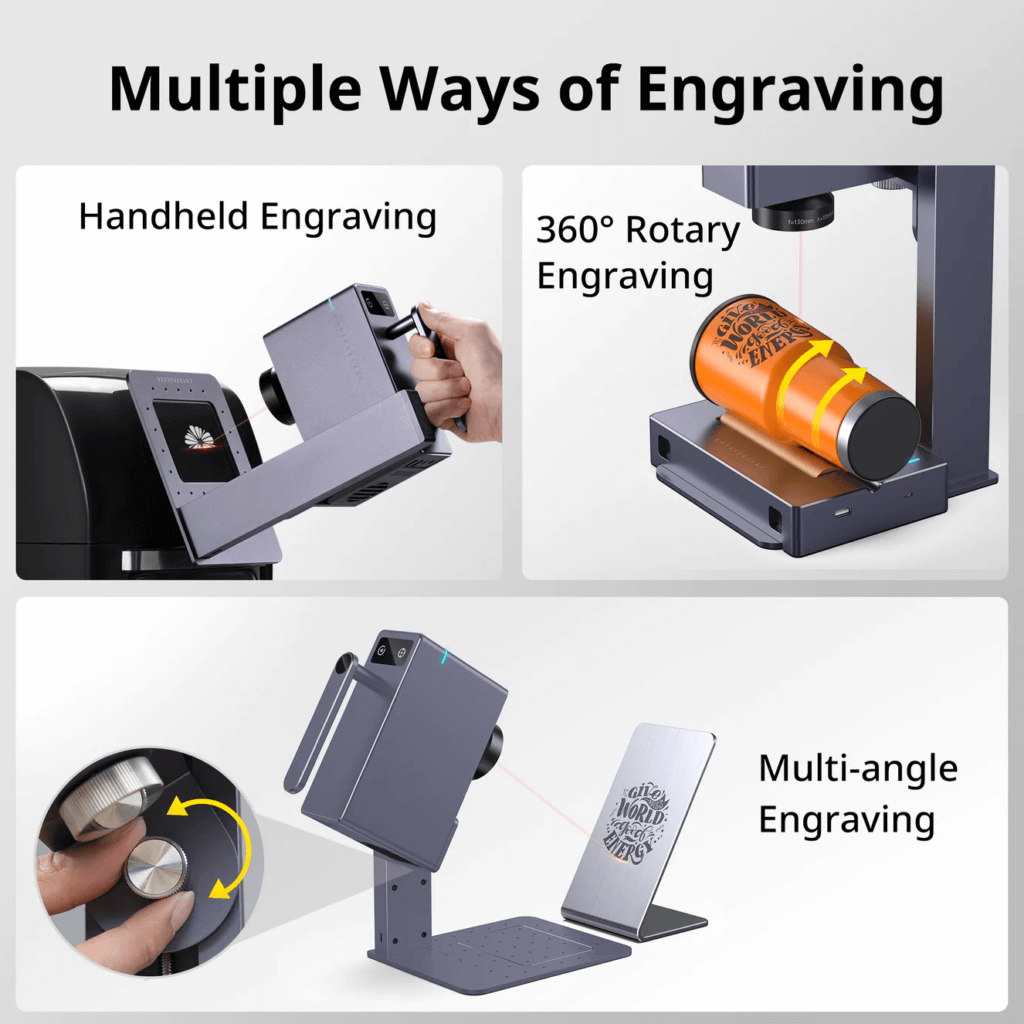 Both machines also give you the option to remove the base entirely and use it in "freehand" mode for engraving large or oddly shaped objects.
So in terms of work area, the LaserPecker 2 gives you more room for large engraving projects. But the LP3's high precision capabilities are better suited for detailed, intricate designs rather than large pieces.
LaserPecker 2 vs 3: Laser Power and Type
One of the biggest differences between the LaserPecker 2 and 3 is the laser power and technology:
The LaserPecker 2 uses a 5W 450nm diode laser. This blue laser light is designed to work well on organic materials like wood, bamboo, leather, paper, food items, and more.
The LaserPecker 3 has a 1W 1064nm infrared laser. This is an infrared "fiber" laser specialized for metals and plastics.
The 5W 450nm diode laser in the LP2 provides more raw power, which allows it to engrave a wider variety of materials. However, the infrared laser in the LP3 is more precise and better suited for detailed engraving on metal and plastic.
LaserPecker 2 vs 3: Engraving Speed
Engraving speed is another area where the LaserPecker 3 shines thanks to its 10W laser.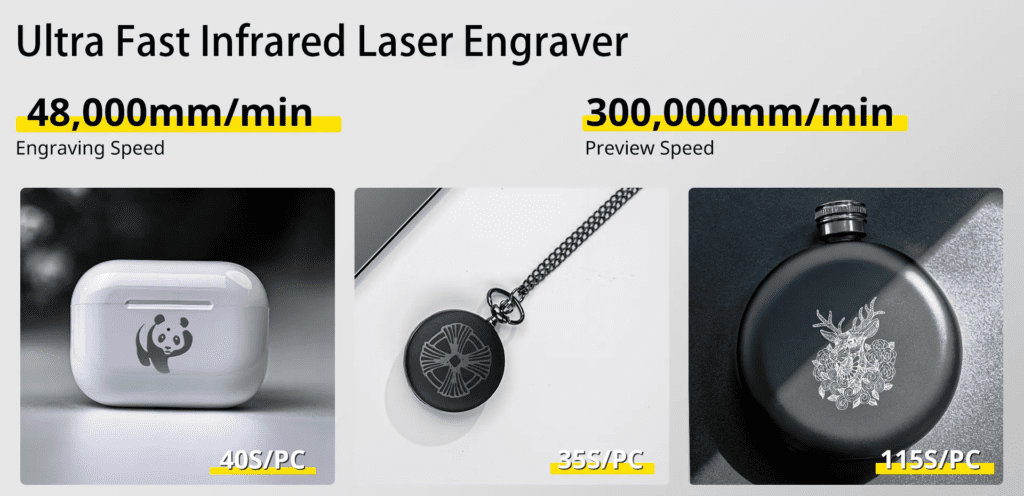 The LP3 can engrave at:
Up to 48,000 mm/min (or 800 mm/sec) for vector engraving
Up to 10,000 mm/min (or 167 mm/sec) for raster engraving
Meanwhile, the LaserPecker 2 max speeds are:
Up to 600 mm/sec for vector engraving
Up to 100 mm/sec for raster engraving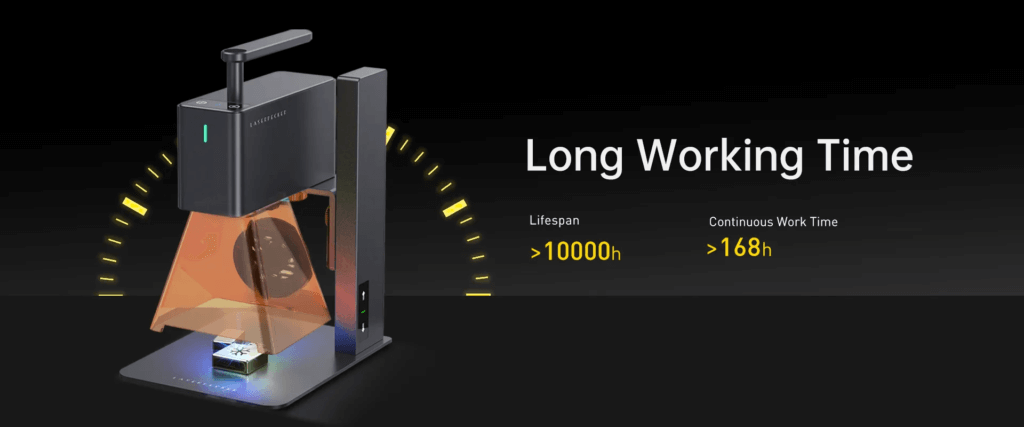 So the LaserPecker 3 is nearly 10X faster at vector engraving speed, and about 1.5-2X faster at raster speeds.
This exceptional speed makes the LP3 a great choice for businesses and users who want to produce high volumes or rotary engrave at production-level speeds. The faster speeds also allow for deeper, higher resolution engraving.
But the LaserPecker 2 is still plenty fast enough for most hobbyists and lower-volume makers.
LaserPecker 2 vs 3: Laser Spot Size and Engraving Resolution
The LaserPecker 3 has a smaller laser spot and higher maximum engraving resolution than the LP2:
LaserPecker 2 laser spot: 0.05mm
LaserPecker 2 resolution: Up to 0.05mm (2k)
LaserPecker 3 laser spot: 0.01mm
LaserPecker 3 resolution: Up to 0.005mm (4k)
The LP3's smaller 0.01mm spot produces sharper, more detailed engraving, especially for intricate designs on metal and plastic.
Some of the LP3's advantages:
0.01mm ultra-fine laser spot (compared to 0.05mm spot on LP2)
0.005mm engraving accuracy (compared to 0.05mm accuracy on LP2)
4K high resolution (compared to 2K on LP2)
0.05mm engraving depth (compared to 0.5mm on LP2)
The combination of the smaller laser spot, higher resolution, and overall precision of the LaserPecker 3 allows it to reproduce extremely intricate designs, small text, and photorealistic images when engraving.
This level of precision is perfect for applications like industrial part marking, jewelry making, scientific tools, electronics, dog tags, and anything else requiring ultra-fine detail.
The LaserPecker 2 is still reasonably precise but better suited for less detailed engraving work like signs, logos, large text, simpler designs, etc.
LaserPecker 2 vs 3: Engraving Depth
The maximum engraving depth is greater on the LaserPecker 2:
LaserPecker 2 engraving depth: Up to 0.5mm
LaserPecker 3 engraving depth: Up to 0.05mm
The LP2's 5W diode laser can cut deeper into materials like wood, leather and acrylic. The LP3 fiber laser is designed more for precision than depth.
LaserPecker 2 vs 3: Focusing and Setup
The LaserPecker 2 has auto-focusing, while the LP3 requires manual focusing:
The LP2 uses automatic dual red-light focusing to easily find the perfect focal distance.
The LP3 has a fixed focal length and requires manually adjusting the height for focus.
The LP2 makes it easier to get up and running quickly without having to adjust focus each time. But the LP3 offers greater flexibility to engrave objects of varying heights.
LaserPecker 2 vs 3: Supported Design Files
Both the LaserPecker 2 and LaserPecker 3 are compatible with all major design file formats for engraving. This includes:
JPG
PNG
SVG
GCode
DXF
BMP
DWG
PLT (HPGL) and more
You can create your own images and designs in programs like Adobe Illustrator, Inkscape, AutoCAD etc, then export them as one of the supported file types to engrave.
Or simply find images and vectors online you want to engrave and convert them to laser-ready files using the LaserPecker app or software.
So there are really no limitations on what kinds of files you can engrave with either machine.
LaserPecker 2 vs 3: Software and Connectivity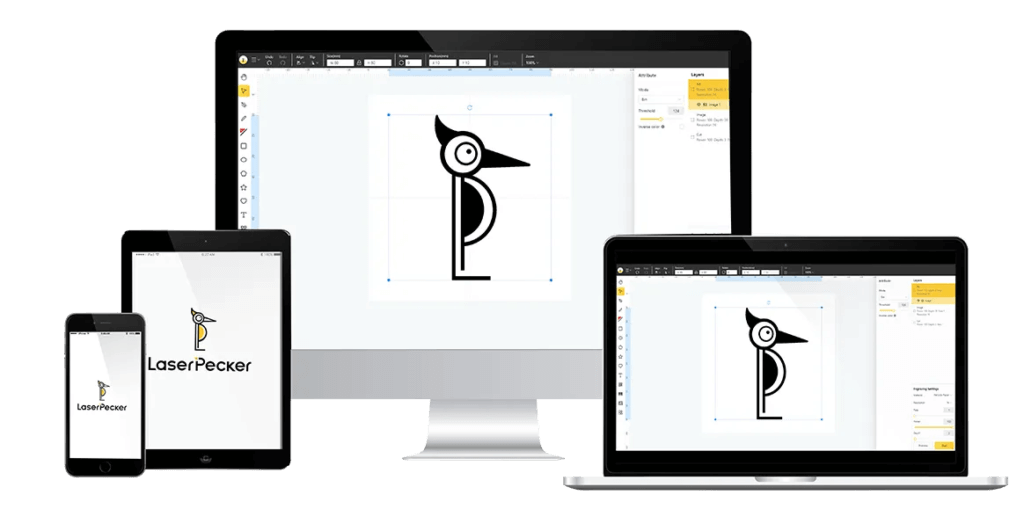 Another area where the LaserPecker 2 and 3 are pretty evenly matched is on the software side.
Both laser engravers are compatible with:
Desktop software – Windows and Mac software allows you to design, edit, and send engraving jobs from a laptop or PC.
Mobile apps – Android and iOS apps give you engraving capabilities on your smartphone or tablet. Useful for on-the-go engraving.
WiFi and USB connectivity – Engrave untethered via WiFi or connected directly to your computer via USB.
Bluetooth connectivity – The LaserPecker 2 and LaserPecker 3 both use Bluetooth 5.0 for wireless connectivity. This allows you to engrave from your smartphone or tablet using the LaserPecker app.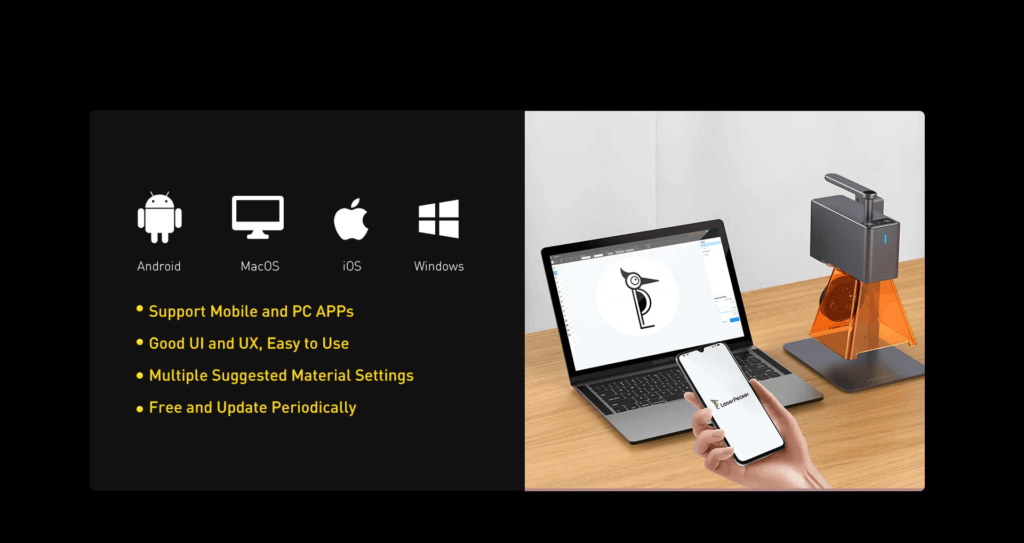 The LaserPecker software allows you to easily position, resize, duplicate, and arrange engraving files. You can also modify settings like speed, power, resolution etc. And wireless engraving gives you freedom to work anywhere.
Overall the software experience is intuitive and user-friendly with both units.
LaserPecker 2 vs 3: Size and Portability
The LaserPecker engravers are designed to be compact and portable so you can easily use them anywhere. However, there are some differences in the dimensions of the LaserPecker 2 and 3 models:
LaserPecker 2:
19.4" x 15.4" x 23.6" (L x W x H)
3.2 kg / 7 lbs weight
LaserPecker 3:
19.4" x 15.4" x 26.1" (L x W x H)
2.54 kg / 5.6 lbs weight
As you can see, they have the same footprint but the LP3 is slightly taller in height. And the LP2 is slightly heavier at 7 lbs vs 5.6 lbs for the LP3.
But overall, the size and portability are nearly identical. Both units are desktop size but compact enough to fit into a backpack or carry case for transport and mobile use.
So portability is a wash between the LaserPecker 2 and 3—both get high marks when it comes to small footprint and ease of transportation.
LaserPecker 2 vs 3: Modes and Accessories
The LaserPecker 2 comes with more engraving modes and accessories:
LaserPecker 2 modes:
Cylinder
Slab
Trolley (for extra long designs)
LaserPecker 2 accessories:
Power stand
Fixed jig
Cylinder mode accessories
Trolley mode accessories
LaserPecker 3 only includes Cylinder engraving mode and a more basic accessories kit.
The additional modes and attachments with the LP2 provide more versatility and value.
LaserPecker 2 vs 3: Warranty
LaserPecker stands behind their products with a 1-year limited warranty. This covers defects in materials and craftsmanship.
Within 1 year of receiving your laser, LaserPecker will repair or replace defective parts free of charge. This provides great peace of mind on your investment.
Just be sure to purchase from an authorized LaserPecker dealer to ensure full warranty coverage. And as always, be careful not to damage the machine through improper use or unauthorized disassembly, as those situations would not be covered.
LaserPecker 2 vs 3: Customer Support
LaserPecker is known for providing exceptional customer service and support across their product line.
Some of the ways they go above and beyond include:
24/7 live chat – Get assistance any time of day or night directly through their website
Knowledgeable support team – Their engineers know LaserPecker products inside-out and can quickly diagnose issues
Active user community – Lots of helpful tips and advice from other LaserPecker owners in online forums
Video tutorials – Easy-to-follow video guides for setup, cleaning, calibration, accessories, troubleshooting, repairs and more
Considering the investment involved with a laser engraver, it's reassuring to know LaserPecker has your back with top-tier support. Both LP units will be equally well covered.
LaserPecker 2 vs 3: Pricing
Let's break down the cost difference between the baseline LaserPecker 2 vs 3 models:
There is roughly a $1000+ price gap between the starter packages for each laser.
The LaserPecker 3 costs more due to its specialized high-power infrared laser, precision optics, and overall robust industrial design focused on metal and plastic engraving.
But the LaserPecker 2 still packs tremendous value at under $1000. For enthusiasts engraving organic materials or doing light metals/plastics, it can't be beaten for the price.
Optional accessories like rotary kits, exhaust fans, and fume extractors will bump up the price on either model as well. But the essential engraver packages keep costs reasonable for most buyers.
LaserPecker 2 Pros and Cons
Pros:
More affordable price
Can engrave a wider variety of materials
Slightly more engraving area
Higher 5W laser power
Cons:
Not as specialized for metals
Lower precision and accuracy
Can require multiple passes on some materials
LaserPecker 3 Pros and Cons
Pros:
Optimized for metal and plastic engraving
Superior precision down to 0.005mm
No pretreatment needed for metals
Slightly faster engraving times
Larger engraving area for metals
Cons:
More expensive
Limited to engraving metals, plastics, acrylics
Lower max laser power
LaserPecker 2 vs LaserPecker 3: Buyer's Guide
Now that we've covered a complete feature comparison, here is a quick summary to help you decide which LaserPecker model is right for your needs:
Pick the LaserPecker 2 if:
Your budget is under $1000
You want to engrave a wide variety of materials including wood, leather, bamboo, coated metals, paper, food and more
You only need to engrave metals/plastics occasionally or are okay pretreating them
Large engraving area is important
You value auto-focus and don't want to manually adjust focus
You're a hobbyist or casual user who doesn't require industrial precision
Pick the LaserPecker 3 if:
You have a budget up to $1,600 or more
Your main focus is engraving metals like stainless steel, aluminum, precious metals
You'll also be engraving plastics like acrylic, PET, PVC
Maximum precision and detail is needed, especially for small/intricate designs
You want to engrave metals/plastics with no pretreatment required
You don't mind manual focusing before engraving
High engraving speed is required for production workloads
You're an engineer, industrial user, or run a manufacturing business
For many first-time buyers, home crafters hobbyists and small businesses, is the best choice for its combination of versatility, accessories, ease of use and an appealing price point. The 5W laser has ample power for engraving wood, leather, and other organic materials with precision and speed.
But for businesses and professional users doing high volumes of metal and plastic engraving, the LaserPecker 3's infrared fiber laser and precision optics are worth the premium investment. It simply outperforms comparably priced competitors when tasked with metals and plastics.
No matter which model you choose, rest assured LaserPecker machines have outstanding build quality, intuitive software, and excellent customer service to back them up. Both the LP2 and LP3 are smart purchases for laser engraving and marking needs both now and into the future.
Getting Started with Laser Engraving
Once you've chosen between the LaserPecker 2 and LaserPecker 3, you'll want to get familiar with laser engraving basics. Here are some tips:
Carefully read the instruction manual and safety guidelines. Lasers can be dangerous if used improperly.
Start with some practice engraving on inexpensive materials like wood or acrylic. This will help you get the hang of positioning and settings.
Work in a well-ventilated area and use the air filter attachment to keep fumes clear.
Frame or clamp your material in place for the steadiest engraving platform.
Adjust speed, power, resolution, and height to get the desired depth and precision.
Use software like LaserGRBL or LightBurn to convert images and text into engraving files.
Consider a LaserPecker rotary attachment to engrave cylindrical items like cups, vases, and glasses.
Take the time to learn your new laser engraver's capabilities and quirks. With some practice, you'll be creating incredible custom engravings in no time!
What Can You Create with a LaserPecker?
Once you've chosen the right LaserPecker model for your needs, what kinds of things can you create with one of these incredible laser engravers? Here are just some of the possibilities:
Laser Engraved Products You Can Sell
Custom jewelry
Wallets, bags, purses and accessories
Pet tags and collars
Signs, keepsakes and home decor
Personalized glassware and mugs
Customizedtableware like cutting boards and coasters
Corporate gifts and promotional products
Cool Laser Engraving Projects
Phone cases
Laptop skins
LED lamps
Photo gifts
Awards, plaques and trophies
Engraved pictures and portraits
Rubber stamps
Customized tools like pocket knives
A compact laser engraver like the LaserPecker 2 or 3 gives you the power to turn your designs into professional-quality laser engraved products, gifts and unique art pieces.
Enjoy Your LaserPecker Engraving Journey
We hope this complete LaserPecker 2 vs LaserPecker 3 comparison guide has helped give you clarity. Both engravers have their strengths and are quality options. The right choice comes down to your specific engraving needs.
Laser engravers offer immense creative possibilities to make custom gifts, jewelry, housewares, decorations, branded items, industrial parts and more. The precision lasers, accessible software and compact size lets anyone take advantage of this fun and rewarding tool.
To get started with laser engraving yourself, visit LaserPecker and select one of these phenomenal machines today.