Hey y'all! Welcome to GeekBitz blog. I'm Brian, and today we are going to be unboxing something that I have wanted for a very long time – the Procolored UV Printer A4-19N. In this blog post, we'll delve into the unboxing process, explore the features and functionality of the printer, and discuss its pros and cons. By the end, you'll have a better understanding of whether the UV printer is the right fit for your creative endeavors. So, without further ado, let's jump right into it!
Specifications
| | |
| --- | --- |
| Print Head Model | A4-19N |
| Ink Supply | CMYKWW(6 Color) |
| Printing Head | L800 |
| Printing Speed | About 6 minutes/ A4 |
| Printer Size | 170*297 mm |
| Warranty | 3 Years |
Unboxing and Initial Impressions:
Unboxing the Procolored UV Printer A4-19N proved to be quite the challenge, primarily due to its weight and the need to carefully remove it from the crate. Once I got it out, I named my printer and eagerly began uncovering its features. The A4-sized printer appeared sturdy and well-built, showcasing its professional-grade capabilities.
Once unpackaged, we found the printer itself, along with various components and accessories:
Waste Tank: Needs regular cleaning to prevent ink clogs.
Cool Water: Used as a coolant for the printer.
A full set of initial UV ink (CMYKW, 5 x 250ml) Bottles: Yellow, black, magenta, cyan, and two whites.
RIP Software: To enable printing with white ink.
Syringes, Tubes, and Other Accessories: For ink filling and maintenance. ( Metal coating (1 x 50ml), Acrylic coating (1 x 50ml), Ink cleaner (1 x 100ml), Nozzle protection fluid (1 x 50ml), Steel ruler, Water tank, 4 spare ink sacs, 6 x 1.2m tubes, 1.5m wire, 3 x syringes, Magnet paper, Sticky tape, Double-sided tape and Dust-free cloth)
Features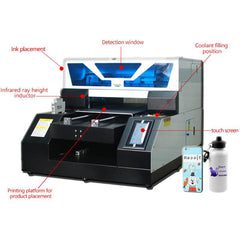 White Ink Automatic Circulation
The feature of White Ink Automatic Circulation is designed to minimize printer head clogs and significantly extend the print head's lifetime. This innovation addresses a common challenge faced by printers that use white ink, as white pigments tend to settle or coagulate over time, leading to clogged print heads and reduced print quality.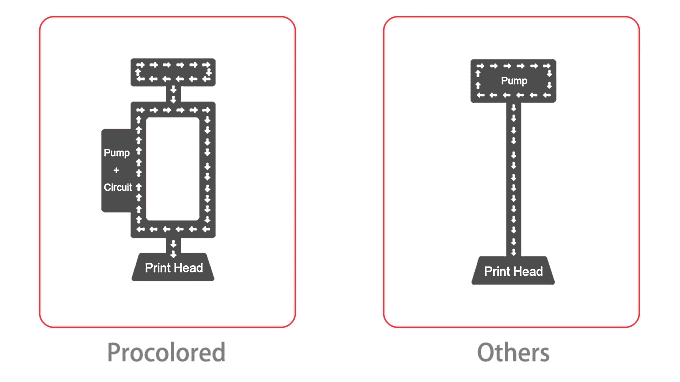 With the White Ink Automatic Circulation feature, the printer periodically circulates the white ink within its system, preventing sedimentation and ensuring a smooth flow of ink. By doing so, it not only maintains consistent print quality but also extends the longevity of the print head, reducing the need for frequent maintenance and replacement.
Printing White and Color at the Same Time
One of the remarkable features of this printer is its ability to support bidirectional printing, enabling simultaneous printing of white and color inks. Traditional printers often require separate passes for printing white and color, which can be time-consuming and reduce overall printing efficiency.
With this innovative feature, the printer can simultaneously lay down white and color inks during a single pass, resulting in faster printing times. This not only enhances productivity but also allows for more complex and dynamic designs with vibrant colors and precise white ink placement.
Powerful Cooling System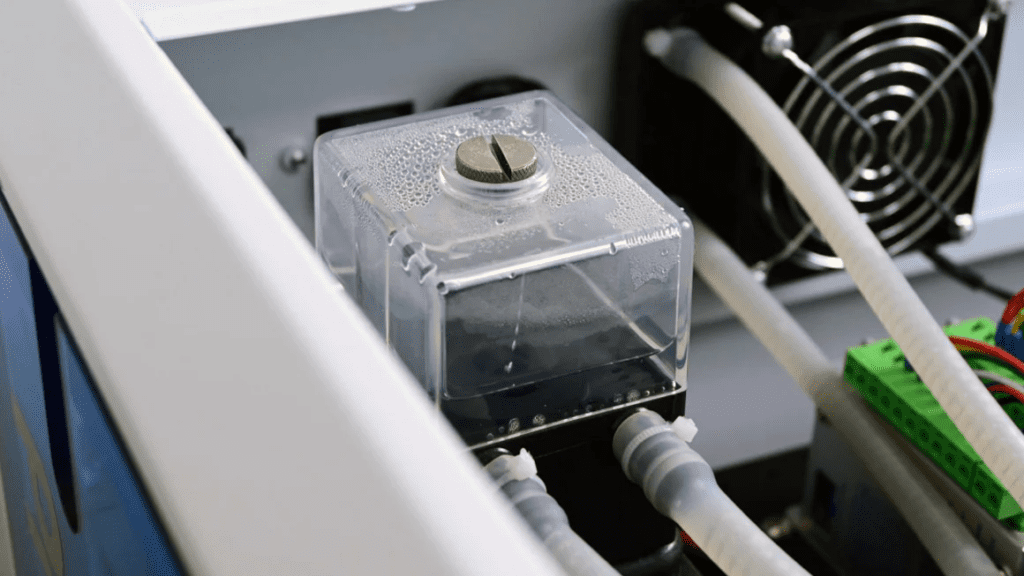 The printer incorporates a powerful cooling system that is specifically designed to support long printing sessions and prolong the service life of the printer. Continuous printing can generate heat, which, if not adequately managed, may cause overheating and potentially damage the internal components of the printer.
The powerful cooling system efficiently dissipates heat, maintaining optimal operating temperatures throughout extended printing sessions. By ensuring a stable and cool printing environment, this feature enhances the printer's reliability, minimizes the risk of malfunctions, and extends its overall lifespan.
Easy-to-use and Beginner-friendly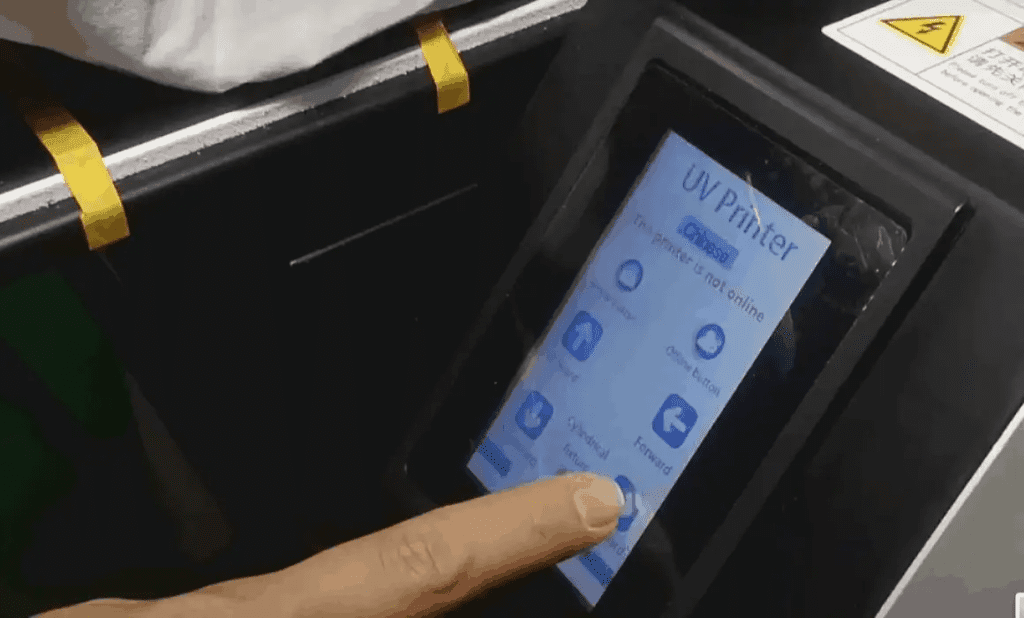 To cater to users of all experience levels, this printer offers an easy-to-use and beginner-friendly interface, primarily operated through a convenient touch screen control panel. The touch screen interface provides intuitive access to various printer functions, allowing users to navigate through different settings, select print options, and initiate printing operations with ease.
This immediate operation feature eliminates the need for complex manual adjustments or technical expertise, making the printer accessible to beginners and reducing the learning curve. With its user-friendly interface, this printer encourages creativity and simplifies the printing process, enabling users to bring their ideas to life without unnecessary complications.
Automatic Height Adjustment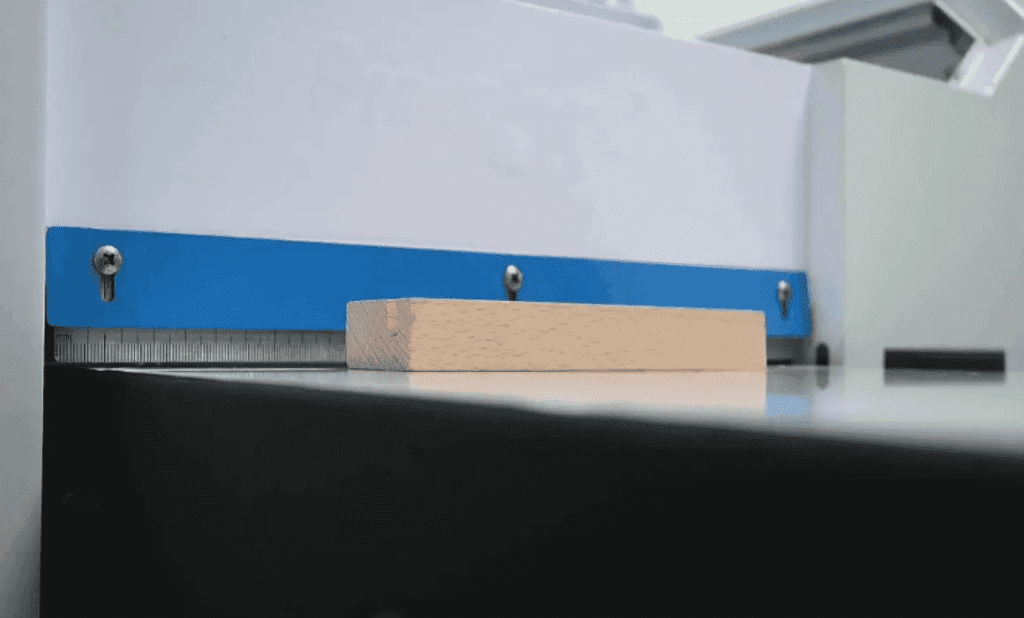 The UV printer uses an Omron infrared sensor to automatically adjust the printing height. This imported sensor, combined with a new four-axis positioning system, can automatically adjust the height to protect the print head and improve printing efficiency.
Setup and Installation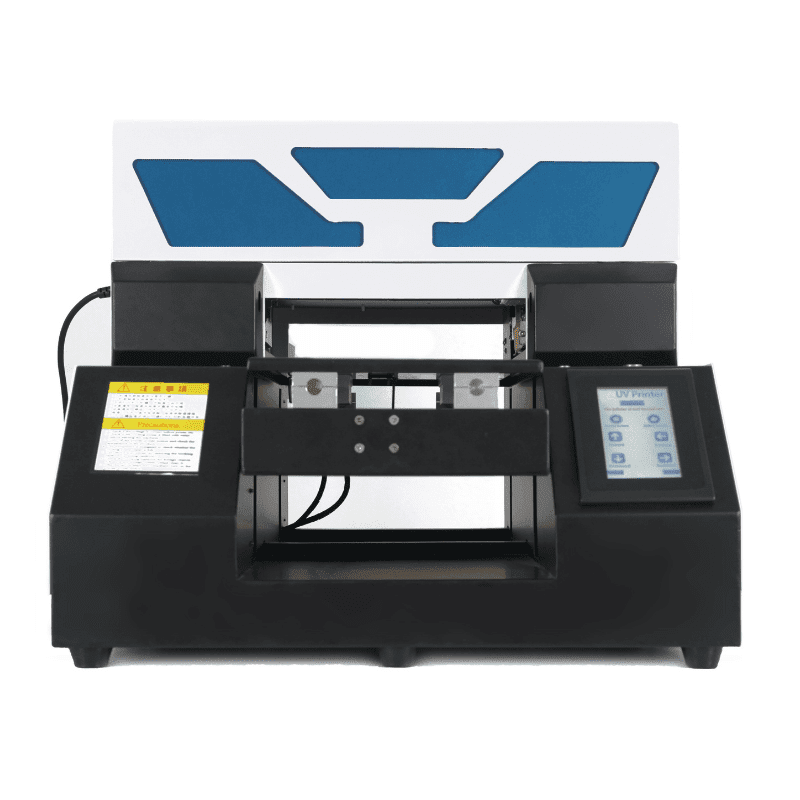 Setting up and installing the Procolored UV Printer A4-19N can be a technical process, but with the help of detailed video instructions and manuals provided by ProColored, it becomes more manageable. Follow this step-by-step guide to ensure a smooth setup and installation:
Note: Before proceeding, ensure you have a dedicated space for the printer, access to a computer with compatible operating systems (Windows or macOS), and a stable internet connection.
Step 1: Unboxing and Inspection:
Carefully unbox the Procolored UV Printer A4-19N, ensuring you have all the included accessories, such as ink bottles, syringes, tubing, a funnel, a ruler, and any other items listed in the user manual.
Inspect the printer for any signs of shipping damage. If you notice any issues, contact ProColored customer support immediately.
Step 2: Connecting the Waste Tank:
Locate the waste tank, which collects excess ink during the printing process.
Attach the waste tank securely to the designated area on the printer. Follow the provided instructions to ensure a proper connection.
Step 3: Adding Coolant Water:
Locate the cooling system, which helps regulate the printer's temperature during operation.
Fill the cooling system's reservoir with the provided coolant water. Follow the user manual's guidelines on the appropriate amount to use.
Step 4: Connecting the Printer to a Computer:
Use the provided USB cable to connect the Procolored UV Printer A4-19N to your computer.
Ensure that the printer and computer are powered off before making the connection.
Turn on the printer and computer.
Step 5: Installing the Software:
The Procolored UV Printer A4-19N should come with a CD or a link to download the necessary software for your computer's operating system.
Insert the CD or download the software from the provided link.
Follow the installation wizard to install the software on your computer.
Step 6: Printer Calibration:
Once the software is installed, launch it on your computer.
The software should guide you through the printer calibration process. This step is crucial for achieving accurate prints.
Follow the on-screen instructions carefully, and make any necessary adjustments as prompted.
Step 7: Ink and Cartridge Setup:
Locate the ink bottles provided with the printer, which usually include colors like yellow, black, magenta, cyan, and two whites.
Connect the ink bottles to their corresponding ink cartridges using the provided tubes. Ensure a secure connection to avoid leaks.
Install the ink cartridges into the printer's ink cartridge slots following the user manual's instructions.
Step 8: Perform Test Prints:
With the printer calibrated and the ink cartridges properly installed, perform a few test prints to ensure everything is functioning correctly.
Use plain paper or test sheets for these initial prints.
Step 9: Final Checks:
Double-check all connections, including the waste tank, ink cartridges, and USB cable.
Ensure that the printer is sitting on a stable surface and is properly ventilated for efficient cooling.
Step 10: Start Creating!
Congratulations! Your Procolored UV Printer A4-19N is now set up and ready to unleash your creativity. Experiment with various materials and designs to explore the printer's full potential.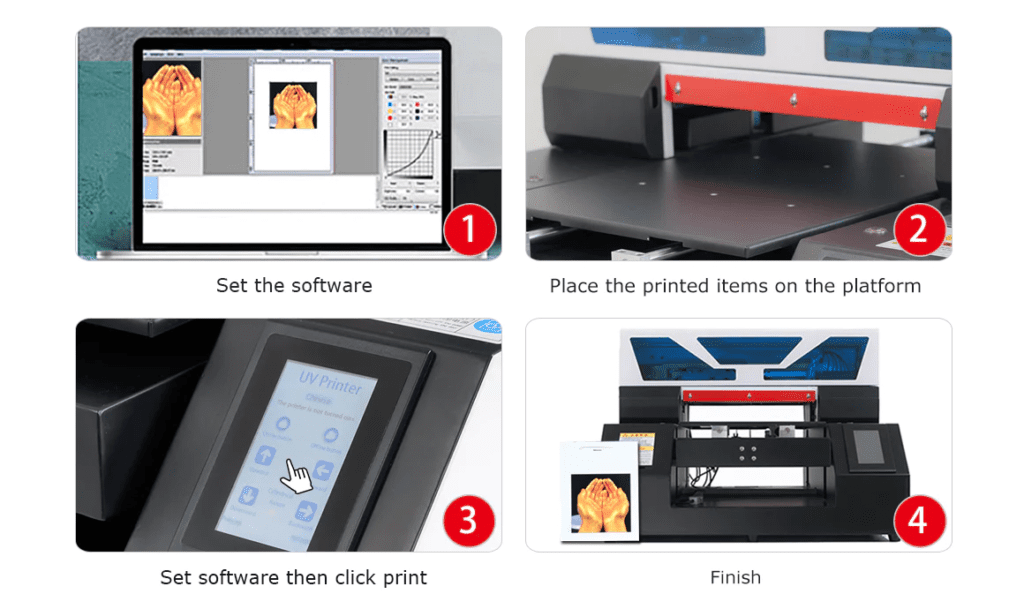 Note: Keep the user manual and video instructions readily available for reference in case you encounter any issues during printing or maintenance.
Remember, the setup process might require some patience and attention to detail, but once completed, you'll be on your way to producing stunning UV prints on various surfaces with your new Procolored UV printer. Happy creating!
Printing Experience
My experience with the Procolored UV printer A4-19N was a mixed bag of highs and lows. Let's start with the positives:
1. Print Quality: The Procolored UV printer's print quality is undeniably impressive. It delivers vibrant and sharp prints with excellent color accuracy. Whether I was printing on fabric, ceramic, or wood, the results were consistently impressive. The UV curing process ensures that the prints are resistant to fading and scratches, making them durable for various applications.
2. Versatility: One of the standout features of this printer is its versatility. It supports a wide range of materials, including cotton, polyester, acrylic, glass, and more. This opens up endless possibilities for creative projects and customizations. I particularly enjoyed experimenting with different surfaces and observing how well the printer adapted to each.
3. Software: The accompanying software was relatively user-friendly and had a decent selection of customization options. It allowed me to adjust image settings, resize prints, and choose print modes (e.g., single or multiple prints) with ease. However, I did encounter occasional glitches and slow response times, which could be improved in future updates.
4. Quick Printing Process: The UV printer performed admirably when it came to print speed. Even for complex designs, the printer managed to complete the task efficiently. This was a significant advantage, especially for bulk orders and time-sensitive projects.
5. Customer Support and Resources: ProColored's customer support was responsive and helpful. They provided comprehensive video instructions and user manuals that guided users through the setup, installation, and troubleshooting processes. In case of any issues or questions, users could rely on the available resources to address their concerns promptly.
However, there were some downsides to my printing experience with the Procolored UV Printer A4-19N:
1. Learning Curve: Setting up and calibrating the printer proved to be more challenging than expected, especially for a first-time user like myself. While the video instructions and manual were helpful, I believe that more detailed and clearer guidance could make the process smoother.
2. Maintenance: The printer required regular maintenance to ensure optimal performance. Cleaning the print heads, changing the waste tank, and replacing ink cartridges were necessary tasks that took up additional time and effort. It would be beneficial if ProColored offered a more straightforward maintenance routine.
3. Noise Level: The DTF UV printer can get quite noisy during operation, which could be a concern for users working in quieter environments. While this is typical for UV printers, some noise reduction enhancements would be appreciated.
User Interface and Ease of Use:
The Procolored UV Printer A4-19N offers a user-friendly interface and intuitive controls, making it easy to operate and navigate through the printing process.
✅Control Panel: The printer's control panel is clear, responsive, and labeled with easy-to-understand buttons and icons. It ensures a hassle-free printing experience for users of all levels.
✅Software Navigation: The printer software is user-friendly, with a well-organized layout and intuitive interface. Users can easily adjust print settings and select options for their projects.
✅User-Friendly Features: The printer includes convenient features like automatic material detection and built-in maintenance routines. These functions save time and ensure optimal printing performance.
Maintenance and Reliability
Ensuring the longevity and optimal performance of the ProColored UV Printer requires regular maintenance and adherence to certain preventive measures. Here's a simple and straightforward breakdown of the key maintenance aspects:
Importance of Regular Maintenance:
To keep the printer in top shape, regular maintenance is crucial. By dedicating some time to maintenance tasks, you can prevent potential issues and ensure consistent print quality. Regular maintenance also helps extend the lifespan of the printer, allowing you to get the most out of your investment.
Cleaning Printheads and Ink Cartridge Replacement:
One essential maintenance task is cleaning the printheads. Over time, ink residue and debris can accumulate, affecting print quality and causing clogs. The Procolored UV Printer A4-19N includes a user-friendly cleaning process that helps remove any build-up and ensures optimal ink flow.
Additionally, ink cartridge replacement is necessary when the cartridges are running low or empty. The printer's intuitive design makes replacing cartridges a straightforward process, ensuring uninterrupted printing and vibrant colors.
Preventive Measures for Consistent Print Quality:
Consistency in print quality is essential for professional results. To achieve this, the ProColored UV Printer offers several preventive measures:
Regular calibration: Calibrating the printer periodically ensures that colors and alignment remain accurate. The printer's software provides easy-to-follow instructions for calibration, allowing you to achieve consistent and precise prints.
Proper storage of consumables: Storing ink cartridges and other consumables in a cool and dry environment helps maintain their quality and prevents any potential damage. This ensures that the printer consistently produces vibrant and accurate prints.
Following recommended operating conditions: Adhering to the recommended operating conditions, such as temperature and humidity ranges, helps maintain the printer's reliability and performance. Operating within these specified conditions minimizes the risk of any issues and promotes consistent print results.
By implementing these maintenance practices and following the preventive measures, you can ensure that the ProColored UV Printer continues to deliver high-quality prints and remains reliable throughout its lifespan.
Remember, regular maintenance and preventive measures not only optimize print quality but also contribute to a smooth and hassle-free printing experience.
Customer Support and Resources
✅ Availability and Responsiveness of ProColored's Customer Support:
One of the key aspects we explored during our Procolored UV Printer A4-19N review was the availability and responsiveness of their customer support. We were pleased to find that ProColored offers excellent customer support, readily available to assist users with any inquiries or issues they may encounter.
Whether you have questions about printer setup, troubleshooting, or general inquiries, their support team is just a phone call or email away. We found their response times to be quick and their representatives to be knowledgeable and helpful. This level of support ensures that users can get back to their printing tasks with minimal downtime.
✅ User Manuals and Video Tutorials:
For those who prefer self-help options, ProColored provides comprehensive user manuals and instructional video tutorials. The user manuals are well-written, easy to understand, and guide users through various aspects of the printer setup, maintenance, and troubleshooting.
Additionally, the video tutorials are a great visual aid for visual learners or anyone who prefers step-by-step demonstrations. These tutorials cover everything from basic setup to advanced printing techniques, making it convenient for users to become proficient in using the Procolored UV Printer A4-19N.
In conclusion, ProColored demonstrates a strong commitment to customer support and resources. Their availability, responsive assistance, user manuals and video tutorials contribute to a user-friendly experience, allowing users to make the most of their UV Printer. Whether you're new to UV printing or a seasoned enthusiast, these resources are designed to empower you to achieve outstanding results with your printing projects.
Pros:
Versatility: The UV printer can print on various surfaces, including wood, glass, metal, plastic, and more.
Entry-Level Affordability: This A4-sized printer offers an affordable entry point into the world of UV printing.
Permanent Designs: The UV ink creates long-lasting designs that won't fade easily.
Easy Setup: The provided video instructions made the setup process relatively straightforward.
RIP Software: The included RIP software enables printing with white ink, expanding creative possibilities.
Clear Video Instructions: The printer comes with video instructions that make setup and operation easier, especially for beginners.
Rotary Attachment: The printer's rotary attachment allows printing on cylindrical objects like tumblers.
Cons:
Maintenance: Regular maintenance, such as daily print head cleanings, is necessary to prevent ink clogs.
Odor: UV ink has a distinct odor, which might be bothersome to some users.
Complexity: Operating a UV printer can be more complex compared to traditional printers.
Limited Print Size: As an A4-sized printer, it might not be suitable for larger projects or industrial-scale printing.
Buyer's Guide
Here are some things to consider when buying a UV printer:
Printing type: There are two main types of UV printers: flatbed and conveyorized. Flatbed printers are the most common type and can print on a variety of materials, including plastics, metals, glass, and wood. Conveyorized printers are designed for printing on long, cylindrical objects, such as bottles and mugs.
Printing size: UV printers come in a variety of print sizes, so you'll need to choose one that's large enough to accommodate your needs. If you plan on printing large objects, such as signs or banners, you'll need a printer with a large print bed.
Printing resolution: The printing resolution of a UV printer is measured in dots per inch (DPI). The higher the DPI, the sharper the image quality will be. However, higher DPI also means longer print times.
Ink type: UV printers use UV-cured inks, which are different from traditional inkjet inks. UV-cured inks are more durable and resistant to fading, making them ideal for printing on outdoor objects.
Printing speed: The printing speed of a UV printer is measured in square inches per hour (SIH). The faster the printing speed, the more jobs you'll be able to print in a given amount of time.
Price: UV printers can range in price from a few thousand dollars to tens of thousands of dollars. The price will depend on the printer's features, such as print size, resolution, and printing speed.
In addition to these factors, you'll also need to consider the following:
The materials you plan on printing on. Not all UV printers can print on all materials. Make sure to choose a printer that's compatible with the materials you plan on printing on.
The software you plan on using. Some UV printers come with their own software, while others require you to use third-party software. Make sure to choose a printer that's compatible with the software you plan on using.
The level of support you need. Some UV printer manufacturers offer more support than others. If you're not comfortable troubleshooting problems on your own, you'll need to choose a printer from a manufacturer that offers good support.
FAQ's
What is a UV Printer?
A UV printer is a flatbed printer that can print on almost any surface using UV ink and UV light technology. It creates permanent designs on various materials, making it a versatile tool for creative projects.
Final Verdict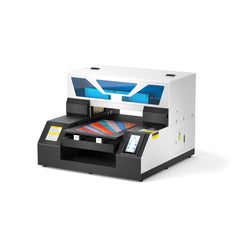 The Procolored UV Printer A4-19N is a budget-friendly A4 UV printer that is designed for small businesses and individuals who want to create high-quality prints on a variety of materials. It features a single Epson DX5 print head, which is capable of printing at a resolution of up to 1440 x 720 dpi. The printer can print on a variety of materials, including acrylic, wood, glass, metal, and plastics. It also supports printing white ink, which allows you to print on transparent materials.
The Procolored A4 UV Printer A4-19N is relatively easy to use. The printer comes with a user-friendly touch screen interface, which makes it easy to select print settings and load media. The printer also includes a built-in RIP software, which allows you to create and edit print jobs.
In terms of performance, the Procolored A4 UV Printer A4-19N produces high-quality prints. The prints are sharp and vibrant, and they are resistant to fading and scratching. The printer is also relatively fast, and it can print a 4 x 6-inch print in about 10 seconds.
The Procolored UV Printer A4-19N is a great option for budget-minded users who are looking for a high-quality A4 UV printer. The printer is easy to use, produces high-quality prints, and is relatively fast.
Who is it best for?
The Procolored UV printer A4-19N is best for:
Artists and Crafters: Those who want to add high-quality, permanent designs to their creations.
Small Businesses and Startups: Ideal for custom printing businesses, offering speed, precision, and vibrant colors to meet customer demands and enhance product offerings.
Professionals and Print Shops: Reliable for professional-grade prints, including signage, labels, and packaging, with its ability to handle intricate designs and various materials.
Hobbyists and Enthusiasts: Perfect for creative individuals looking to bring their artistic visions to life with user-friendly operation and high-quality prints.
Overall, the ProColored UV printer is worth considering if you're willing to invest in a versatile printing solution that brings your creative visions to life. Just be prepared for regular maintenance and the initial learning curve associated with UV printing technology. Happy printing!