DTF printing humidity is an important factor to consider when producing high-quality transfers. Too much or too little humidity can cause problems with the printing process, such as clogged nozzles, poor ink adhesion, and fading prints.
In this blog post, we will discuss the ideal humidity range for DTF printing, as well as tips for managing humidity in your workspace. We will also cover how to troubleshoot common humidity-related problems.
Whether you're new to DTF printing or are a seasoned pro, this guide will help you understand how this critical but often overlooked factor impacts print quality. With the right humidity controls in place, you can avoid headaches and turn out eye-catching DTF printed garments and merchandise. Let's dive in!
What is DTF Printing and How Does It Work?
DTF printing involves transferring photorealistic designs printed with specialty inks and printers onto synthetic heat transfer vinyl. This printed vinyl is then heat pressed onto t-shirts, hoodies, totes, and other merchandise.
The basic DTF printing workflow is:
Design creation – The desired image, artwork or photograph is created/edited in design software.
Film printing – The design file is sent to a DTF-compatible printer loaded with specialty DTF inks and transfer paper. Common DTF printers include ricoh and epson eco tank models.
Heat press – The printed design is thermally transferred from the printable vinyl onto the substrate (garment, bag, etc) using a heat press.
Finishing – Any trimming or post-press treatments are completed.
Compared to other garment printing methods like screen printing or vinyl heat press, DTF enables printing photorealistic, full color images with soft hand and excellent washability. It gives the print quality of digital direct printing with the feel and durability of vinyl transfers.
Now let's look at how humidity affects this process.
How Does Humidity Affect DTF Printing?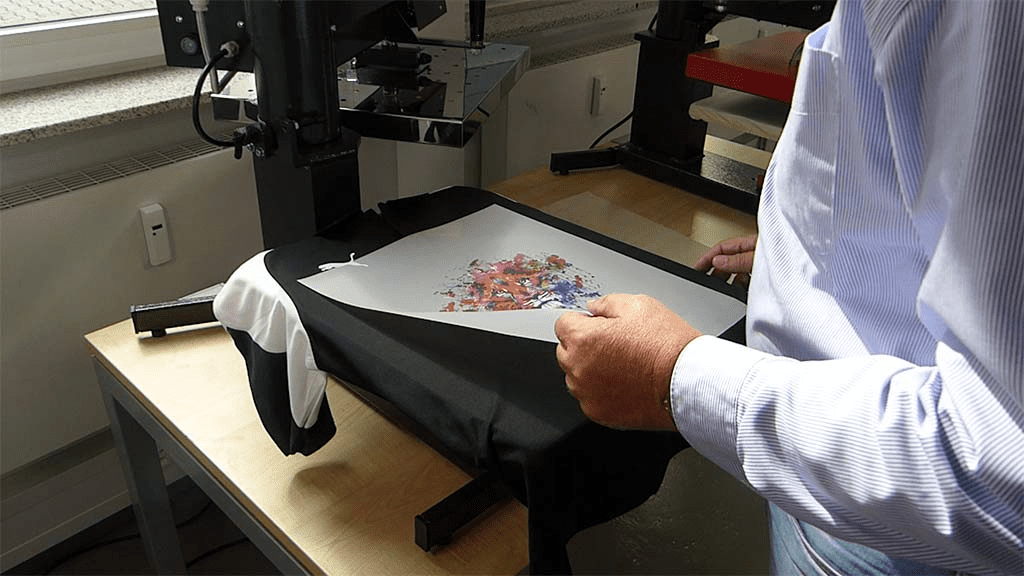 Humidity, or the amount of water vapor in the air, has a significant impact on DTF printing results. Humidity affects the ink, transfer paper, static electricity, and more.
High Humidity Effects
When humidity levels are high, too much moisture is present. This leads to issues like:
Ink bleeding/smearing – The moisture causes inks to spread, leading to fuzzy or blurred prints
Bubbling – Air bubbles can form in the transfer vinyl, creating visible bubbles in the print
Static cling – The transfer paper and vinyl can stick together due to static, jamming printers
Poor adhesion – Too much moisture can reduce ink and vinyl adhesion, causing prints to peel
Wrinkling – Excess moisture may cause rippling or wrinkling on heat transfer vinyl
High humidity essentially makes the inks "loose", causing migration across the transfers. It also reduces the tackiness and adhesion properties.
Low Humidity Effects
On the other end of the spectrum, low humidity creates an overly dry environment. Common issues include:
Clogged printheads – Ink dries out in the nozzles, blocking ink flow
Poor ink transfer – The ink does not fully release from the transfers to the garment
Banding – Horizontal banding appears from uneven ink laydown
Excessive static – Static cling causes paper jams and vinyl adhesion
Cracking/flaking – Vinyl can become dried out and brittle, cracking when applied
Low moisture levels cause inks to dry out too rapidly. This thins and clogs printheads and reduces transfer performance.
The Ideal DTF Printing Humidity Range
The recommended humidity range is 45-60% for DTF printing. At this humidity level, the transfer vinyl and inks have the right tack and moisture content to print, transfer, and adhere properly.
However, the ideal humidity range can vary slightly based on factors like:
Ink Type – Some DTF inks, like white inks, print best at higher humidity.
Print Environment – Open vs. closed spaces impact optimal humidity.
Substrate – Natural fabrics may need higher humidity than synthetics.
Equipment – Printer, heat press, and accessories have different needs.
Fine tuning your humidity for your specific ink, printers, and materials will produce the best ongoing results.
Monitoring Humidity with a Hygrometer
To maintain the optimal DTF print humidity, the first step is monitoring current conditions. This is done using a hygrometer.
A hygrometer is a tool that measures relative humidity – the amount of moisture currently present relative to the maximum moisture the air can hold at a given temperature.
There are two main types of hygrometers suitable for DTF printing rooms:
Analog hygrometers – These have a dial display and provide humidity readings at a glance. They do not log data over time.
Digital hygrometers – Digital displays show current humidity and some log the data in memory or can be connected to computers.
Look for a hygrometer that:
Provides %RH (relative humidity) readings
Is accurate to +/- 3% RH at minimum
Has a convenient display that's easy to read from a distance
Offers data tracking if desired
Can stand on a tabletop or be mounted on a wall
Has good reviews from users
Ideally, place the hygrometer:
Near the printer(s)
Away from direct air flow from HVAC vents, fans or windows
At the same height off the floor printers are located
Where it's easy to routinely check
Monitor humidity closely as conditions change to keep your environment optimized. Now let's look at controlling humidity.
Read Also: Best File Format for DTF Printing
Controlling Humidity for DTF Printing
Once you know your print shop's humidity levels, steps can be taken to regulate it for ideal DTF print results. There are several options for controlling humidity:
Dehumidifiers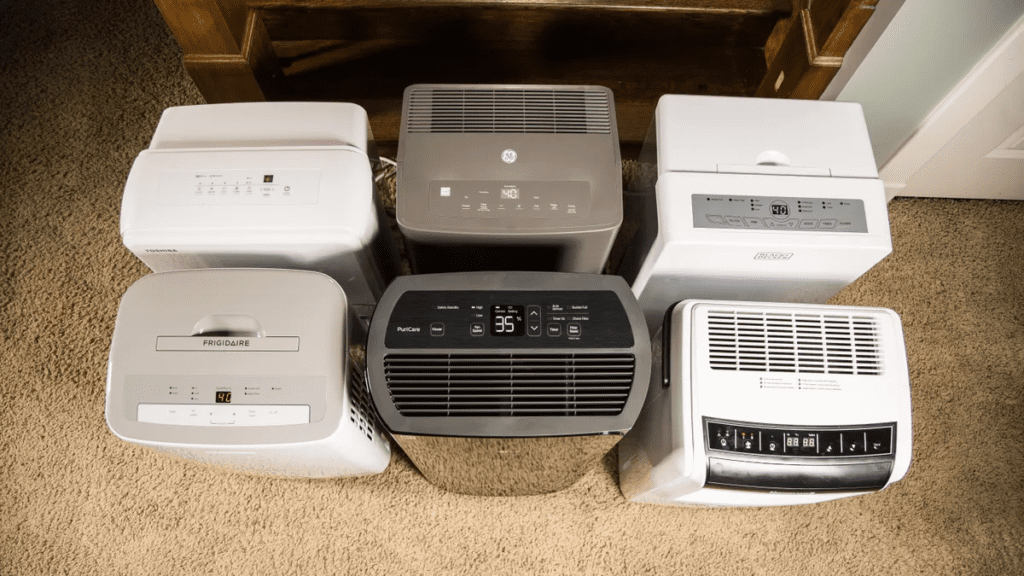 If humidity is consistently too high, a dehumidifier can lower it. These machines remove moisture from the air.
Look for dehumidifiers that:
Are appropriately sized for the room's dimensions
Offer humidistat controls to set the desired %RH
Have good moisture removal capacity for the space
Fit within your budget
Don't create excessive noise
Have a pump to drain collected water, if needed
Place the dehumidifier:
Near the center of the printing area
Where air can circulate through the unit
With the humidistat set to your target humidity level
Maintenance like cleaning filters is required for proper dehumidifier operation.
Humidifiers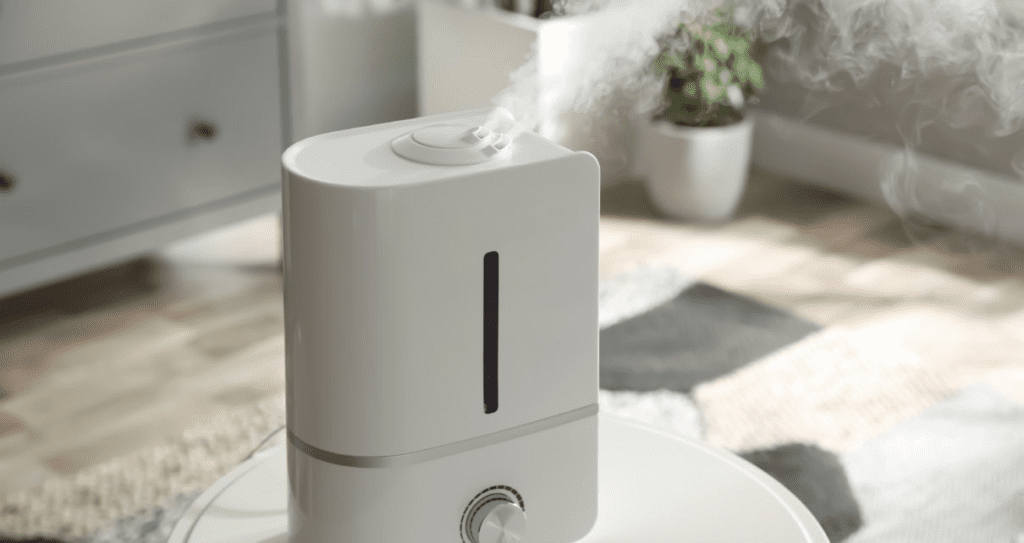 On the other hand, if your shop's humidity drops too low, a humidifier can raise it. These devices add moisture back into the air.
Key humidifier features include:
Sufficient moisture output for the room size
Built-in humidistat
Cool mist models, to avoid heating the space
Easy cleaning and maintenance
Quiet operation
Position humidifiers:
Near the center of the printing area
Away from printer air intakes and vents
With the humidistat set to your humidity goal
Daily cleaning is crucial for humidifiers to avoid growing mold or bacteria. Change water daily and disinfect units regularly.
Air Conditioning Systems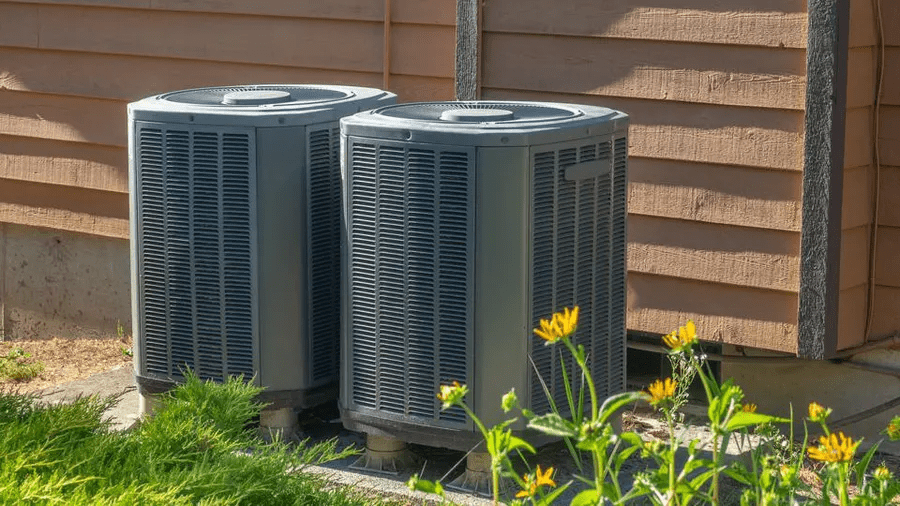 Central air conditioning systems with humidity controls can also regulate printing space humidity.
The advantages of using your existing A/C include:
Built-in humidistat can be set to the ideal RH%
No need for separate dehumidifier and humidifier
Air circulation helps distribute humidity evenly
Cooling can offset heat from printers
However, challenges can include:
Limited humidity control range
Fighting with the system's programming
Uneven cooling that creates humid and dry zones
Added energy costs
If your A/C can reliably keep humidity within 45-60% RH, it can potentially handle the job. But dedicated dehumidification and humidification systems often provide better humidity regulation.
Now let's go over some pro tips for dealing with low and high humidity when printing.
Read Also: How to Cure DTF Powder with a Heat Press
Tips for Printing in Different Humidity Conditions
Even with humidity control equipment in place, you may still experience temporary conditions that are too wet or dry. Here are some useful tips for printing in less than ideal humidity:
Printing in High Humidity
When humidity creeps above 60% RH, take these steps to improve DTF print quality:
Slow the print speed – Slower printing allows inks to fully set on the transfer paper before the next layer.
Use thicker transfer material – Thicker vinyls prevent bleed through and provide more stable ink adhesion.
Increase heat press time/temperature – Longer presses thoroughly dry inks and vinyl adhesive.
Check printer ventilation – Improve airflow to prevent moisture buildup around printers.
Pause printing if needed – Stop printing until humidity drops instead of wasting transfers.
Adjust humidity as able – If possible, lower the humidistat setpoint on humidity control equipment.
Allow longer drying times – Leave extra time for prints to fully dry before pressing.
Printing in Low Humidity
When conditions are very dry and humidity drops below 40% RH, use these tactics:
Print multi-pass – Multiple light ink passes prevents nozzle clogs vs heavy wet passes.
Use pretreated fabrics – Pretreated shirts attract and absorb inks better for improved adherence.
Print a nozzle check – Confirm nozzles are clear before starting a print job.
Increase heat press temp – Extra heat ensures inks release from the transfers.
Pause printing – If ink drying is evident, wait until humidity increases.
Add humidity – Boost humidifier output to raise humidity levels.
Adjust workflow – Print and press in smaller batches to keep ink wet.
Check printer seals – Ensure no air leaks are drying out the printers.
With some adjustments and vigilance, quality DTF prints can still be produced even when humidity is less than perfect.
Read Also: How to choose the Best DTF Film
Preventing and Troubleshooting Humidity-Related DTF Printing Issues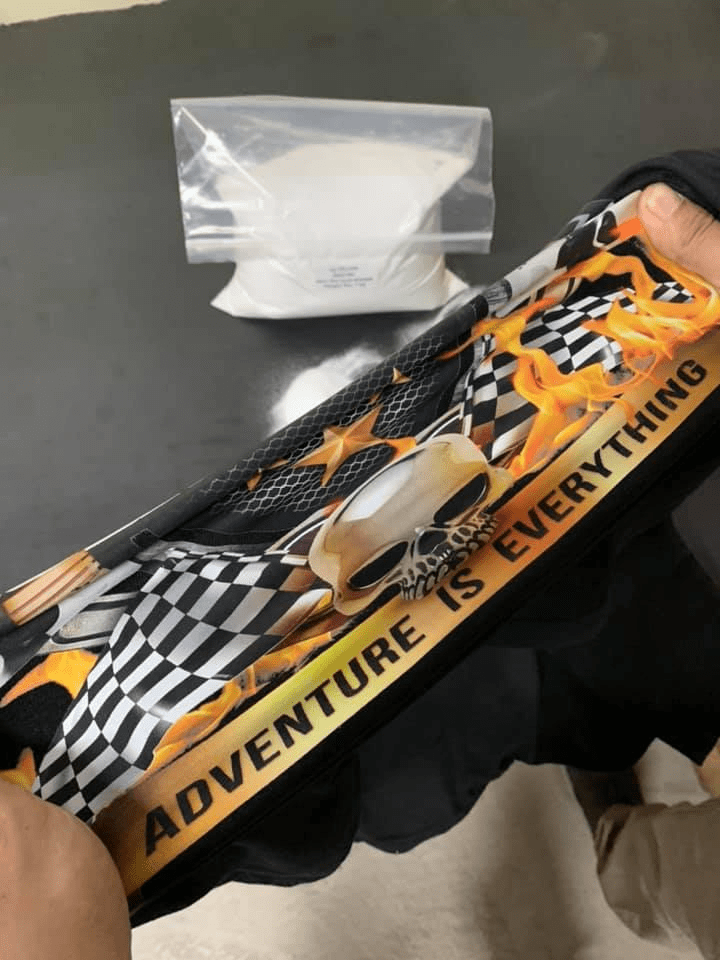 Even with proper humidity monitoring and control, problems can still pop up. Here are some common DTF print issues related to humidity and how to address them:
Issue: Ink bleeding, smearing, fuzzy prints
Cause: High humidity makes inks spread
Fixes: Use thicker transfer material, decrease print speed, improve ventilation, increase press time/temp
Issue: Transfer vinyl sticking and jamming in printer
Cause: Static cling from humidity on vinyl
Fixes: Improve printer grounding, add antistatic spray or bar
Issue: Transfers not adhering well to garments
Cause: Moisture prevents vinyl from sticking
Fixes: Increase press time/temp, switch to thicker vinyl, lower humidity
Issue: Prints cracking or flaking off garments
Cause: Low humidity makes vinyl dry and brittle
Fixes: Increase humidity, pre-press garment to add moisture, use soft hand vinyl
Issue: Horizontal banding in prints
Cause: Low humidity drying out printheads
Fixes: Print multi-pass, pause printing if needed, raise humidity
Issue: Ink not releasing fully from transfers
Cause: Rapid ink drying prevents transfer
Fixes: Increase press time/temp, use pretreated fabrics, add humidity
Addressing humidity-related printing problems quickly is key to avoiding wasted time and materials.
Creating an Optimal DTF Printing Environment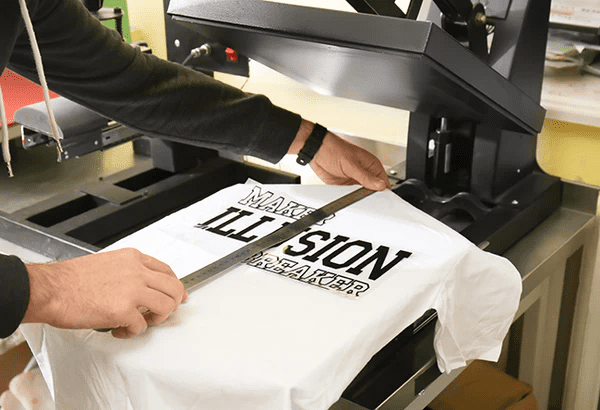 For the best consistency and print quality day after day, a controlled DTF print shop environment is essential. Here are tips for creating an ideal setup:
Maintain 45-60% RH for most DTF printing using central humidity control
Monitor humidity near printers using accurate hygrometers
Prevent excessive moisture buildup with proper ventilation or dehumidification
Avoid overly dry conditions with humidification
Regulate humidity using a targeted A/C system, if possible
Print in a climate controlled space, around 70°F/21°C
Filter particulate like dust, paper fibers, etc. which affect prints
Keep the area clean and free of standing water, leaks, etc
Position printers away from direct air streams from vents, fans, or open doors
Optimize print settings and the ink/vinyl combination for your climate
A dialed-in DTF print shop setup gives you predictable, excellent print results day in and day out. The increased print quality and productivity is well worth the investment!
Read Also: How Long Do DTF Transfers Last on Shirts
Frequently Asked Questions About DTF Printing and Humidity
Let's wrap up with answers to some commonly asked questions about humidity and DTF printing:
Is DTF printing affected by humidity?
Yes, both high and low humidity negatively impact DTF printing. Uncontrolled humidity is one of the most common causes of issues with ink coverage, film sticking to prints, and prints not properly adhering to garments when pressed.
How often should I monitor humidity when printing?
Check your hygrometer readings at least 2-3 times per day, especially if conditions are changing. Monitor humidity around active printing and heat pressing.
Where should I place hygrometers in my DTF print shop?
Position hygrometers near your printer(s) and heat presses, away from direct air streams. Mount them at the same level your equipment sits to get accurate data.
What %RH is too high for DTF printing?
Humidity above 60-65% RH can start causing issues with ink bleeding, vinyl adhesion, and static. 70%+ can create serious print problems.
What %RH is too low for DTF printing?
Humidity under 40% RH may dry inks out too fast, shrink vinyl, and impede ink transfer. Under 35% causes rapid drying.
Should I print DTF designs in high or low humidity?
It's best to avoid printing in conditions over 65% RH or below 45% RH if possible. Wait for humidity to return to the 45-60% range for optimum results.
How can I lower humidity without a dehumidifier?
Running A/C on dry mode, adding silica gel beads, and improving airflow help reduce excessive moisture naturally. But a dehumidifier works best.
What's the fastest way to increase low humidity?
Using hot humidification rapidly adds needed moisture to very dry air. Ultrasonic or evaporative humidifiers also increase humidity quickly.
How often should I change water in humidifiers?
Change humidifier water daily to prevent algae and bacteria growth. Disinfect the tank regularly as recommended by the manufacturer.
Can I use a humidifier and dehumidifier together?
You can, but only if they have built-in humidistats. The units will then turn on and off automatically as needed to hold the set humidity level.
Controlling humidity for DTF printing is crucial yet easy to overlook. But with proper monitoring and regulation, you can take the guesswork and headaches out of the process. Refer to this guide anytime humidity related questions or issues come up!
Conclusion
Humidity control is a vital part of direct to film printing that directly impacts your results. Dialing in the optimal 45-60% RH range enables excellent ink laydown, transfer, and vinyl adhesion for eye-catching prints.
Monitoring your shop's conditions using accurate hygrometers gives you the data needed to take action. Dehumidifiers, humidifiers, and air conditioning can then regulate humidity for peak printing. We also covered tactics for printing when humidity is less than ideal.
With the tips in this guide, you have the knowledge to create a perfectly humidified DTF print environment. This pays off with stunning, consistent prints that wow customers and move merchandise! So take control of humidity today and see your DTF print quality shine.