You just got your hands on the impressive new iPhone 14 Pro Max. It has an amazing camera, a fast processor, and a beautiful display. But all that tech is fragile, so you'll want to wrap your new phone in a protective case.
The right case keeps your phone safe from drops, scratches, and dings. It also adds style and functionality. With so many options out there, finding the perfect case can be tough.
That's why we researched and reviewed dozens of cases. We focused on protection, features, style, price, and more. These 10 cases rose to the top. Keep reading to find the best protective phone case for your iPhone 14 Pro Max!
1. Casetify Impact Case: Best Stylish Protection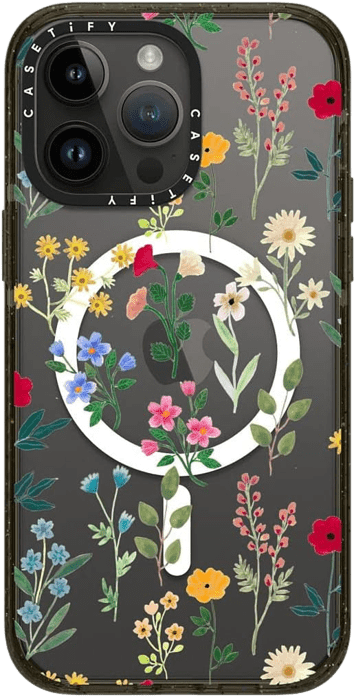 Key Features:
Shock-absorbing bumpers
Slim, stylish design
Customizable backplate
Multiple colors and patterns
Casetify lets you design a case that matches your personal style. Their Impact Case provides serious protection without adding bulk. It has raised edges to protect the camera and screen. The bumpers flex and absorb shock on impacts.
You can customize the sturdy backplate with text, patterns, or photos. It's slim and lightweight, so it won't weigh down your phone. The case comes in a variety of colors, like pink, blue, black, and clear.
If you want stellar protection with plenty of style options, the Casetify Impact Case is for you. The custom designs and slim fit make this case a winner.
2. Spigen Tough Armor Case: Heavy-Duty Protection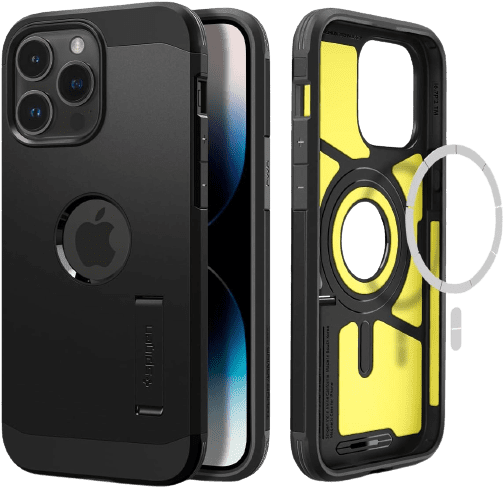 Key Features:
Air cushions and foam padding
Built-in kickstand
Raised edges to protect camera and screen
Rugged exterior and flexible interior
The Spigen Tough Armor Case lives up to its name. It completely envelops your phone in a tough exoskeleton. Foam padding and air cushions line the interior to absorb shock. The exterior uses a hard TPU shell and a flexible spider-web pattern.
The MIL-grade protection even includes raised edges to protect the camera and screen. Despite its ruggedness, the case still allows access to all ports, buttons, and features. It comes in classy colors like black, gunmetal, and rose gold.
For extra stability, the Spigen cases feature a built-in foldable kickstand. Pop it out when you want to watch videos hands-free. When protection is your top concern, you can count on the Spigen Tough Armor Case.
3. Otterbox Defender Series Case: Best Heavy Duty Protection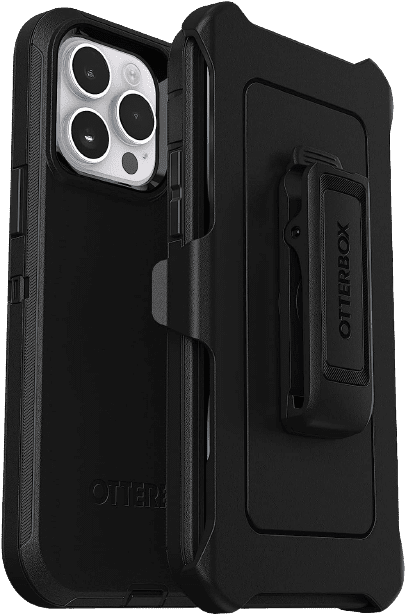 Key Features:
Multi-layer design
Port covers
Belt-clip holster included
Meets military drop standards
With its distinctive angular shape, the Otterbox Defender Series says "heavy duty protection." This case uses multiple layers of materials to create a virtual fortress around your phone.
The inner layer has high-absorption foam to disperse impact. A hard polycarbonate shell surrounds the exterior. Synthetic rubber edges create a buffer zone around the whole case.
Port covers block dust and debris from entering the charger port and buttons. The case even comes with a sturdy belt-clip holster for carrying your phone. It meets military drop test standards, so you know it can handle abuse.
For the ultimate in phone protection, you want the Otterbox Defender. The beefy multilayer case will keep your iPhone 14 Pro Max safe through anything life throws at you.
4. Speck Presidio2 Grip Case: Best Grip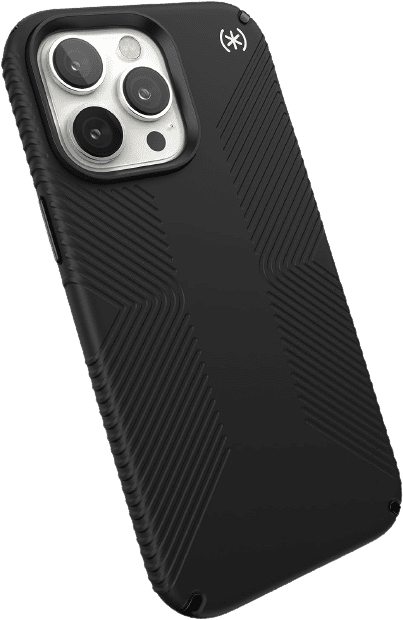 Key Features:
No-slip matte finish
Microban antimicrobial protection
13-foot drop protection
Raised bezel guard
Butterfingers and slippery phones are a terrible combo. The Speck Presidio2 Grip case gives you an extra secure hold on your iPhone 14 Pro Max. The back cover has a unique no-slip matte finish for maximum grip.
The case surrounds your phone with Impactium shock barriers. Air capsules compress and disperse force on impact. Despite its protection, the Speck case stays slim and showcases the elegant design of your phone.
This case also has an antimicrobial additive that prevents bacteria from growing. And it meets military standards, protecting your phone from 13-foot drops. The raised bezel keeps your screen safe when facing down. For a no-slip grip and serious protection, choose the Speck Presidio2 Grip.
5. Burga Case Compatible with iPhone 14 Pro Max Case: Best Leather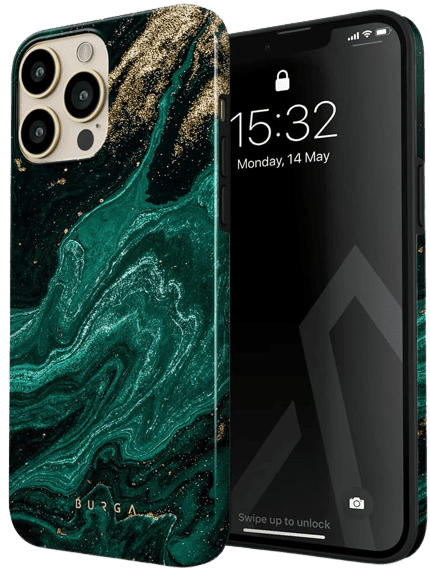 Key Features:
Full grain leather exterior
Shock-absorbent TPU core
Magnetic closure
RFID blocking liner
Love the look and feel of fine leather? The Burga case wraps your iPhone 14 Pro Max in elegant full-grain cowhide. The smooth leather exterior develops a unique patina over time.
Inside the stylish leather shell is a flexible TPU core. It absorbs and deflects shocks and impacts, keeping your phone safe. The leather is precision cut to allow access to ports and features. Strong embedded magnets keep the case securely closed.
An RFID-blocking liner prevents the electronic theft of your credit card information. For all-around protection with sophisticated style, choose the Burga leather case. It comes in classic colors like black, brown, and tan to match any wardrobe.
6. Ringke Fusion Case: Best Clear Protection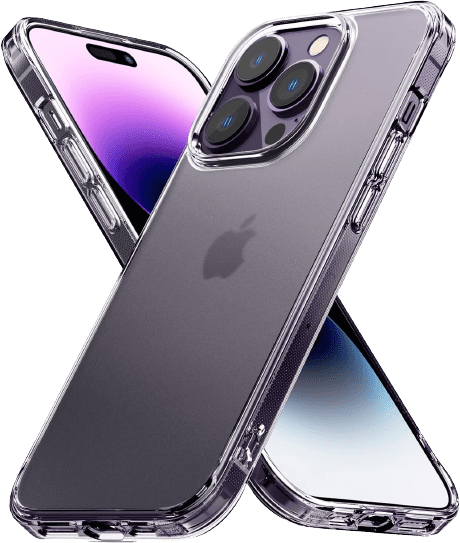 Key Features:
Crystal clear polycarbonate back
Shock-absorbent Clear TPU bumper
Built-in anti-microbial coating
Raised lip and lanyard hole
Ringke's Fusion case provides protection and shows off your phone's good looks. The back panel is made of crystal-clear polycarbonate that won't yellow over time. The flexible TPU bumper absorbs shocks.
The see-through back displays Apple's iconic design while keeping scratches at bay. The bumper comes in transparent or colored options like black, pink, blue, and purple.
Antimicrobial properties in the TPU prevent bacteria from growing. The case has a raised lip surrounding the screen and camera for added protection. A cutout lanyard hole lets you attach a strap. For crystal clear protection, the Ringke Fusion has you covered.
7. Incipio Grip Case for iPhone 14 Pro Max: The Best Budget Option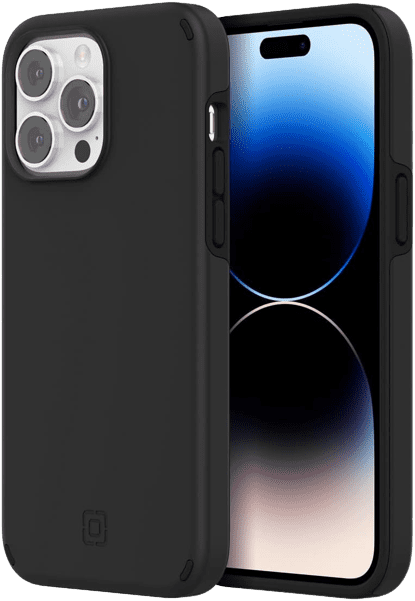 Key Features:
Impact-resistant Plextonium frame
Textured sides for extra grip
Affordable price
14-foot drop protection
The Incipio Grip Case gives you reliable protection without breaking the bank. Its Plextonium frame evenly distributes impact energy. And it meets 14-foot military drop test standards, so it offers peace of mind against drops.
The case has a soft-touch finish that's easy to grip. The textured sides provide extra friction, so you can get a handle on your phone. At such an affordable price, the Incipio Grip offers protection that outperforms its price point.
While it lacks some premium features, this case has the basics covered. The Incipio Grip comes in colors like black, pink, blue, and seafoam. Protect your iPhone without emptying your wallet with the Incipio Grip.
8. Totallee Thin iPhone 14 Pro Max Case: The Best Minimalist Option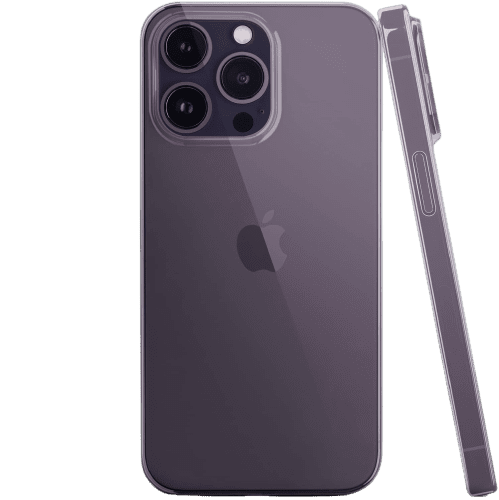 Key Features:
Ultra-thin 0.02 inch design
Simple transparent or colored bumpers
Raised lip to protect screen
Matte or frosty finish options
For minimalist protection, you can't beat the Totallee Thin Case. At just 0.02 inches thick, this case is slim as can be. It's like adding a simple bumper skin without adding bulk.
The rim extends barely above the iPhone's edge to protect the screen from surface scratches. While thin, the case still dissipates impact force thanks to its flexible TPU material.
Choose from transparent, colored, matte, or frosty finishes. The Totallee Thin case embraces the elegance of Apple's design while providing basic protection. If you dislike bulky cases, this one offers subtle safety.
9. UAG Monarch Full-Body Rugged Case: Best Rugged Protection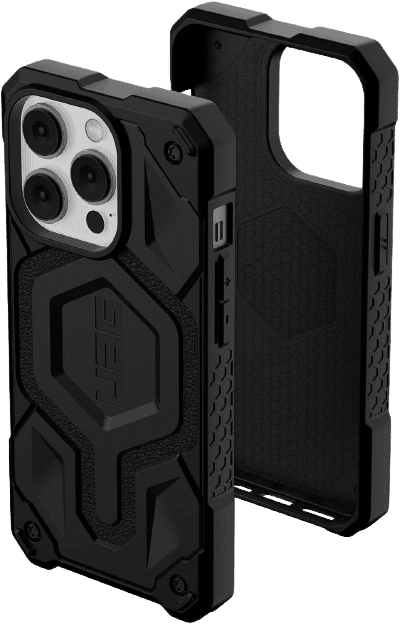 Key Features:
Five-layer armor frame
Shock-absorbing traction grip
Oversized tactile buttons
Meets military drop-test standards
Built-in screen protector
The Urban Armor Gear Monarch case provides rugged, heavy-duty protection. Its chassis comprises five layers of high-performance materials. The exterior has an alloy metal frame and impact-resistant rubber.
Traction grip pads along the back prevent slips and add stability with one-handed use. Large tactile buttons provide a responsive, mechanical click. Despite the tough exterior, the case maintains wireless signal strength.
The Monarch meets military drop-test standards, so it can survive tumbles and accidents with ease. A built-in screen protector guards against scratches. If you need supreme ruggedness, the UAG Monarch has your phone covered.
Related: Best black hardshell phone cases
10. Pelican Voyager Case for iPhone 14 Pro Max: Best Waterproof Option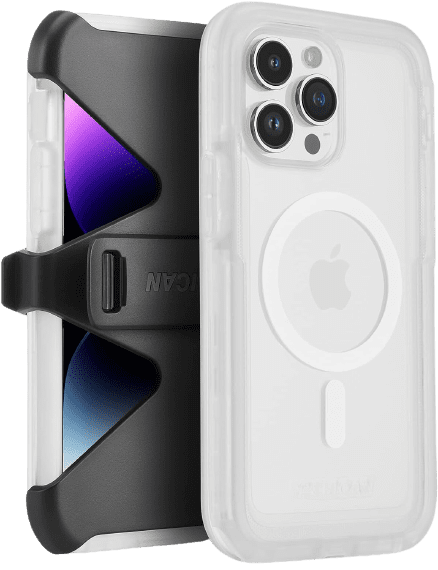 Key Features:
Waterproof up to 2 meters for 30 minutes
Drop-proof up to 10 feet
Port covers prevent dust and debris
A textured grip provides maximum hold
The Pelican Voyager boasts full waterproof protection for your iPhone 14 Pro Max. It seals out liquid up to 2 meters deep for 30 minutes. So you can take your phone to the beach or pool without worrying.
The polycarbonate shell safeguards against drops up to 10 feet high. Rubber edges absorb impact along with internal shock-absorbing foam. The textured finish ensures you keep a firm grip in wet conditions.
Built-in port covers block dust, dirt, and moisture from entering. The touchscreen remains sensitive for use underwater. For water lovers or extreme adventurers, the Pelican Voyager takes phone protection to the next level.
Which Is the Best Protective Case for Me?
With your new iPhone 14 Pro Max, you'll want a case that balances protection, features, style, and value. Consider how you use your phone when choosing a case. Here are some final tips:
Frequent droppers need ultra-rugged cases like the Otterbox Defender or UAG Monarch. They provide the most drop and shock protection.
Style mavens will love custom cases like Casetify and classic leather from Burga. Make your case match your look.
Minimalists should stick with slim options like the Totallee Thin Case. It adds basic protection without bulk.
For water activities, the Pelican Voyager keeps your phone safe and operable while swimming or at the beach.
Heavy-duty, fortress-like protection comes from stalwarts like the Speck Presidio2 Grip and Spigen Tough Armor.
Your iPhone 14 Pro Max deserves a case that's protective, functional, and stylish. Use this list to find the best match! With the right case, your phone will outlast every drop, dunk, and ding along the way.