The Acer Aspire Nitro 7 is the company's latest attempt to straddle the line between high-powered, expensive gaming laptops and sleek, affordable laptops. The machine starts at $1,000 and has a lot to like, including a big screen and a keyboard with a numpad. There are a few notable drawbacks, too, such as extremely aggressive fans and a chassis that gets painfully hot.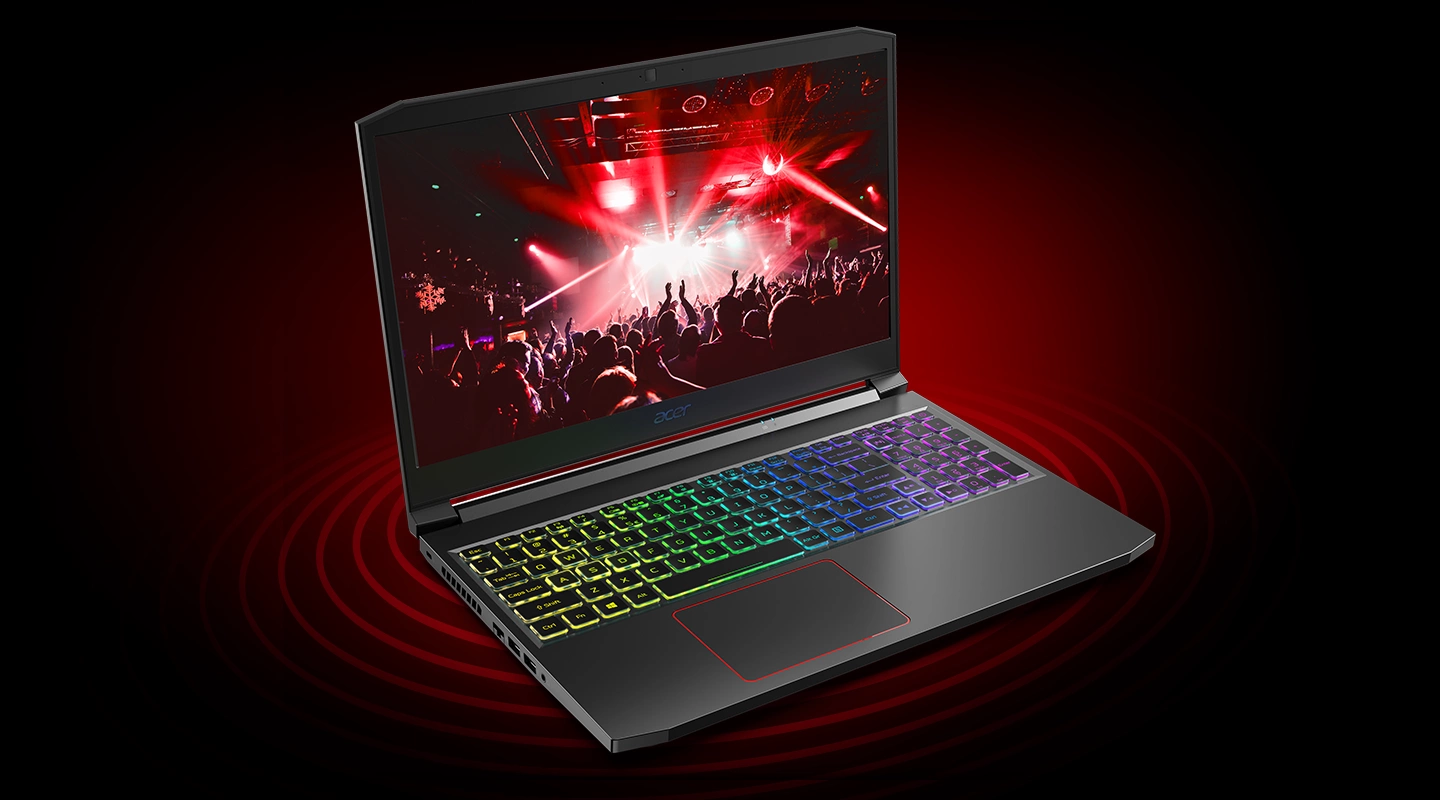 ACER NITRO 7 SPECS
| | |
| --- | --- |
| Laptop Class | Gaming |
| Processor | Intel Core i7-9750H |
| Processor Speed | 2.6 GHz |
| RAM (as Tested) | 16 GB |
| Boot Drive Type | SSD |
| Boot Drive Capacity (as Tested) | 512 GB |
| Screen Size | 15.6 inches |
| Native Display Resolution | 1920 by 1080 |
| Touch Screen | No |
| Panel Technology | IPS |
| Variable Refresh Support | None |
| Screen Refresh Rate | 144 Hz |
| Graphics Processor | Nvidia GeForce GTX 1650 |
| Graphics Memory | 4 GB |
| Wireless Networking | 802.11ac, Bluetooth |
| Dimensions (HWD) | 0.9 by 14.3 by 10.2 inches |
| Weight | 5.5 lbs |
| Operating System | Windows 10 Home |
| Tested Battery Life (Hours:Minutes) | 9:08 |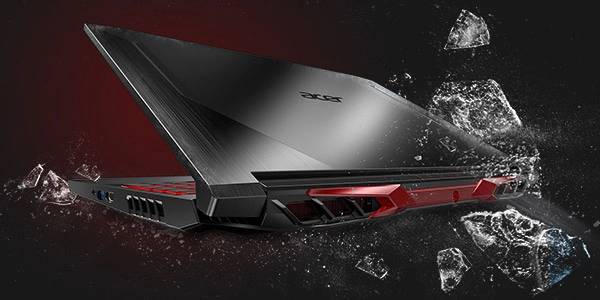 The new Nitro 7 gaming laptop from Acer features Nvidia GeForce GTX-class graphics in a 15.6-inch body.
Even though it doesn't have the same gaming swagger as the Predator Triton 500 from the same company, it's much less expensive (starts at $1,049; $1,199 as tested) and has most of the features more frugal players are looking for.
The gaming performance, however, falls short of what we would expect for the price, with our review unit's GTX 1650 generating barely enough performance to play today's AAA-level games.
The Nitro 7's appeal is restricted to casual gamers because similarly priced notebooks like the MSI GL63 include more powerful GeForce GTX 1660 Ti or RTX 2060-class graphics.
If you're not just interested in gaming performance, its aluminum design, long battery life, and capacity for three storage drives have a lot to offer.
Variants
The Acer Nitro 7 is, for the time being, one of Acer's easier lines to navigate.
There are only three options, with prices ranging from $1,050 to $1,200.
We looked at the top-tier model, model number AN715-51-752B. Try saying it three times fast. In this case, $1,200 buys you an Intel Core i7-9750H processor, an Nvidia GTX 1650 graphics card, 16GB DDR4 RAM, and a 512GB SSD.
Below that is the $1,100 model, which has 8GB of RAM and a 256GB SSD.
The $1,050 model includes one of Nvidia's previous-generation GTX 1050 cards, which is more of a bargain than it appears, as the GTX 1650 is on par with a 1050 Ti, not a base 1050.
Our $1,200 review model is most likely the best choice.
You could certainly run a gaming PC with only 8GB of RAM, but I wouldn't recommend it.
That alone eliminates the two lower-end models from consideration, especially given their $1,000-plus prices.
As I mentioned earlier, $50 can be a lot of money when it comes to entry-level laptops—but in this case, I believe the extra money is necessary. If you want to spend less than $1,200, consider the Nitro 5 line instead.
Design
I'm intrigued by Acer's Nitro line. They're like undercover gaming laptops. But not in a convincing way.
When you bring a Nitro 7 to work, everyone will say, "Hey, nice gaming laptop." Nobody is fooled, especially with the odd pentagonal shape of the base and lid.
The Nitro 7 is, however, more restrained (and refined) than Acer's Predator line. The chassis is all black, with no red vent covers or highlights like the Predator line.
The lid is a particular highlight, brushed metal etched with the Acer logotype and nothing else—no "Predator" or even "Nitro," and certainly not that strange Transformers-looking logo used on Predator laptops.
Acer is looking good. The Nitro 7 is still a little too aggressive for my tastes, and the non-standard lid shape is particularly troubling.
But there isn't much else to sneer at. I'm especially impressed that it's only an inch thick, which is unusual for budget gaming laptops—though it does cause some thermal throttling, as we'll see later.
Anyway, we've arrived at the first of Acer's Nitro 7 options: The presentation. It's a feature that most low-cost laptops skimp on. It's nice to have, but it's a luxury.
When given the option, most manufacturers choose to invest their limited resources in internal hardware.
The Nitro 7's 15.6-inch, 19201080 IPS screen, on the other hand, looks fantastic. Sure, it's still a low-cost display.
However, viewing angles are fairly wide, color reproduction is surprisingly solid, and the Nitro 7 easily clears the 250-nit battery testing floor.
It's one of the Nitro 7's few clear advantages over the Predator Helios 300, which has a notoriously poor display.
The Nitro 7 has four USB ports, two USB-C ports, ethernet, and HDMI. Ports are fairly standard, though venting on the right face pushes the power input approximately halfway down the side.
The touchpad is less exciting because it abstains from physical mouse buttons.
It's smooth and sensitive though, a step up from some of the budget models I've used.
The Nitro 7's built-in audio is strictly for casual web browsing and other such usage.
It's loud but very tinny, and anything more serious than a YouTube video should probably see you reaching for your headphones.
As for the speakers? Best to forget them. I'd say the same of most high-end laptops as well.
Performance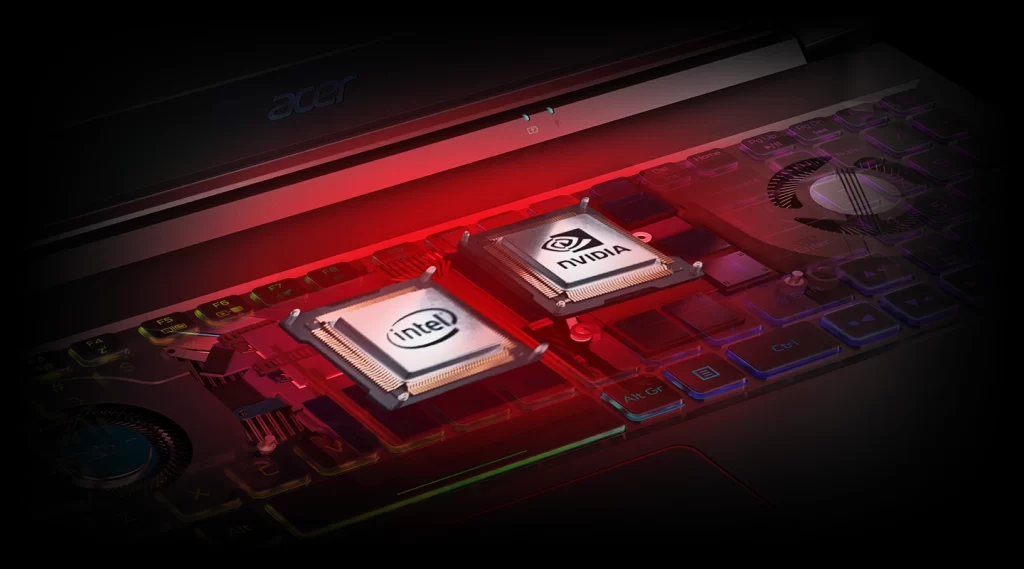 Acer's Nitro 7 laptop has an Intel Core i7-9750H and an Nvidia GTX 1650, which is an ever-so-slightly improved GTX 1050 Ti.
In short-burst use, it performs mostly as it should, with Cinebench R15 scores in line with our expectations.
The CPU's problem, plain and simple, is throttling.
The Nitro 7 took less than 30 minutes to encode a 30GB MKV file down to HandBrake's Android Tablet preset, compared to the usual 8750H and 9750H tests that take around 30 minutes.
The Nitro 7 generates a lot of heat. That's the end of it.
Even when idle at 7%, the Nitro 7's Core i7-9750H temperature ranges between 55 and 60 degrees Celsius. When loaded, it almost immediately reaches its 80-degree-Celsius throttling point and begins to impact performance.
Is it really that important? Most likely not.
Gaming and Internet browsing are not particularly CPU-intensive activities.
Most people buying an entry-level laptop are unlikely to be doing anything that necessitates the CPU's full potential—though it's odd that Acer hasn't equipped the Nitro 7 with some better cooling capabilities.
The Nitro 7's biggest flaw, however, is the GTX 1650. To be clear, the GTX 1650 has a place in Nvidia's lineup. It's not a bad card, and its predecessor, the GTX 1050 Ti, was recommended in a number of laptops. It's an excellent entry-level option.
However, our benchmarks show that $1,200 is a steep price for a 1650-equipped laptop. To allow for direct comparisons,
I've included the benchmarks we ran with Acer's Predator Helios 300, which, as I mentioned earlier, costs the same $1,200 but comes with a more powerful GTX 1660. (though it was a 1060 at the time of our review).
That makes the Nitro 7 an appealing option for the budget-conscious buyer who would prefer a better display and more appealing design, or who is afraid of upgrading their own storage. But what about most people?
The Predator Helios 300 is most likely the superior choice.
It spends money where it matters and saves money where you're less likely to notice—or, at the very least, feel hemmed in.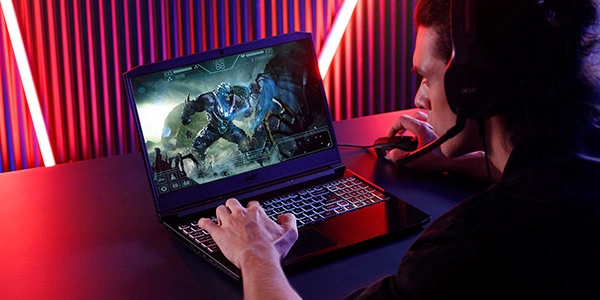 Acer Aspire Nitro 7 : The good
A gaming laptop must be able to do two things well: play games (obviously), and handle productivity and multimedia tasks (almost no one wants to buy two separate laptops).
The Acer Nitro 7 delivers on both counts.
Naturally, the first thing I did with the machine was download and install all of the programs I intended to run on it.
The Nitro 7 performs admirably in general productivity tasks, running Microsoft Edge, Google Chrome, Steam, GOG Galaxy, Slack, the Microsoft Store, and Nvidia GeForce Experience all at once without breaking a sweat. Multiple tabs in Chrome don't bother it, even if they're streaming live video or music.
The keyboard was a little warm to the touch at this point, but it was still a pleasure to use.
In terms of keyboard quality, the Nitro 7 has one of the best membrane keyboards I've seen on a laptop.
The keys appear to have some travel, so they don't bottom out the moment you press them. A full numpad is included, which is uncommon on mid-sized laptops.
In addition, rather than using the row of function keys, you can control volume and brightness with a combination of the Fn key and the arrow keys.
It may seem insignificant, but keeping your fingers at the same latitude to adjust volume is extremely convenient.
When it comes to gaming, the Nitro 7 handles demanding titles admirably. Acer has once again requested that we not share any benchmarks, so all I can share is my qualitative experience.
However, in Age of Empires II: Definitive Edition, I was able to install the Enhanced Graphics DLC and zoom in on the villagers, resources, and sheep populating my burgeoning village.
The game ran steadily and smoothly no matter how densely packed the screen became with people, buildings, and particle effects. Middle-earth: Shadow of War and Thronebreaker:
The Witcher Tales yielded similar results.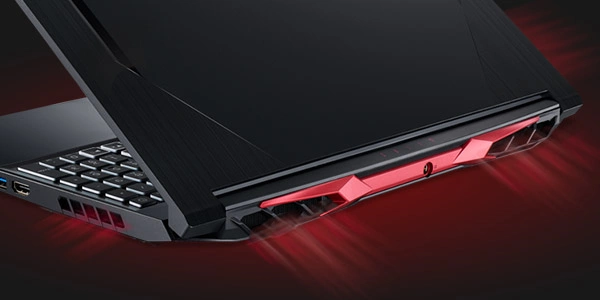 Acer Aspire Nitro 7 : The bad
I try not to whine and complain about heat on gaming laptops because physics is physics, and powerful, compact systems must expel a lot of heat.
However, the Nitro 7 is one of the hottest laptops I've ever reviewed, with core temperatures reaching uncomfortably high levels even during brief gaming sessions.
Apart from the WASD keys, the keyboard became uncomfortably warm; the metal near the hinge was almost too hot to touch.
But when I went to move the laptop after a 20-minute gaming session, I actually cried out and yanked my hand back. It was like grabbing a baking sheet that was still warm from the oven.
In addition, the Nitro 7's fans run loudly and nearly constantly during games, and they would occasionally become noisy even when I was just browsing the Internet or installing programs.
Again, considering how hot the Nitro 7 gets, loud fans are preferable to the alternative, but the two issues together make me wonder if the Nitro 7 will simply burn out sooner rather than later.
It only takes one faulty fan to cause the entire system to overheat. Even though I tried to avoid it as much as possible, the touchpad drove me insane.
The touchpad is extremely sensitive by default, and it frequently mistook a brush from my palm while typing for conscious input.
The DPI is also extremely high, which makes it easy to overshoot what I was attempting to click.
After about five minutes of struggling with the touchpad, I plugged in a mouse and would advise anyone considering the Nitro 7 to do the same.
Acer Aspire Nitro 7: Outlook
There's still a lot we can't say about the Acer Nitro 7, because specific performance benchmarks, even projected ones, are currently prohibited.
That means we can only compare it to other gaming laptops in terms of raw specs and price for the time being.
And, as any laptop expert will tell you, those only tell half the story. Nonetheless, I was pleased with the Nitro 7.
Acer promised a sleek, lightweight system capable of running games well, and it appears to have delivered.
But I'm concerned about the heat in the long run, and I'm curious how it will compare to similar models once the benchmarks are in place.
Bottom line
Having said that, Acer's lineup has plenty of room for alternatives. As I mentioned earlier, the Nitro 7 is probably the best option for someone.
It's not the most efficient configuration, and I'd rather spend my money on better performance.
You could, however, be perfectly content with a Nitro 7. There's a place where the Nitro 7 shines for every cut corner—and it's often in places you'd least expect a budget laptop to shine.